Since its still feeling a bit summery here in Brooklyn, it makes sense to show off this beautiful wedding with a super chic couple, stylish bridal party, and an amazing ceremony location of the waterfront.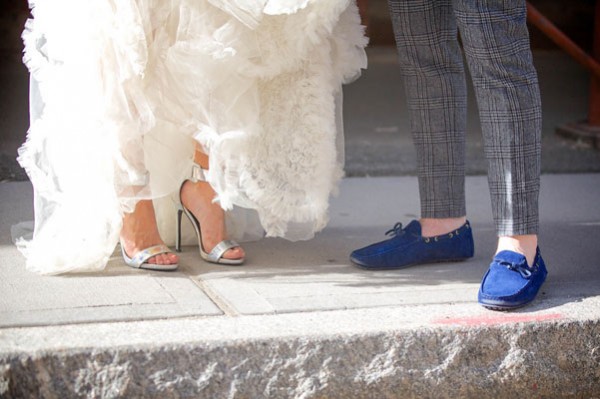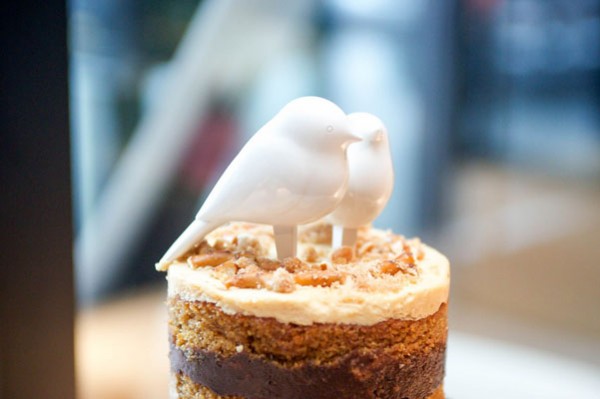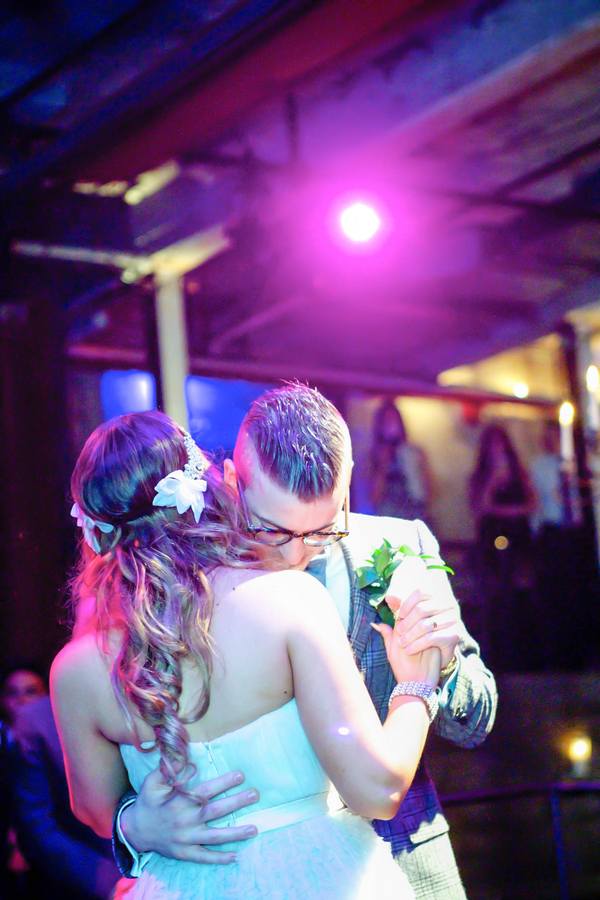 From the bride:
From the start, Dan and I knew we wanted a wedding that captured us, no matter how many classic traditions we had to break to achieve it.  We wanted to keep it an intimate affair with a relaxed, romantic and fun vibe. We envisioned a big party that just happened to be celebrating our love for one another.
Dan and I went to high school together, but this isn't a high school sweetheart love story.  We went through four years of school with mutual friends but never really met or spoke.  It wasn't until we came home from college for a friend's party that we reconnected and I knew I was going to marry this man.  It took seven years, but once he finally got down on one knee and popped the question I didn't have to think twice before saying yes.
Almost immediately after saying yes, I had appointments to look at venues. We looked at a few "banquet hall" type of venues and quickly decided that those didn't really represent us.  In came Galapagos Art Space, a cultural arts venue located in Dumbo, Brooklyn which features island seating on a 1,600 square foot lake. The venue has a romantic yet industrial and relaxed vibe and from the second we stepped in we knew this was the place.  Not to mention Dumbo is, in my opinion, one of the most romantic neighborhoods in New York with its cobble stone streets, views of the Manhattan skyline and the beautiful Brooklyn Bridge Park (which we decided to hold our ceremony in).  We couldn't have made up a more perfect setting to celebrate our love!
Silver Arrow Band did an amazing job capturing us through music (we are a big music couple) and I don't think there was a second that the stage was empty!  Danielle from Danielle Robinson Photography and Chris from Mint Cinematography captured every second so perfectly that I have been looking at the photos and videos on repeat since the wedding.
It was a day we will never forget and we are so impressed with everyone involved for making the day as perfect as we could have ever imagined that we wanted to submit the wedding to different blogs to make sure every vendor could get the credit they deserved! Not to mention, we have an incredible group of family and friends that just reinforced how lucky we were to be marrying into such great company.
It was truly a magical day that I don't think we will ever be able to top (but we certainly will try!)
VENDORS
Photographer:  Danielle Robinson Photography//Caterer: Bassett Caterers//Makeup Artist: Beauty With Grace//Shoes: Bobbie's Paris//Ceremony Location: Brooklyn Bridge Park//Headpiece Designer: Doloris Petunia//Reception Venue: Galapagos Art Space//Officiant:Matt Loter//Cinema and Video: Mint Wedding Cinematography//Bakery: Momofuku Milk Bar//Dress Designer: Reem Acra//Band: Silver Arrow Band//Shoes: Steve Madden//Tuxedo and Mens Attire: Topman//Veils and headpieces: Veiled Beauty//Bakery: Whole Foods Market Floral//Tuxedo and Mens Attire: ZARA//
[images from Danielle Robinson Photography]