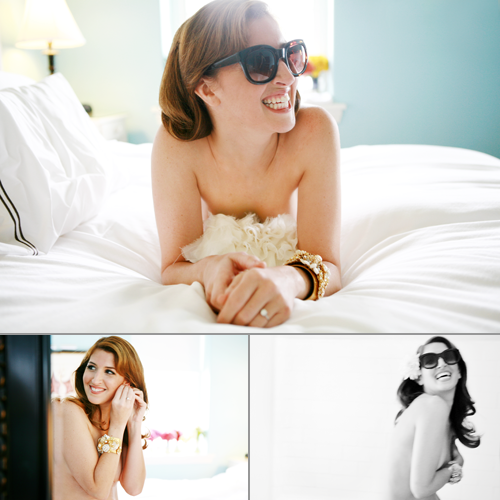 I hope you're catching the theme today…monochromatic bridesmaids bouquets in a rainbow of colors, killer details, and seriously cool couples!
I'm loving the turquoise walls with the black and white floors…such a chic combo!
Kelly had her heart set on Congress Hall in Cape May, NJ, from day one. That's where our wedding HAD to be, and it really did provided the perfect backdrop for our special day. Our goals were fairly modest: simple, chic, elegant, totally us. The idea was to have the venue speak for itself. Choose a location, pray for great whether, and the details will fall in place. And, as luck would have it, they did.

About a year prior to our wedding Kelly and I hosted a Memorial Day weekend get together at her parent's summer home down in Sea Isle. It was during this truly amazing weekend of friends and fun that the seed was planted. "Let's get married down here at the Jersey shore," Kelly said. "Sure," I thought. "Why not?" We had looked at other venues in Avalon as well as a few in Bucks County, PA (me being a country boy, I always imagined a country wedding in the woods.) No other place could out-impress the splendor and elegance of Congress Hall, not to mention the surroundings of a quaint Victorian town like Cape May. Kelly would describe it as being vintage with a modern edge – that mix of high/low she tends to gravitate towards at J. Crew. The lace skirt with the chambray shirt. Uncompromisingly chic with a down-to-earth coziness, Cape May seemed the perfect weekend destination for our families and friends. Travelers from New York, Philadelphia, Los Angeles, Virginia, North Carolina, Eastern PA and beyond would all agree – it was worth it.

After having agreed on the location of our wedding, Kelly and I put ourselves to the task of finding the right photographer to document our big day. That's where Diana of Di Bezi photography comes in. Kelly did an amazing amount of preparation researching a wedding photographer. She really wanted our wedding to be photographed by someone who had an eye for fashion and style. Kelly had found Diana through Brooklyn Bride and was immediately impressed with her work. Kelly presented Diana with a binder of fashion photography to show her the kind of shots she was looking for. Diana, having come from a background in the NY fashion world, was exactly the photographer we wanted. We were both thoroughly impressed with her work and, most importantly, her 'eye' and sense of style behind the camera's lens: unpretentious, cool, fun, and classic.

Next it was on to one of Kelly's passions – flowers. She had gone to the farmers market at Union Square a year prior to our wedding, and took photos of all the flowers that would be in season at the time of our wedding. It was here that she fell in love with the season's floral bounty: Zinnias, Dahlias, Teddy Bear Sunflowers, Hydrangeas, Hanging Amaranthus – just to name a few. Using this inspiration, Kelly started a journal of photos, tear sheets, and color schemes all of which went into designing the look of a high summer, beach wedding.

Now it was on to the details. As Kelly and I began planning our wedding, we both felt that there should be a central theme; a design aesthetic that reflected who we are as individuals and as one union. Kelly's love of fashion carries over into her professional life as a designer for J. Crew. My love of music is expressed through my guitar playing in my band, Les Savy Fav. So, in the earliest stage of planning we knew two things – our wedding was going to have to look good and sound good. We decided to plan and art direct our wedding ourselves. Our decision was to keep it simple, and not spend too much time on unnecessary fluff. We designed every aspects of our wedding – from the save-the-dates & invites (printed at Moontree Letterpress in Brooklyn – to our custom made pins (with a pair of fabric scissors and an electric guitar) and tote bags for our wedding party, full of dandy  accessories for the grooms men, and Kelly's favorite personal items for the bride maids. We even set up a website with some help from our tech-savvy friends. All of these little details began to flesh out the bigger picture that would be our wedding day.

The Wedding went off without a hitch, and our bridal party rocked it. We're so happy with how our wedding came out. We even sang a John Lennon song at the ceremony, a last minute addition that I thought up seeing is how most of my grooms men are in Les Savy Fav! Natural performers! Kelly danced the night away along with most of our guests thanks to our spectacular DJ. It was easily the best night of our lives. We planned every detail and I think it really showed. It wasn't just anyone's wedding – it was our wedding.
Vendors:
Photography: Di Bezi
Flowers: Blooms, Cape May
DJ: Neil O'Brien
Custom Printed Tote Bags: Pete's Print Shop, Brooklyn
Custom Pins: PBMS, Hong Kong
Location: Congress Hall, Cape May NJ
Graphic Design: Seth Jabour
Letterpress: Moontree Letterpress, Brooklyn
Bride, MOB, & Bridesmaids Hair: Silvia Cincotta, New York
Bride, MOB, & MOH MakeUp: Eduardo Martinez, New York
Bridesmaids Makeup: Meredith Harper, Cape May, & Los Angeles
Brides Dress: Vera Wang
Bridesmaids Dresses: Vera Wang
Bridemaids Jewelry: J. Crew
Grooms Suit: Isaiah
Groomsmen Suits and Accessories: J. Crew
Brides Shoes: Miu Miu
Brides Bracelet Cuff: Miriam Haskell
[images from DiBezi Photography]
DiBezi Photography is a member of Brooklyn Bride's preferred vendor listings