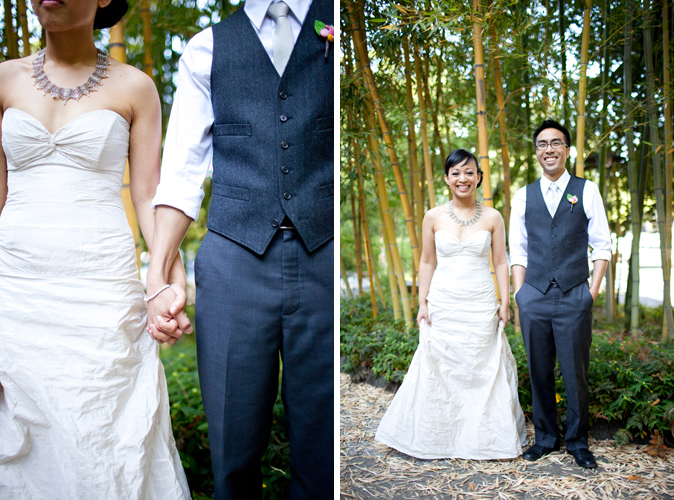 Goodness, what a darling wedding this is!  Sunray's mom did a lot of the adorable details, which makes it even more special!  Keep reading for details from the bride and groom, and check back at 1pm for more shots…
In planning our wedding, what we looked forward to the most was seeing our families and friends. We knew that many of them will be coming from far away so we wanted to make this experience as fun and joyful for them as possible. Sure our wedding was about us but we wanted to make sure that they will have a good time as well.
Being from two different backgrounds, we decided to skip most of the traditional details from both sides and make the wedding our own. We designed and took care of most of the details ourselves to make sure that the wedding was a reflection of us and our personality – it also saved us a lot of money.
We couldn't have asked be a more perfect day. The weather was nice, the food was delicious, music was great and everyone had fun.
Venue: Hakone Japanese Garden, Saratoga, CA – Hakone.com
We picked the Hakone Japanese Gardens because it felt intimate and private. While searching for a location, we came across many parks and gardens that felt too open. The Hakone garden was just the right size for us and it is closed to the public after 5pm. The venue was able to accommodate both the ceremony and reception which was a big plus since we didn't want our guests to drive to a different location after the ceremony. We also liked that our guests can roam around the beautiful Japanese gardens while we do the formal photos with our families.
Photographer: Jesse Leake – JesseLeake.com
Sunray was a fan of Jesse's work even before we were engaged so as soon as we were set on the date and location, we booked him. Jesse and his assistant, Emily, were fun and easy to work with. They seemed to be everywhere to capture the right moments without being intrusive.
Catering: Parsley Sage Rosemary Thyme – psrt.com
We opted for casual and fun hors d'oeuvres – mini burgers with sweet potato fries, mini tacos and mini pizzas. The dinner started with baby greens and strawberry salad then main dish options of beef filet with chimichuri sauce or steam snapper with Thai red curry sauce. The kids were served a fantastic macaroni and cheese with chicken nuggets, which were also popular with the adults. We still receive complements till this day on the great service and food.
Wedding Cake: Sprinkles Cupcakes – Sprinkles.com
Neither of us are big on cakes but we do love Sprinkles cupcakes so it was an obvious choice. We ordered extra for our guests to take home.

Bride's Dress: Nicole Miller

Bridesmaid's Dress: BCBG
Groomsmen's Vest: JCrew
Shoes: A $5 find from Thailand with handmade decorations by Sunray's mom

Groom's Suit: Zara + JCrew
Invitations: Hand bounded by Sunray's mom ([email protected]) with supplies from Paper Source – Paper-Source.com
Escort Cards: Handmade by us.
Both of us love to travel so we named the tables for our favorite spots and used some photo booth pictures as table signs. We bought inexpensive number stands from a restaurant supplies store and spray painted them to match our color scheme. We organized the handmade escort cards in vintage library card drawers. The cards were made to look like mini scrapbook pages unique for each table. As guests look for their names they get to see the different photos and memories of us throughout the years. It's like looking through a box of old pictures.

Photo Booth: PhotoWorksInteractive.com
Gene proposed in a vintage photo booth in San Francisco so we use photo booth pictures wherever we can. We also had a photo booth at the wedding for our guests to take pictures as favors. We brought props to encourage the silliness. Sunray's stepdad made thought bubble notepads for guests to write notes on and use in the photos as a prop. At the end of the night, we got a copy of every picture taken and an album full of scrapbook pages made for us by our guests.

Boutonnieres: Handmade by Sunray's mom – [email protected] Inspired by Martha Stewart's Button Blossoms – http://www.marthastewartweddings.com/article/button-blossoms?autonomy_kw=button&rsc=header_14

Ring Pillow Box: Handmade by Sunray's mom – [email protected] Inspired by a DIY project at OnceWed.com
Rings: Custom made by Anna Andersson – AnnaAnderssonJewelry.com
Necklace: Handmade by Sunray's mom – [email protected]
Flowers and Centerpieces: Angela & Corinda Wong – Friends of ours

Hair and Make Up: Jade Jutara – Sunray's sister – [email protected]
DJ: DJJeremyProductions.com
We asked Jeremy to play cover songs done by Vitamin String Quartet during dinner and top 40 mixes when the dance floor opened. Everyone danced the night away and the dance floor was packed until the last song.
Mini Cards: Moo.com
We set up a Flickr account for our guests to share pictures taken at the wedding. The login information was given to guests on Mini Moo cards with our baby pictures printed on the back.
Cupcake Stands
We made the cupcake stands ourselves out of plates, teacups, and candle stick holders found at thrift shops held together with epoxy.
[images by
Jesse Leake Photography
]