Name: Christina Dalle Pezze
Location: SoHo, NYC
Company: Simple Silhouettes
What is your aesthetic and how does your studio style convey your professional aesthetic? The showroom is housed in an old SoHo loft with rickety wood floors and 12 foot high ceilings. It has a minimalist, mid-century modern feel that we carry over into the style of the dresses. The silhouettes are streamlined containing lots of special details.
Favorite part of your studio? I love the cutting table; it is the heart of production at Simple Silhouettes. This is the most centralized part of the workroom and where there is always something happening. From conception to the final product, this is where we design, cut and ship the dresses.
Where do you go for inspiration? I always have my eyes open, looking for inspiration everywhere!  Whether I'm walking the streets of New York, looking at contemporary art, visiting my favorite vintage shops or watching old films, I am always gathering ideas.
What tool do you use in your business that you can't live without? I use so many tools it's hard to choose but I do have these amazing pair of scissors my production manager brought back for me from Hong Kong that I love and cannot get here in the states! My box of pins and 18" clear ruler are always within arms reach and a few more essentials include: sharpies, thread clippers, my French curve, and pattern notcher.
Is there anything you'd upgrade to? Right now I use Adobe Photoshop & Illustrator CS for all my graphic design needs. It would be a nice luxury to upgrade to their latest version, CS4.
Anything else we should know? We're so excited about our new website we'll be launching in the next few weeks! There will be lots of new style offerings for weddings and we'll be launching our new ready to wear collection – Simple Dress. The Simple Dress collection will be available online and in our SoHo showroom.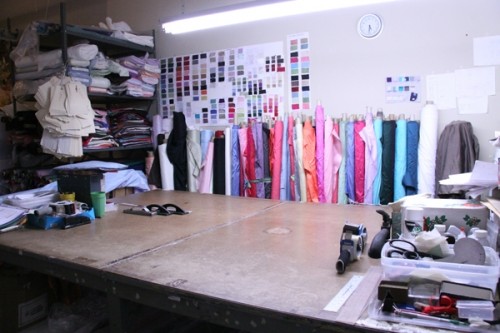 [images from Simple Silhouettes]