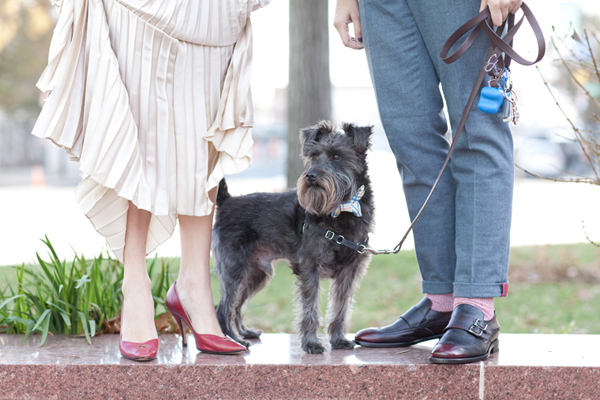 OK, I'm REALLY excited for this one guys….I'm so happy to show off a very special wedding!  Wanna know why?  Because Robin and I went to elementary school together (or was it middle school?  Who can remember anymore??!?!)  Its been such a pleasure to see her rise in the ranks as a wedding photographer in her own right, so I wish Robin and Carly all the best!
From Robin:
Carly and I weren't originally planning on having a formal wedding.  We couldn't resist the gorgeous rooftop garden and the 1930's speakeasy-style bar at the McKittrick Hotel, site of Sleep No More, an off-broadway interactive theatre experience.  Since I also frequently photograph weddings, I had lots of ideas on how to keep my ceremony and party simple and cut out unnecessary stresses and expenses.  I didn't want a huge wedding dress, I wanted something simple, elegant, and timeless, so I chose an Alice and Olivia maxi dress in a bone color.  I bought $24 red with gold detail vintage shoes and a leather clutch from Etsy to go with the leather detail in my dress.  Carly bought a deep red GANT jacket and paired it with gray pants and Ben Sherman shoes.  We tried to stick to a color scheme of reds, off-whites, gold and navy, which felt very fall to us.

We've been together for five years and have lots of mutual friends and family in the area. Since our plan was to move to Los Angeles this winter, we wanted to have a big New York party with our friends and family and get legally married in the amazing city where we met and fell in love.

We hired the wonderful Jessie Blum to help us construct our personal ceremony complete with our own meaningful vows and chosen quotes.  I also made sure we had Kelly Kollar, a friend and colleague, there to flawlessly photograph the day.

The space is so beautiful, we didn't need to add much in the way of decorations.  Our friends made the flags for our ceremony and added colorful mason jars.  I also had an illustrator, Rosa Middleton, do the drawing of myself and Carly for display at the wedding.  We served mulled wine at the outdoor ceremony and provided wool blankets for anyone who was feeling chilly.  We had a violin player there as guests arrived.  After the noon ceremony we continued inside where we had an amazing band perform.  We decided to have a buffet style lunch and a candy bar with jars filled with our immediate family members candy along with stamped bags.

We chose not to do anything formally at the reception.  Our best friends gave short toasts, we danced spontaneously with our family and with each other and the last hour of the reception, after the band was done, we put on an ipod full of dance music.  After our lunch reception, we continued on to our karaoke after-party.  For me, it was the perfect wedding and a day neither of us will ever forget.
Vendors:
[images from Kelly Kollar]