I can't tell you how much I love weddings that really have fun with with the seriousness of everything!  Clearly, Andrea and Jeff had a totally awesome time putting their wedding together, and it absolutely shows in these pictures!  My favorite details has GOT to be the "just married" sign on her wheelchair…genius!  Andrea explains all the other details below…enjoy!
THEME
Us! We wanted the wedding to show our personalities fully – we wanted it to be fun, with bright colors, quirky touches, as well as eye catching details as my new hubby, Jeff, and I are both graphic designers and thus slaves to aesthetically pleasing everything!
The main color was granny smith apple green (which is my favourite) as well as black and white. We wanted it all to look great and contemporary but we also wanted a casual feel since me and Jeff are anything but fancy.
CEREMONY
We planned an outdoor ceremony, which, in Edmonton, AB can be precarious; however, the weather came through for us and the day turned out perfectly! We got married in a park under a big tree. We hung Martha Stewart white paper flowers from the main tree as well as the trees entering the secluded park area. We also had a lemonade stand with lemon squares and a big 'LEMONADE $.10 FREE' sign, t-shirts that our lovely (and arguably, slightly lazy) ushers made with our large mugs on the front and arrows pointing to which side was who's, and my favourite detail, a super tacky 'JUST MARRIED' sign complete with plastic green flowers around two hearts and dangling cans for the back of my wheelchair.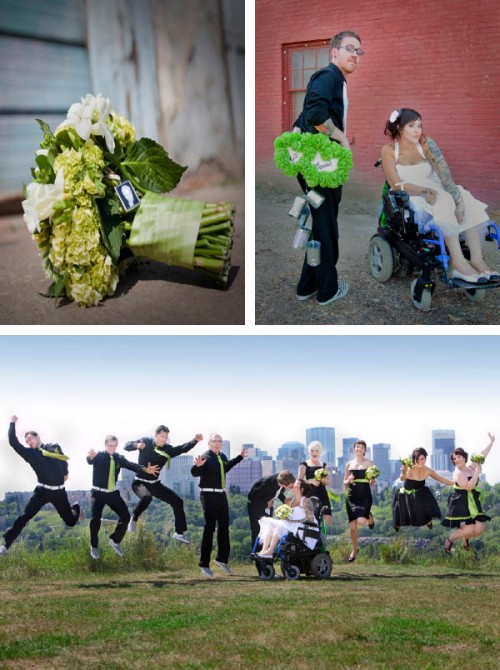 RECEPTION
We very nearly didn't go see this venue, but luckily at the last minute decided 'why not?' and fell in love with it instantly. It was a blank slate with white walls which were perfect because I knew I wanted decals from What Is Blik as my wall decor – there are so many designs and so many custom color options, I'd recommend everyone look into them!
We also had fake mustachios I bought online at some children's store waiting at the front table when people arrived. We figured we could save them for just the photobooth, but this way they were enjoyed all night –  a bunch of people just kept the mustaches on all night, some got creative and made eyebrows and beards out of them – they turned out great, broke the ice, and definitely made the wedding more casual and fun.
MUSIC
My darling husband asked me to marry him with a stickman country music video called 'Don't Rollover My Heart' – how could I not say yes to that? We chose to walk into the reception with the song playing.  It was awesome because the majority of  our guests had seen the video and could hum along and it was a great start to the evening!
For the reception we went the iPod DJ route. We made a playlist with a bunch of songs we wanted to hear and asked our friend Joff to DJ and add whatever songs he felt would get the dance floor going. As a thank-you, we bought him an iPod DJ mixer which made things run smoother and apparently was lots of fun for him.
INVITATIONS/STATIONARY
As I mentioned above, I am a graphic designer at Paper Leaf Design and thought who better to sum up us and our wedding on paper than I? Rather than a monogram we decided on a 'love birds' logo for ourselves; this detail, as well as others from the invitations, were carried on throughout all of the stationary which tied everything together perfectly.
My two favourite stationary ideas were the table numbers on large glass water bottles – pretty and practical – as well as our seating chart. Instead of a bunch of different pieces of paper on aboard, we designed a big seating chart and printed it on poster board. It was a fun detail when people entered the reception.
DECORATIONS
As I mentioned above, our main decorations were the decals on the wall from What Is Blik, they really brought a touch of fun and tied everything together.
For our centerpieces I knew very early on in the planning stages that I wanted tall vases filled with granny smith apples, then I found the glass bottles and knew I wanted to put table numbers on those, and that just didn't balance well together so then came in the short vases with hydrangeas – a great accident!
The black table clothes were quite a bit more expensive than the free ones that came with the venue; however, we only had 105 people, so not many tables (this was my justification to Jeff) and they made the tables look so much richer – I stick by my decision!
Lastly, the green napkins! I was a stickler for everything being the right granny smith apple green – not so easy! Luckily my glorious bridesmaid Teira is a seamstress and was able to take the right color material and sew together 120 napkins, 4 table runners, and as a surprise, a few throw pillows to go on the black couches in the lounge!
FAVORS
We lucked out with many talented friends who were so helpful in so many aspects – one of those people was our friendly neighbour chocolatier! We've known Jacqui for years and knew that our favours would definitely have to be her Jacek Chocolate! We had green tea infused chocolates with a green jewel on top as well as a milk chocolate ganache in a dark shell with white chocolate drizzles on top. So tasty!
CAKE
We got the cupcakes from Fuss Cupcakes – super amazing and tasty local cupcake shop. We went with cupcakes, 1/3 chocolate with cream cheese icing, 1/3 chocolate with chocolate butter cream icing, and 1/3 vanilla with cream cheese icing. We had little signs coming out of the different kinds of cupcakes, and the different colors of icing and cake mirrored the colors of the wedding perfectly.
My very favourite part was the extra large cupcake on top of the cupcake tower. It was extra cute and I think made the cupcakes all the more special.
PHOTOGRAPHY
Photography was another area of talented friends and knowing who we'd be going with even before we got married! We went with Leah Rae Photography – I had know Leah for almost 10 years, she's a super talented photographer and I knew she'd capture every moment perfectly. The other great thing about having Leah was that she knew me, so I could rest assured she wouldn't be awkward to direct around my wheelchair as I'm sure some might be.
The other half of the photography was our friend Gravy – he was Leah's second shooter, but he also did our photo booth shots. He did a grand job and made sure he got just about everyone in the photo booth over the course of the evening.
We were very fortunate to have these photographers! They made us look good 🙂
FLOWERS
The bouquets, boutonnieres and corsages for the bridal party and family were all done by Eden Lilly. They are amazing and awesome people… and they're pretty good florists as well I suppose 🙂 The bouquets were made with green hydrates and white freesia. My bouquet was wrapped with green ribbon and had a tiny picture frame which I bought from Etsy with a picture of my Aunt hanging from the top.
BRIDE & BRIDESMAIDS – My wedding dress and all of the bridesmaids dresses were all designed by a local designer Kelsey McIntyre. The bridesmaids all designed different dresses but had them made out the same material to keep a unified look and still having dresses they'll wear again (the green on them is removable). The differences in the dresses but having the same material looked so sharp and all the girls looked amazing!
My hair piece was from the lovely Twigs & Honey on Etsy – it was exactly what I wanted!
GROOM & GROOMSMEN – Jeff and the groomsmen dressed fairly casual opting for no dress jackets and wearing checkered vans instead of dress shoes. The guys then had ties made out the same material as the green from the bridesmaids dresses and the white from my dress which looked great!
EXTRAS
Ceremony Venue: Forest Heights Park
Reception Venue: Shaw Conference Centre
Hair: Teira Highet from Sylvia & Co
Make-Up: Jenn Kowton
Bridesmaids Presents:
Jewlery – Polli
Lunchboxes – The Macbeth Collection
Day-of-Wedding Coordinator – Jacqueline at Events Unfolded
Rentals: Infinite Event Rentals
[images from Leah Rae Photography]