Name: Maria, Kelly, Suann, Kate
Location: 1511 King Street, Old Town Alexandria
Company: The Hive at 1511
Home of Ritzy Bee Events, Kate Headley Photography and SIMPLESONG Design
What do you do? We each operate independently but often collaborate and provide full service to wedding and event clients.  We also host occasional events and creative workshops.
What is your aesthetic? Fortunately, the four of us have a similar aesthetic and design sensibility.  We love a timeless look with vintage and personal touches.  You'll also see little pops of color and modern touches here and there — both in our work and studio..
How does your studio style convey your professional aesthetic? We love understated elegance with a lot of personal touches. And we think that is reflected in our work as well as studio.
Favorite part of your studio? Our meeting room!  We love that we have a place to meet clients that showcases our work.  And of course we love our farm table and natural sunlight!
Where do you go for inspiration? Everywhere!  Magazines, textiles, blogs.  We're constantly looking around us to gather inspiration to inspire us and our clients.
What tool do you use in your business that you can't live without? We all love our laptops, of course.  But one of the favorite areas of our space is craft closet and those are tools we definitely couldn't live without!
Is there anything you'd upgrade to? We're fortunate to all have growing businesses – so we wouldn't mind a little more space!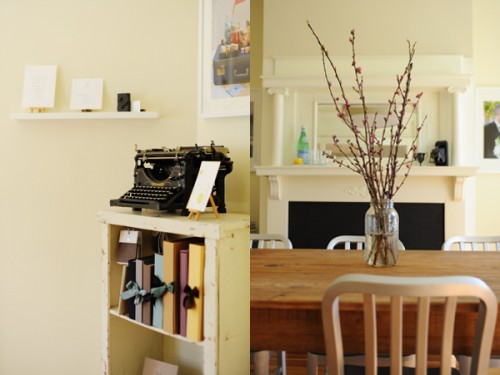 [images from Kate Headley]