What an amazing backdrop, right?
[images from Steph Goralnick]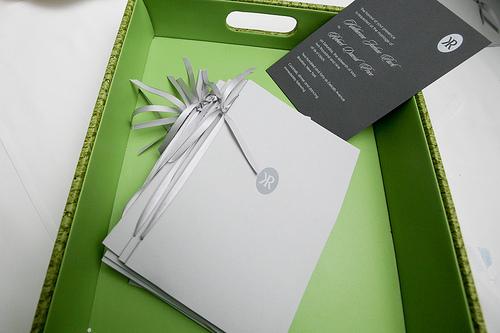 License to Wed from Bobcat Productions on Vimeo.
Rob Price and Kathy Park were married at Ici in Fort Greene, Brooklyn, on May 16, 2009 at 6 pm.
We officially got engaged on February 1.  It was, coincidentally, Super Bowl Sunday, so I will forever think of that day as romantic and meaningful.  What Rob and I decided right away, from the practical perspective, was that we wanted an intimate wedding that conveyed our personalities down to the details.  We also promised each other that with every decision we faced, we'd remember what getting married really means, and we'd have fun with the process.  Neither of us could comprehend the idea of becoming crazed over something that was supposed to be joyous, so, we were on the same page from the emotional perspective, too.
Planning our wedding was incredible because it was such an all-encompassing experience that asked us to work individually and together, emotionally and physically, creatively and logistically, and short-term and long-term.  Rob and I had worked together before on projects, but this was like the marathon.  There were highs and lows, but in the end, I treasure our planning period as much as I do our actual wedding day.  We paced things pretty well, so that the last weekend before our wedding, when we had done all the work, we just relaxed…took our first rowboat ride in Central Park, went to P.S. 1, had a leisurely brunch and just enjoyed each other and had time to sort of meditate on the vows we were going to make the following weekend.
What anchored our wedding as an event was the color scheme (gray, green and white), the oval as a motif, a sense of fun, and a classic-with-a-twist vibe.  Using those general ideas as a foundation, we found the right venue and created the details.  For a living, I do PR, which includes planning lots of events, and Rob is an industrial designer, so we saw the wedding as the ultimate collaboration. Creativity and productivity are two tenets of our relationship, and we wanted our wedding to represent that.
Highlights include:
Our logo: We created a logo with our initials in an oval that appeared on the invitations and then again at the ceremony on some of the mirrors and windows.  Rob and I then appeared "in" an oval, which was a backdrop during the ceremony, echoing the logo.
Invitation: Rob and I designed the invitation ourselves.  It conveyed both classic and modern through the colors and fonts used.  Because dark gray cardstock is extremely hard to find, Print Icon created a custom paper for us, essentially gluing three layers of card stock together.  We had the cards engraved with white text.  Then we made our own green envelope liners and had a simple green grosgrain band that went around the gray and white invitation and vellum reply cards.  I hand-addressed each of the 40+ invitations using calligraphy.
Decor: An oval served as a backdrop for me and Rob during the ceremony, creating a portrait and anchoring the all-white minimalist space.  We really like the oval shape for many reasons.  I like it because I love pictures and the shape reminds me of portraits.  Rob likes it because the oval feels classic and modern at the same time.  We extended the oval shape throughout the wedding, down to Rob's green oval cuff links. Something that brought guests into the oval motif were these green oval frames Rob designed, which served as photo backdrops for portraits during the reception.
Often in subtle ways, we put our stamp on every area of the venue that our guests would encounter.  For instance, when guests walked up to the wrought-iron gates of Ici, they were met with our logo seemingly etched on the window, and a small painted sign on an oval canvas pointing them upstairs to the wedding space.  Also, on each step we placed a pair of green ceramic Korean wedding ducks (symbolic of marriage because they mate for life).  And for the bathroom, I had made a gray sink skirt and bought some green hand soap.  It was fun making the space ours for the night.
Video: About a month before the wedding, we filmed and edited a music video about the adventure of getting our marriage license.  Called License to Wed, the film is about our experience of getting our marriage license.  http://www.vimeo.com/4699684 It was a lot of fun screening it at the wedding.
Favors: Rob and I both like to throw pottery, so we made bud vases that served as centerpieces as well as wedding favors.  Each piece had our oval logo stamped onto and our wedding date etched onto the bottoms.  Each bud vase was unique, reflecting the individuality of each guest.
Neither of us did all the work on any given piece because with each step of the process (throwing, trimming, decorating, stamping, glazing, firing), we shared the experience.  Therefore, each gift was really from both of us.  Making the favors was a metaphor for the whole wedding process.
Friends: When we could make something, we did, and when we couldn't, we looked to our friends first.  We decided against having a wedding party in order to keep things simple, but we incorporated friends into our wedding in many ways and they became integral participants. This added to the intimate feel of the wedding because everything was made or done with love.  Pastry chef Vivian Kamen made our passion fruit and chocolate cake, Photographer Steph Goralnick shot us, Eric Whipple of Crown Signs made vinyls of our logo and Claudia Urquiola was our day-of coordinator.
Venue: We had originally hoped to have our wedding in the stables at Frankie's 457, but working with them wasn't pleasant.  And then we found Ici, where we really felt we were meant to have our wedding.  From the aesthetics of the space to the warmth of the staff to the awesomeness of the food, Ici exceeded our expectations and complemented the feel of our wedding.
The cocktail hat: We had never DIY'd so many things in such a short period of time.  No matter how much we had going on, a we'll-make-it-ourself attitude was constant.  I had seen a fancy hat that I liked but it only came in a black and violet fabric combination.  When I found out it'd cost around $450 to custom make the hat in shades of ivory, I decided to give it a try myself.  Rob helped me design it, too, and I loved the final product.  We even sewed in a little antique blue button as my "something blue."  Certainly, seeing so many brides DIY aspects of their weddings on sites like this one, had inspired me.
Table markers: Each of the four tables was a representation of a medium we have used to be creative:  Painting, Sketching, Photography, and Sculpture.  This conveyed our dedication to living creative lives.
Hidden details: Rob embroidered I (heart) U and his initials on the handkerchief that I carried down the aisle.
Participants, Vendors, and Venues:
Officiant:  Jesse Hendrich (www.jessehendrich.com)
Photographer:  Steph Goralnick (www.sgoralnick.com)
Pastry chef:  Vivian Kamen
Ceremony and reception location:  Ici restaurant's second floor private space  http://www.icirestaurant.com/
Cellist:  Jennifer Girone  http://jennifergirone.homestead.com/
Printer that produced the invitation that Rob and I designed:  Print Icon http://www.printicon.com/
Dance instructor:  Jessi Patz at Sandra Cameron Dance Center  http://www.sandracameron.com/
Ceramics studio where we made budvase wedding favors and centerpieces:  http://www.clayspace1205.com/
Makeup instruction:  Makeup by Tiffany via YouTube (Glamorous Bronze:  http://www.youtube.com/watch?v=aeYMO8GT5vo&feature=channel_page )
Hair instruction:  Also Professor YouTube (Loose beachy waves:  http://www.youtube.com/watch?v=PNbxHToXz0M&feature=channel_page )
Fabrics for the table runners, sink skirt, etc:  B&J Fabrics  http://www.bandjfabrics.com/servlet/StoreFront
Lily of the Valley flowers for bouquet and table settings:  Star Valley Flowers http://www.starvalleyflowers.com/gallery2.html
Flowers for the ceremony and reception:  Surroundings, Posies, Takashimaya and about five bodegas on the Upper West Side
Ostrich feathers:  Ostrich.com  http://www.ostrich.com/
Outfits:
Dress:  J. Crew
Bride's shoes:  J. Crew via eBay bidding war
Earrings:  Alexis Bittar (Kathy was inspired by similar earrings that Vane wore on her wedding day)
Engagement ring:  Doyle and Doyle http://www.doyledoyle.com
Other jewelry:  Antique tourmaline and platinum brooch from Ellis Antiques
Stole:  Kathy had it made using silk from B&J Fabrics
Cocktail hat:  Made by Kathy (Kathy's first and last try at millinery)
Suit:  Banana Republic
Tie:  BCBG
Groom's Shoes:  Bottega Veneta
Cufflinks:  Dunhill
Groom's watch:  Rolex (wedding gift from Kathy's father)
OK, that video sold me on this being one of the coolest weddings I've ever seen!  Thanks for sharing Kathy!
[images by Steph Goralnick]