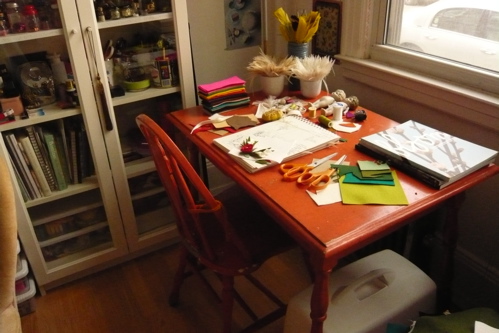 I'm a huge fan of Llubav's ring pillows, so I was super happy when she agreed to show where she creates them!
Name: Llubav Choy Duerr
Location: Brooklyn – NY
Company: Llubav co

What is your aesthetic? Fresh and vibrant with a touch of vintage. I love giving new purpose to old materials and finding new places to showcase found objects.
How does your studio style convey your professional aesthetic? I work from home while I take care of my almost 2 year old.  My magic corner really reflects my aesthetic in that is colorful, sweet and fun my workspace, like my life, can at times become extremely busy and complicated, but everything has its place, and over time everything serves its purpose.
Favorite part of your studio? My cute orange desk that my old boss Susan Hable passed on to me — She has great taste for antiques. I enjoy sitting there and letting my creativity flow.
Where do you go for inspiration? NY library, Nature, Bloom magazines, or an unexpected fun trip (especially up along the Hudson) can each be a source of great inspiration for me.
What tool do you use in your business that you can't live without? Needles.  Can't have enough of those to sew all those shimmery beads and sequins.  I make my piece from scratch, so not having a needle would be devastating.
Is there anything you'd upgrade to? Yes, a real studio detached from my home — a backyard barn studio would be a dream!
Anything else we should know? Yes, I'm working on an exclusive made-to-order collection that will be available next year.  I hope to add textiles to my product line this year along with other goodies.
I'm 6 months pregnant with my second child so the creative juices are becoming more intense!
[images from Llubav]