Name: Michelle Gainey
Location: Atlanta, Georgia
Company: StudioWed Atlanta
What is your aesthetic? Modern Elegance
How does your studio style convey your professional aesthetic? Ceiling drape, chandeliers, and blue suede furniture.

Favorite part of your studio? I was so excited to find a location that wasn't a typical white box retail space. Our studio is located in a converted brick factory, and we have a brick wall from the original building. Tall loft ceilings and sealed concrete floors add to the modern, loft feel of the space. However, I still wanted the studio to be elegant and soft, so we added
I love sitting on our blue suede couch with custom pillows, made by one of our vendors. The floral centerpiece made by one of our floral designers is a great focal point, and the wedding canvas on the wall is truly a piece of art.
Where do you go for inspiration? Everywhere! My clients, home decor stores and magazines, fashion, etc.
What tool do you use in your business that you can't live without? Wireless internet! It makes it easy for all of my vendors to come and work in the studio anytime.
Is there anything you'd upgrade to? Yes! I would love to have a Tassimo coffee machine so we can make individual cups instead of pots!
Anything else we should know? With the craziness and stress of planning a wedding, I really wanted to create an environment for couples that would be calm and inviting, while providing inspiration for their wedding. I love having couples come and explore the space and stay for hours!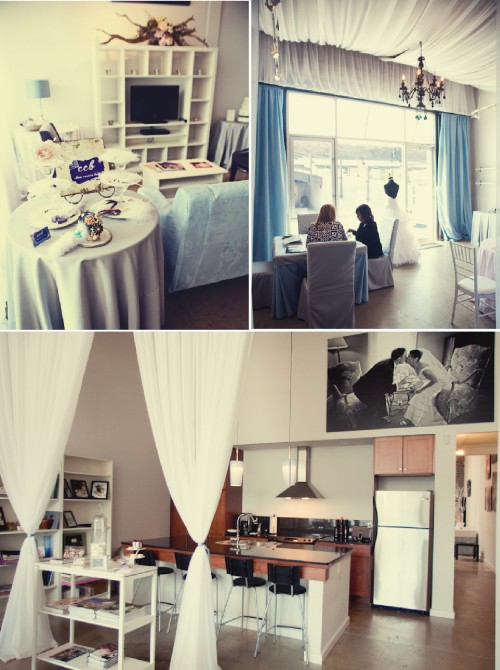 [images from Project Duo Photography]