A bit about the shoot…
Domestic Construction…We were on the same page from the start!  We didn't even discuss colors before hand and the pipes we painted turned out to be the same color as the flower arrangements they made.  The metal shop (*thanks to our friends at calipher) ended up being the perfect setting for this exciting wedding.  whatever we forgot to buy at the hardware store was easy to come by here.  We created the floor out of scrap metal we found lying around… we even found two perfect circles for the bride and groom to stand on!  colleen of cleanwash letterpress created all the menus and name cards and they couldn't have tied things together better.  It's not every day that a few girls get to live out their secret fantasy of getting married in a metal shop.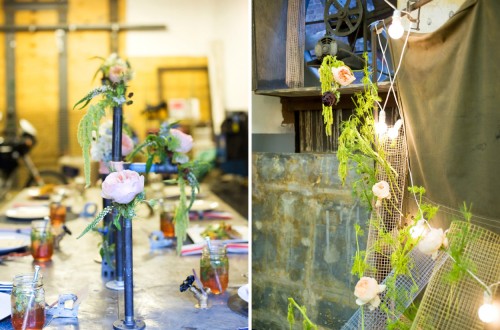 poppies & posies…We headed over to the hardware store to get inspired for the shoot and wound up finding fabulous detail elements to incorporate into our tablescape. We convinced the owner of the hardware store to give us his us old round sanding paper pieces to use as our place mats and we discovered that long bolts makes for the perfect cocktail stirrer (new ones of course)! Faucets posed as great seating card holders and fresh cocktails were passed on a big round blade. Our goal was to create a romantic atmosphere in an industrial workshop by pairing the hard, metal elements that we found at the hardware store with soft, romantic flowers. We used juliette garden roses, veronica, amaranthus, unirpened blackberry, queens anne's lace, and nigella to create the perfect tablescape. Lastly, the bride's bouquet was placed in a brass pipe to tie it in with the rest of the decor.
Clean Wash Letterpress…I made an inspirational trip to the hardware store where I found purple sand paper and a roll of green carpenter's masking paper which I thought would be a great complement to the simple brown ink and chip board. Staying with the hardware store theme, I focused on simple and recognizable tools for the illustrations. YouWorkForThem's Trihart font was the perfect fit.
Stuart & Welch Catering…Trying to figure out a menu that fit into a hardware theme wedding wound up being quite enjoyable.  I used one element you'd find in a hardware store in each dish, such as a fresh herb salad with "blowtorched" manchego toast, slow roasted salmon with "hacksawed" carrots, roasted cippolinis, and pumpkin vinaigrette, and seared lamb loin with stuffed squash blossoms, and "painted" currant compote.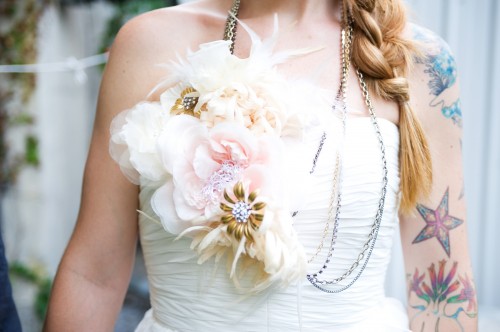 Cassandra Quinn, Couples Stylist, from
Lovely Bride
…I chose the Badgley Mischka Kiki because I think it provides a nice counterpoint to the industrial theme of the shoot. This to-die-for dress is both edgy and ethereal with its light layers of raw edged chiffon, the true white of it also plays nicely against the grit of the space. The necklace by
Untamed Petals
is perfect in keeping with the feel. I love it's combination of soft oversized blossoms and hardware like multi-chains. The vision for me revolved around pairing the perfect dress with with the space, everything else was secondary.  My husband wore his own Zara suit and the tie is from our "original" wedding…what a nice surprise that it went so well with my gorgeous bouquet!
Missy Photography
…We asked Missy Photography to join us to capture all of the vendor's hard work. We knew her eye for detail and soft, feminine style would be the perfect pairing with our design concept. She really made everything come to life in such an organic, sweet way!