Founded in April 2007, Brooklyn Bride was the first wedding blog to focus exclusively on modern weddings. Founded by Vané Broussard, an interior designer by day, and a bridal blogger by night, the site features up and coming vendors in all fields such as photography, calligraphy, invitations, fashion, and gifts, along with coverage of bridal shows, shop reviews, and everything in between. It also includes a vendor listing page that features modern wedding vendors that range from up-and-coming to seasoned pros. While membership in the listings are paid, the chosen vendors are highly edited to showcase only the best.  The site attracts a core readership of brides, industry professionals, and magazine editors.  We've been featured in publications like The New York Times, Martha Stewart Weddings, Brides, and The Knot, amongst others.

You can also find us on Facebook, Twitter, Pinterest, and Instagram.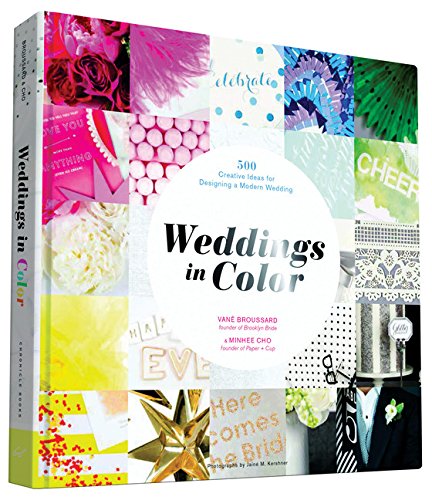 Our first book on the modern wedding (with Minhee Cho of Paper+Cup Design) will be was published in November 2015 from Chronicle Books. You can purchase it at these following retailers!
Amazon | Barnes & Noble | Indiebound
PAST CONTRIBUTORS
TRAMANH PHI: Tram is a native Texan, currently living in Seattle with her husband and two adopted pups, and enjoying all the rain and lush greenery that the Pacific Northwest has to offer. When she's not contributing to Brooklyn Bride with her take on the modern wedding ensemble, she updates www.phi-style.com with her personal style, dog photos, and Seattle living. Tram is ex-lawyer who decided to pursue a more creative career path and hasn't looked back.
See all her posts here
MICHELLE EDGEMONT: Michelle Edgemont is a wedding designer based in Brooklyn. She specializes in hand crafted decorations for couples looking to throw conventionality out the window. Her modern quirky style has been featured in numerous blogs and magazines. She writes about her current projects and behing-the-scenes peeks into her design life over on her blog.
See all her posts here
BRITTANY WATSON JEPSEN: Brittany Watson Jepsen is the creator of The House That Lars Built, a design blog focusing on DIYs and creating art in everyday life. She grew up in CA, but has since spent a good chunk of her time on the East Coast going to grad school in interior design and interning in NYC with Jonathan Adler and Celerie Kemble. She is happy to call Copenhagen, Denmark home for now and looks forward to going to her via her 3.5km bike ride to her studio where she crafts and styles for a living.
See all her posts here