This wedding is dreamy and modern, all at once!  A difficult task for most, but pulled off beautifully by Tova & Jeremy!  Congrats you 2!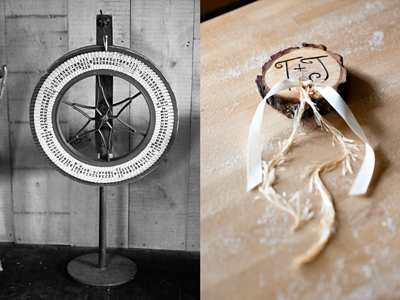 If a wedding is about love, then Jeremy and I knew we wanted our wedding to be fun and a true reflection of us. Living in Brooklyn we felt if we didn't venture outside of the city we would have to keep our guest list small and we couldn't have that. We took day trips to Hudson Valley and New Jersey, and the moment we walked onto the grounds of Crossed Keys Inn our search was over. We walked down the shady path of tall hundred-year old trees, saw the lush garden setting of the ceremony, the old stone barn, and the honeymoon cottage. This was us.
The feel we wanted for our wedding was playful, romantic, and effortless. The inn has 13 acres for guests to wander, a tent for the party, and a fire pit for cigar smoking and making s'mores. We are inclined toward the old-timey feel and knew the Jug Addicts, an amazing Brooklyn Jug Band we've seen play before would set the stage at our ceremony and cocktail hour and DJ Bert got our guests dancing with 70's R&B.
Katherine Rodriquez, owner of the Crossed Keys Inn, coordinated our event and her husband is the caterer, Celsos Catering. Jeremy and I are foodies, and the food was really spectacular. Also a lovely flower designer at Event Designs By Katherine, Katherine created all of the flowers. We wanted flowers that were soft, in differing shades of blues and greens, and looked hand-picked from the garden. Peonies, hydrangeas, and lady's mantle kept the bouquets supple. I searched flea markets and ebay for the colored bottles and had much help from my sister-in-law's scavenging all the way from Wisconsin.
The planning process was really fun for us because we were able to hand pick and design lovely elements and details for our guests (and us!) to savor. Jeremy designed the paper goods – programs, seating cards, table numbers, drink menus – and they came out exactly like we visioned. Etsy was an amazing stop for me to work with creative designers and PrimandPosies created the flowers for my hair, LittleWeeShop made the ring pillow, and JessicasDesignShop designed the lovely honey stickers. The honey is special to us because it comes from a beekeeper in Wisconsin, where Jeremy is from, (and where we met) and they were hand delivered by his mother. We had other vintage elements – the antique champagne glasses from a friend, my purse, and our wedding cake topper.
Choosing Kimberly Hurst as our photographer was one of the first big decisions we made and also the easiest. She captures beautiful moments and adds a dreamy and almost vintage feel to the photos. When she and her father arrived the day of our wedding they were so easy to work with and we couldn't be more delighted with how they came out.
I've never worn white before so I knew I had to have a splash of color somewhere. Finding emerald green shoes was a challenge and I ended up getting my shoes dyed. I was fortunate enough to find my dress at a Kleinfeld sample sale. When I put this Amarildine dress on I just felt like myself and it was light and flowy. The wedding day was breezy when we took the photos and I love how my dress moved so organically. Jeremy, a lover of bow ties, didn't disappoint. His suit was a steal from Uniqlo, the tie from J. Press Madison Avenue, shirt from Charles Tyrwhitt, and shoes from Allen Edmonds. Our family wore different shades of blues, greens, and grays and there are great pops of color everywhere.
[images from
Kimberly Hurst
]