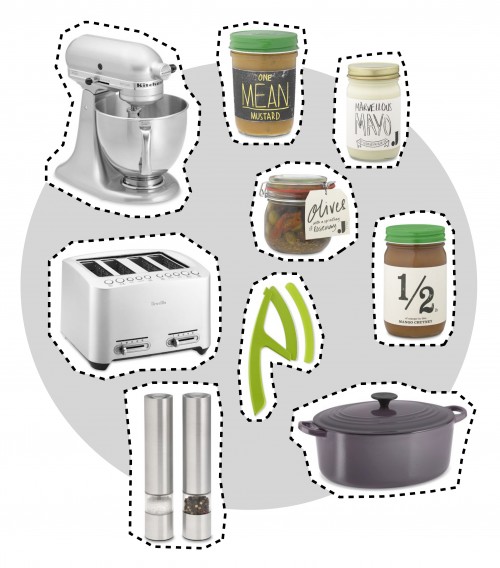 When Chad and I got engaged, we knew that Williams-Sonoma would definitely be one of the places we'd register…after all, its where serious cooks shop, and Chad seriously likes to cook!  In fact, it was probably when Chad first made me a batch of his incredible Jambalaya that I knew he'd be the one for me!  It had been awhile since I'd checked out the website, so I was ecstatic to find some pretty things for my modern kitchen…
Of course what kitchen could be without the Kitchenaid stand mixer?  We registered for one in white which has been sitting in storage since our tiny apartment has no space, but that's all going to change when we move next month!  Bring on the baking!!
While I'm sure the Jme Jaime Oliver kitchen selections are going to taste fabulous, their packaging is just too cute to resist…did you know you could register for food items??
Le Creuset is another must have, and in a glossy black, the dutch oven is perfect for roasting and making one pot meals that can come straight to the table as is.
I love quirky little kitchen gadgets, so this Kuhn Rikon herb chopper in bright green is a must have….well, anything in a bright green is a must have for me!
The Cole & Mason electric salt and pepper mills are so sleek and modern…I might have to re-register just to add them to my household.
There aren't too many pretty toasters out there, but this Breville beauty really looks as good as it works.
So after all this, you're going to want to know how to enter to receive a $200 giftcard right?
How to enter:

1. First, you need to
register with Williams-Sonoma
to enter the giveaway. If you've already got a registry going with W-S, all you have to do is add another item to your registry and include this item in your comment.
2. Then you need to leave a comment stating that you've registered and leave your own 'Moment I Knew' short story – this can just be a sentence or two.  What was the moment YOU knew your hunny was the one for you?
3. If you want to receive an extra entry (and who wouldn't??), just include your public registry link in the comment.
Winner will be announced on Friday!  Good luck!
Clockwise from top: Kitchenaid Artisen Stand Mixer, selection from Jme Jaime Oliver Kitchen, Le Creuset 5-qt Oval Dutch Oven in Cassis, Kuhn Rikon herb chopper, Cole & Mason Electric salt & pepper mills, Breville Die-Cast Stainless Steel toaster