Here' s a fun outdoor Brooklyn wedding for you…super simple but super sweet!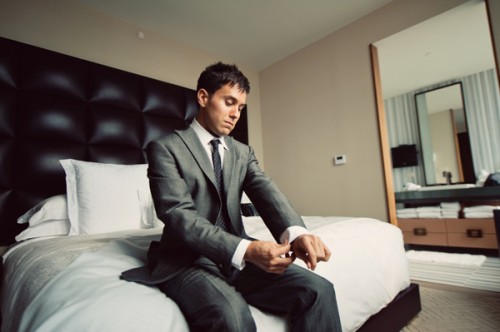 US
Jesse & I met in college, 13 years ago, nearly to the day, although it took us 11 years to finally get together. That said, everything with our relationship fell into place at the right time, including our wedding. We became engaged in July 2009, but only set our August 1 wedding date in late June 2010. 6 weeks in advance is barely standard for most couples to send out their invites, never mind to start planning their wedding! To say we put the wedding together quickly would be an understatement.
We debated a destination wedding for some time but in the end we realized it made sense to get married right here in NYC where we met, live and fell in love. Once we decided on the date we knew the wedding would be outdoors in Brooklyn Bridge Park. We moved quickly and got the location permits, locked in the venue and found all of our vendors were miraculously available. Our far-away friends and family bought plane tickets, probably before our invites were even mailed out! Luckily, I already had the perfect dress.
For us, the key element to getting married was that we have our favorite people in the world with us to witness our union. To that end, the ceremony was of the utmost importance. Beyond that, photos, food and music would follow. It's funny how everything has a way of working out…
CEREMONY
We were married in front of our friends and family with the Brooklyn Bridge and all of New York City as a backdrop. It was magic hour- the sun was just beginning to set. We had to pause during our vows for a subway car to rumble by on the bridge, which made everyone laugh. It was very New York and absolutely perfect.
We selected The Ronettes' "Be My Baby" as our recessional song. The first few beats started playing as we had our first kiss as husband and wife: it was cinematic- just as I'd always pictured it!
Many people told us after our ceremony that they don't usually cry at weddings, but ours got them. There was not a dry eye in the park! I think it was very honest and real and it had been a long time coming. We were wed by a dear friend from school who was there when we met. He led the most touching ceremony, which we collaborated on. Of course, we wrote our own vows- we didn't feel there any other way to express how we truly felt.
Following what was a decidedly moving and emotional ceremony, Jesse surprised me by hiring a 1962 Checker taxicab to take us on a private ride across the bridge. He even made us a mixtape to enjoy during the journey- a hallmark of our relationship! This served as a way for us to have a modern-day yichud, an old Jewish tradition where the bride and groom have some alone time after their wedding ceremony. After that, we were dropped off at our reception venue where the fabulous Prewar Ponies enlivened our cocktail hour with a set that took an unhurried journey through the Jazz Age. They ended their show with a surprise request that we had made weeks earlier in a flurry of excitement but quickly dismissed as being too difficult to nail: "Sweet Child o' Mine," re-imagined as a swingin' standard from the Roaring 20s.
DRESS
Shortly after we got engaged, I needed to shop for an unrelated special occasion dress. Jesse actually spied a lovely short white number in a little shop in NoHo and when I went for a closer look, I noticed the "wedding" label on the hanger. The salesgirl asked if I was getting married and I nearly surprised myself when I said, "Why, yes!" I agreed to try on the dress even through I didn't think I was looking for THE dress yet. As soon as I saw myself in the mirror, I gasped (!) and knew it was the one. I bought it on the spot, no alterations needed. Even though it sat in my closet for several months, it was gorgeous, unique and very me.
FLOWERS
The day before our wedding, my friend Jamie and her husband took me to the wholesale flower district where I bought 3-dozen mango calla lilies as well as a few dozen orange orchid-like flowers for our Mason jar centerpieces. She and I handcrafted the bouquets and boutonnieres ourselves, which made them all the more special.
INVITATIONS
The fabulous 1960s-inspired invites were a design that Jesse & I conceived of and wrote together. We worked with a super-talented designer that I know to bring them to life. Anyone who saw them knew right away that they were very us, and they got a laugh and a smile from everyone who took them out of their sparkly gold envelopes.
CUPCAKES
We knew that we wanted to serve up some delicious cupcakes with one giant cupcake as the topper. It was a tough job, but we scoured the city looking for the perfect marriage of cake and frosting. In the end, Chikalicious won out, but in the journey to find the best cupcakes New York City had to offer, we were all winners. We had about a dozen flavors at the wedding, each more amazing than the next.
PHOTOS
Jesse & I are both photo geeks so selecting our photography vendor was a serious consideration. We wanted to make sure we'd have someone who was able to capture emotion and would give us photographs that would amount to more than your typical photo album.
Before the wedding, we took a trip out to Coney Island for an engagement shoot with our wonderful photogs, Dustin & Whitney from Oh Darling! Photography. We thought it would be a good idea to spend some time with the laid-back duo in advance of the wedding to become more comfortable as first-time photographic subjects. We had a great time posing for pictures and laughing as the sun went down on New York's oldest theme park.
Our photographers set up a Smilebooth at our reception so that everyone could take self-portraits and it quickly became the biggest hit of the evening. The party was filled with a bunch of film directors and very willing hams who did not shy away from letting their silly side show (also – thanks open bar!) Mostly, though, it was a casual and perfect way to capture all the love and happiness that defined our wedding day.
Vendors:
Shoes: Badgley Mischka
Suit: John Varvatos
Veil: Bridal Veil Falls
Invites: Cassandra Berger
Photography: Oh! Darling
Photobooth: Smilebooth
Ceremony: BK Bridge Park
Venue: ReBar
Cupcakes: Chikalicious
Flowers: We did them ourselves with flowers from the wholesale district!
Band: Prewar Ponies
DJ: Seth Johnson
[images from Oh! Darling Photography]