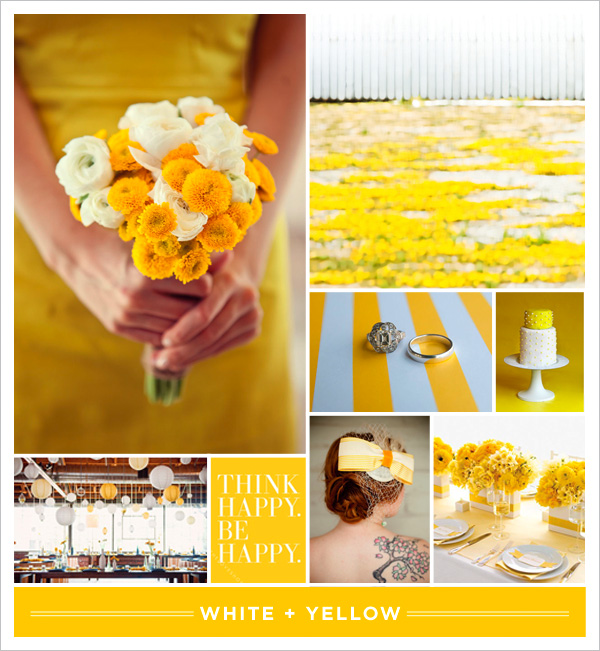 I thought I'd start the week off with an undeniably bright pop of color. According to the experts, the color yellow "shines with optimism, enlightenment, and happiness." Now that sounds like the perfect description for your wedding day. I can't imagine being surrounded by such an uplifting color and not feeling utterly optimistic, enlightened and happy. – Courtney
Credits: Clockwise, from left to right: Bridesmaids photo by Sarah Yates via Sitting in a Tree Events, Photo by Thomas Hawk, Rings by Jenny DeMarco Photography via Style me Pretty, Cake by i am baker, Centerpieces from Martha Stewart Weddings, Bride photo by She-n-He Photography and Design via Style me Pretty, Art print by The Love Shop, Reception photo by Altmix Photography via The Lovliest Day.
1. Invitation from Minted, $96.00 and up; 2. Bridesmaids Dress from Jenny Yoo, $276.25 – $325.00; 3. Bracelet from Kate Spade, $45.00; 4. Straws from emerald + ella, $8.14; 5. Sash from eclu, $69.00; 6. Mini Pinwheels from Twirlie Whirlies, $10.20 for 12; 7. Band of Outsiders Bowtie from Barneys New York, $125.00.