Love the dress, love the shoes, and DEFINITELY love that cake!  Read all about the details from Neeve after the jump!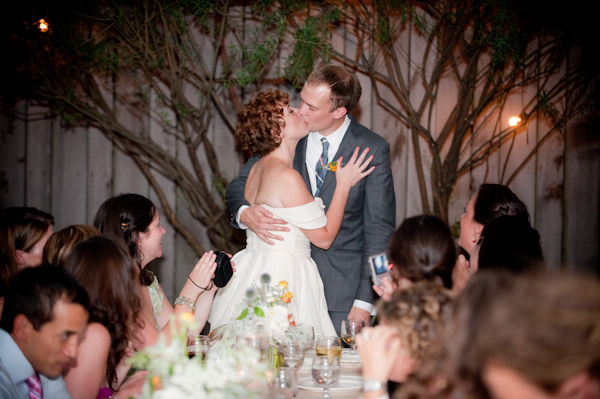 US
Justin and I had our first date at Prospect Park in Brooklyn. One amazing year later, we were engaged. Although I grew up in New Jersey, and Justin in Pennsylvania, we knew we wanted to get married in the borough that brought us together. Brooklyn quickly became the location, theme, and source for our wedding.
DRESS
The huge wedding dress shops, where the saleswomen are more like used car dealers, were not for me. As a Project Runway fan, I remembered season eight winner Leanne Marshall's gorgeous wedding dress that she made for Fashion Week. I looked her up on a whim, to see if working with her could even be a possibility. I was so excited to discover she was located in Brooklyn and that she was willing to meet with me. Leanne was amazing, and so was the process. It felt so special to have a dress made just for me, instead of ordering something mass-produced. The dress was everything I wanted it to be – short, simple, cute, and eco-friendly (it's made of sustainable cotton, silk, and hemp). I am still in love with it!
RINGS
We had the pleasure of working with Blanca Monrós Gómez, a Barcelona-born, jewelry designer who makes amazing pieces out of her Brooklyn studio. She was an easy choice for us, since her work is eco-friendly (she uses reclaimed metals), she is inspired by local flora, and she is incredibly sweet. She made our custom engagement rings (yes – Justin wore one, too!) and wedding bands. Justin also surprised me by commissioning Blanca to make me matching earrings for our big day!
INVITATIONS
We didn't want to spend a lot of money on the invites, and since I'm not much of a daisy, bird, or butterfly kind of girl, Justin and I decided to design our own suite. We really love fonts, so we played around with them to make a graphically interesting, simple, modern save the date, invite, thank you, and place card. We purchased cardstock and envelopes from Lion in the Sun in Park Slope – they have great colors. We printed them from my MacBook on our little printer, and everything worked great, except for the envelopes. So as an alternative, I stamped the save-the-date envelopes with a customizable, self-inking stamp kit from an office supply store. Although it ended up looking really cool, it was a very time consuming process that I would never do again! So, for the invitation envelopes, I hired a calligrapher we found on Etsy – Danielle from GalaFont. She has a great architectural writing style, is very professional, and affordable. Aside from the stamping fiasco, and some annoying trial- and-errors, I loved designing our own suite. It was a great way to make the wedding even more personal.
FLOWERS
We worked with Brooklyn-based florist (and soap makers!) Saipua. I was a long-time admirer of their work – everything is local, soft, loose, and textural. I wasn't the kind of bride that demanded a certain type of flower (my only caveat was no roses!) so I gave them full creative control. We just showed them our colors – gray and coral – and let them do the rest. It was really exciting to be surprised on the big day. And we couldn't have been happier. The bouquets, boutonnieres, hairpiece, and table arrangements were gorgeous.
CEREMONY AND RECEPTION
We had our ceremony and reception at one of Brooklyn's best (and one of our favorite) restaurants – Frankies 457. They have an amazing backyard, surrounded by vine-covered buildings, outlined with shrubs, and complete with a view of the elevated F train. It has the look of everything we love about Brooklyn in the summertime. The ceremony was in the garden, officiated by Joanna Lindenbaum. She made the experience so special by reading our responses to a survey she gave us. We kept our answers a secret from each other – so to hear, in Justin's own words, how he felt about me, in front of all our friends and family was incredible. It was an intimate and original ceremony filled with tears and laughter (from us and our guests!).
We then headed into Frankies' stable (a rustic blacksmith's workshop from the early twentieth century that they converted into a beautiful modern space with full bar!) for the cocktail hour, while the garden was transformed into our reception area. After the speeches, we began our feast. Served family style, our guests enjoyed greens, seasonal vegetables, gnocchi marinara with ricotta, herb-roasted chicken, cavatelli with sausage in browned sage butter, and Frankies' famous Meatballs. I am still getting compliments on the food!
CAKE
Since the traditional, white, flowery cake didn't appeal to us, we looked at bakeries that offered alternative options. Momofuku Milk Bar was the winner. Their cakes are so unique since they don't ice the outside. As the iced exterior is the normal focus for the beauty of a cake, we really liked that, instead, Momofuku celebrates the structure – what's on the inside. In addition to my philosophical interpretation of their baking style, their cake is delicious! We chose the banana cake – made of banana cream, hazelnut crunch, and gianduja fudge. It was heavenly.
We also wanted to do something a little less traditional with our cake topper. We worked with Megan Bogonovich of Melabo on Etsy. She makes customized ceramic pieces, featuring animal heads on human bodies. We chose a horse groom and owl bride. Our guests loved it, and became a fun souvenir from the day!
MUSIC
Because Frankies is located in the residential neighborhood of Carrol Gardens, they don't allow multiple musicians or amplified sound – which was fine by us, since we're not fans of wedding singers or DJs. Instead, Frankies allows you to plug your iPod into their sound system. It was so great to have complete control over the music and eliminate the possibility of bad requests! We did have one musician to play during the ceremony and the cocktail hour. My family is from Ireland, so I hired Vonnie Quinn, Bloomberg Radio correspondent by day, fiddle player by night! She played upbeat and romantic traditional Irish music that was perfect for walking down the aisle!
PHOTOGRAPHY
A friend recommended (and raved about) Susannah Gill. After seeing her work, I didn't hesitate to contact her. She suggested that we do an engagement shoot so we could get comfortable with each other. Then she told us she was looking for a couple to do something creative in Brooklyn – we knew it was meant to be! Her initial idea was Coney Island, but it closed for the season before we had the chance to get together. I suggested Greenwood Cemetery instead, and she loved the idea. She was so fun, nice, and patient with us (we're not exactly used to modeling). When we saw the photos from the engagement shoot, we were sure she was right for us (one of the pictures even inspired our wedding colors!). Susannah and Greg (her husband) were spectacular the day of the wedding. They calmed me down when I was nervous (Susannah even handed me a Miller Lite when I was getting anxious in the hotel room!), made me laugh when I wanted to cry, and captured every moment. Since the wedding flew by and is a total blur in my mind, I'm so glad I have Susannah's beautiful photographs to remember every aspect of the day!
Vendors
Venue: Frankies 457
Hotel: Nu Hotel
Dress: Leanne Marshall
Shoes: Christian Louboutin
Suit: J.Crew
Hair and Makeup: Sanctuary Salon
Jewelry: Blanca Monrós Gómez
Invites: We did them ourselves
Calligraphy: GalaFont
Photography: Susannah Gill Photography
Officiant: Joanna Lindenbaum
Violinist: Vonnie Quinn
Florist: Saipua
Cake: Momofuku Milk Bar
Cake Topper: Melabo
Guestbook Puzzle: Bella Puzzles
Puppy-of-Honor: Chloe, my sister's Cavalier King Charles Spaniel
[images from
Susannah Gill Photography
]