Teal is probably one of my favorite colors of all time—it's elegant, soothing yet invigorating, and super rich. And it is strong enough of a color that just a little can go a long way toward creating a sophisticated mood on your wedding day. It can have a tendency to go really dark though, so pairing it with pops of gleaming white helps to lighten things up and add some much needed airiness to the overall vibe. – Courtney
Credits: Clockwise, from left to right: Flower photo by Mikaela, Bride and Groom photo by Cineart Photography via Ruffled, Pattern by Debbie Powell, Groomsmen photo by Jubilee Photography via Style Me Pretty, Streamers photo by Katherine O'Brien via Ruffled, Bridesmaids photo by Laura Ivanova Photography via Style Me Pretty, Teal flower photo by Rae Leytham via Style Me Pretty, Cake by Bobbette and Belle.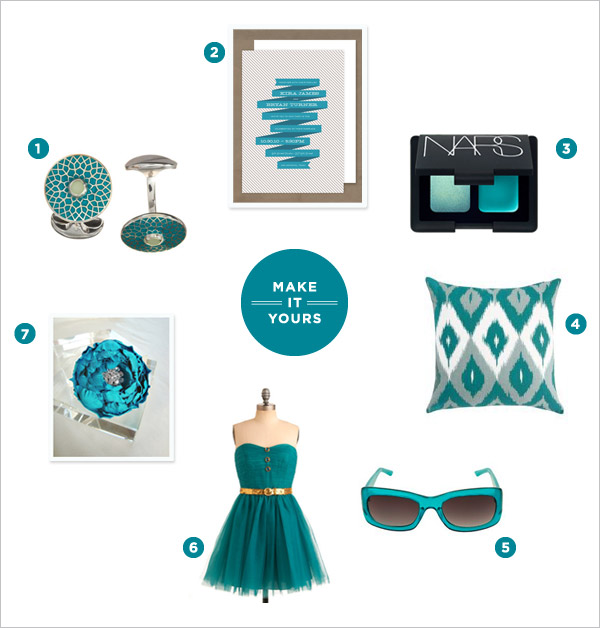 1. Teal Pattern Cufflinks from Barneys, $350.00; 2. Banner Invitaton by Cheer Up Cherup, $3.75; 3. Nars Duo Cream Eye Shadow, $33.00; 4. Diamond Ikat Azure Pillow from Dwell Studio, $58.00; 5. Steve Madden Sunglasses, $40.00; 6. Betsey Johnson Sweet Confection Dress, $398.00; 7. Turquoise Catala Bloom Flower Brooch or Hair Clip by Emici Bridal, $70.00.