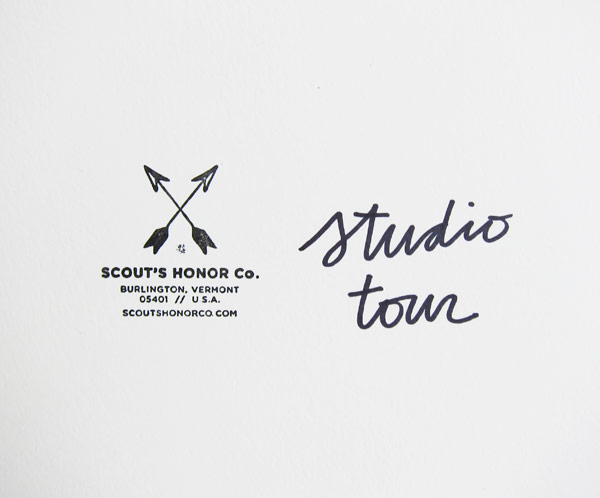 Name: Annemarie Buckley
Location: Burlington, Vermont
Company: Scout's Honor Co.
What do you do? Stationery, hand type, illustration, custom design
What is your aesthetic? Fresh take on classic Americana. I love vintage as much as I love modern…trying everyday to make the two get along.
How does your studio style convey your professional aesthetic? I love surrounding myself with things that inspire me and objects that I use on a daily basis. I find that tucking things away means I never see them again. Everything is visible and fodder for new ideas: vintage American flags, pens & pencils, rulers, scarves, jewelry, paper samples, sailing flags, books, vintage pennants (starting a lil collection of those), paints & brushes, stencils, stamps, magazines (every issue of Domino, RIP), pottery, wood crates, postcards, art. Etc. Etc. Etc! Actually looking for a place to put Etc. right now…
I like the background for all of this visual overload to be simple. Most walls are white with the exception of the studio "turret" which I painted charcoal gray. I love white trim & pops of color against a dark, dramatic background. Studio furniture is simple & utilitarian: saw horses for table legs, unfinished or chalkboard-painted wood for table tops, plywood cubes as storage.
Favorite part of your studio? Hands down the five windows in the turret…not only do they keep me connected to the outdoors all day but they provide the best (and cheapest) photo shoot lighting a girl can ask for. My studio is on the 3rd floor of an old house, so the height gives me a slight view of the lake and makes me feel like I'm in a treehouse!
Where do you go for inspiration? Vermont in general is super inspiring: the mountains, the lakes, the small towns, the artists, the antique stores…the list goes on. Traveling out of Vermont and getting fresh perspective is important (and fun) as well. On top of that, I am constantly inspired by magazines, newspapers, interiors, fashion, hardware stores, school supplies, signage, warehouses, army/navy shops, restaurants…pretty much anywhere that has something classic/industrial/functional to offer. I have even spent an afternoon in a plumbing supply shop…I know.
What tool do you use in your business that you can't live without? Pens, paper, scanner. I wouldn't know where to begin without 'em. Equally as crucial: iced tea and dark chocolate.
Is there anything you'd upgrade to? I am grateful for what I have but in America, bigger is better, right? I am speaking only in terms of monitors. 27 inch iMac, you will be mine one day (shakin' that piggy bank as I type this).
Anything else we should know? I wrote my senior thesis in college on paper. Let's just say this obsession has been around for awhile…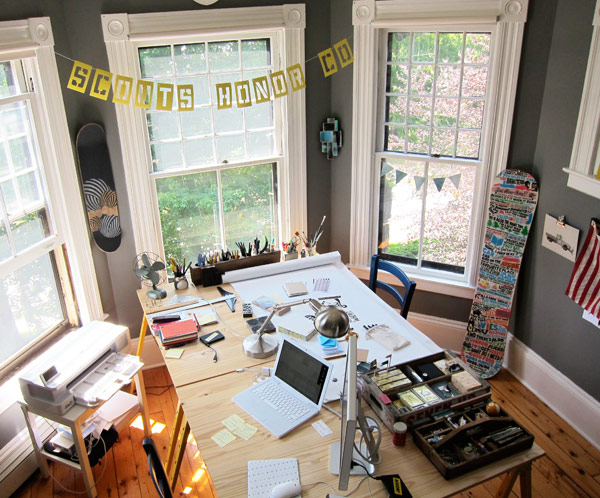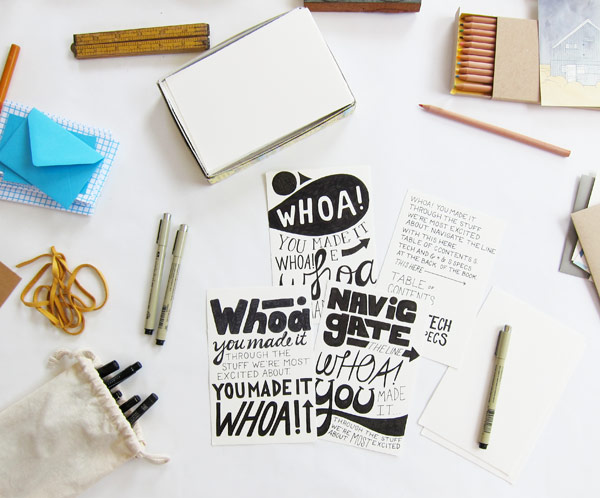 [images from Scout's Honor Co.]