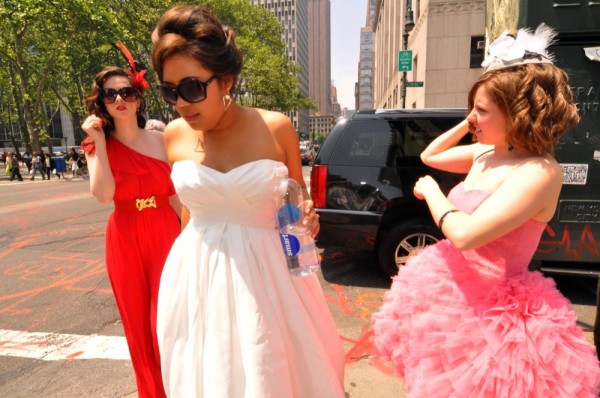 This super low-key but extra stylish City Hall affair was practically effortless thanks to Crystal's talented friends…all the details below!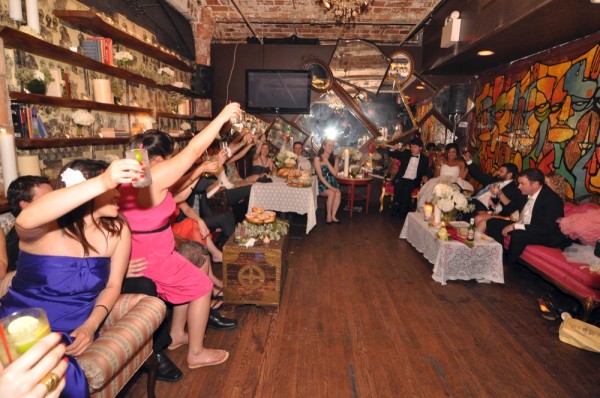 Tony and I have a romance made for the Lifetime channel: young college girl moves to London (me) meets cool British DJ (Tony), they manage to fall head over heels for each other, but her visa expires and she is deported. Because they're determined to stay together, and she is now in Seattle and he is in London, they decide to marry… And what better half-way point than NYC?
I would just like to say, that this wedding has possibly been the most stressful adventure to date, for both Tony and myself. Our original plan was elopement, but as I'm the first out of my friends to get married, that idea was quickly tossed out the window.
The total wedding party ended up being about 20 people (13 of which were single girls might I add, during Fleet Week Weekend) and none of it could've happened without them. I wholly give credit to my friends who banded together to get this wedding in order. I had general ideas about what I wanted for the wedding, but they were the ones that actually ended up purchasing (with the aid of my credit card) all the decor, food, etc.
The whole theme of the wedding was "hipster-vintage" and we really wanted our reception space & attire to reflect that sentiment. I requested that all the girls wear "hot colours with a hat/headpiece (as a nod to British tradition), and in order to dress up the venue I decided on all white flowers & candles. The donuts were an orgasmic treat, and the reception room (cheekly entitled: The Low Rider Room) was decorated to perfection (thanks to the friends).
… All in all, it was a crazy-wonderful experience!
Vendors:
Dress: David's Bridal | Shoes: Aldo | Hair & Make-up: Alexis Hamlin-Vogler | Cake: Momofuku Milk Bar | Donuts: Doughnut Plant | Photographer: Jenny Chen | Bouquet: Sprout Home | Venue: Rebar | Poster: "Keep Calm & Marry On" from Lovely Bride Blog | Cake Toppers: Enamor Weddings | Flowers: Wholesale from Costco.com | Table Linens: Goodwill