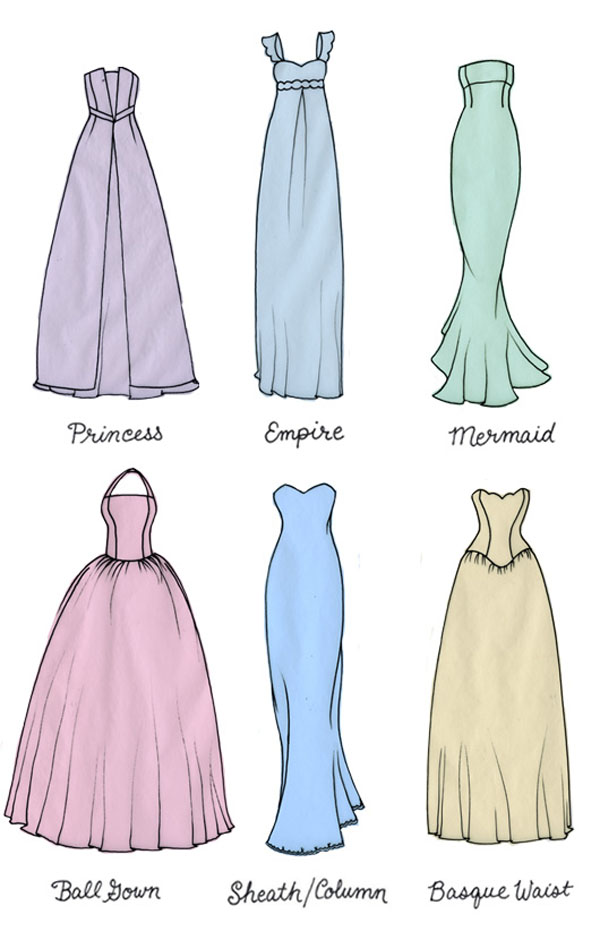 One of the most stressful parts of wedding planning is undoubtedly the hunt for The Dress.  Before I started looking for my own dress, I had no idea that there were certain silhouette categories that wedding dresses fell into.  I just never thought about it before!  Needless to say, I stared at the sales girl blankly when she asked me what silhouette I liked.
Here is a quick and easy summary of dress silhouettes to help you brides narrow down your dress options, as well as tips on which figure would look best with which silhouette.  Good luck, ladies! – Tram @Phi-Style.com
Princess — Also known as the "A-line," the Princess silhouette is fitted at the top and flares out through the skirt. This is one of the more popular shapes since it's flattering to most body types. It is recommended for petite figures because it can help add height, and for full figured brides because it hides the hips. This is also a great silhouette for pear-shaped figures.
Empire — This shape features a high waist that starts just beneath the bust and falls with a slight flare. This style is flattering to those with thicker waists since if falls straight down, concealing this area. While the empire style fits well on most body types, it's especially flattering for those brides with a smaller bust since it draws attention to the neckline. It is not recommended for curvy, hourglass figures.
Mermaid — This silhouette hugs the body down to the knee before flaring out at the bottom. A true Mermaid flares out at the knee, while the similar Trumpet silhouette flares out earlier at the thighs. This silhouette is the most difficult to wear since the cut is so fitted, and is recommended for taller women. It is not recommended for shorter, bottom-heavy figures.
Ball gown — This classic and elegant silhouette consists of a form fitting bodice, leading down to a full, floor length skirt. Like the A-line silhouette, it flatters most figures. This dress is a great choice for medium to taller brides and for those that wish to hide large hips. It is also flattering to brides with narrow hips, as it can give the illusion of a curvy look. However, this shape is not recommended for petite brides as the full skirt can be overwhelming.
Sheath/Column — This style wedding gown can fall nearly straight down from the neckline to the hem, or it can hug your curves, accentuating your torso, waist and hips. Although flattering for several body types, depending on the fabric chosen, the Sheath or Column silhouette may not allow much room for hiding problem areas, like a larger lower body. A thinner material may be clingy and more form-fitting in a sheath/column dress. It is most recommended for those brides with a tall, thin figure.
Basque waist — This flattering silhouette is characterized by a low waist coming down to form a "V" several inches below the waist before opening into a full skirt. The shape elongates the torso and helps hide the tummy area. This silhouette is great for taller brides who want an hourglass appearance. Petite brides should be wary as this style may make them appear shorter.
[image from ModCloth Blog]