Royal Wedding part 2?  Kate Moss got married last week to Jamie Hince of The Kills in Southrop, England and I thought the wedding was gorgeous.  Loved the gaggle of flowergirls with flower crowns – so bohemian, so Kate! – Tram @Phi-Style.com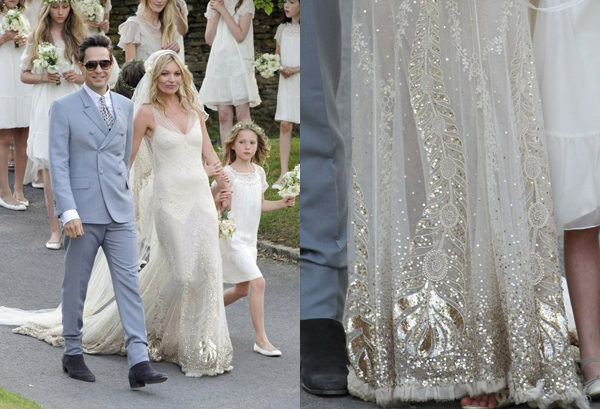 Kate's dress was John Galliano while Jamie wore Stefano Pilati for Yves Saint Laurent.  I'm not one for sequins and sparkles, but the scattered gold sequins trailing down the dress, expanding into gold leaves along an unfinished train was so beautiful.  Elegant, yet keeping in line with Kate's bohemian aesthetic.
However, I think my absolute favorite part of Kate's bridal ensemble was the veil.  Loved this so much!  Swept over the head and fastened with tiny flowers on one side like a cap, flowing down to a finger-tip length.  Lovely and romantic.
This look reminded me a bit of the Sara Gabriel Ashley Veil and Wendy Veil.
[
Images from
Bauer-Griffin Online
,
Flynet
,
XposurePhotos.com
and
Film Magic
]