Name: Emily Lael Aumiller
Location: Brooklyn, NY
Company: Lael Cakes
What do you do? I create custom vegan and gluten-free cakes!
What is your aesthetic? Lael Cakes style is very sophisticated while being inventive at the same time. Seeking poise through nature and antique-finds the work conveying elegance.
How does your studio style convey your professional aesthetic? I spend long hours in my studio, so it was really important that it not only had function but had a level of comfort to it. My knick-knacks and antiques fill the shelves. Plants always find a way of surrounding me, giving a sense of warmth. Origination is key!
Favorite part of your studio? I am in love with my wallpaper. I also really adore my chalkboard. It comes in handy for random ideas and sketches or to pin up all of my inspirational pieces.
Where do you go for inspiration? Flea markets are my go to spots for inspiration! I love vintage cake stands and serving utensils. Not to mention the abundance of colors and textures one will find. I also love to spend long afternoons at The Botanical Gardens. I get lost in all of the luscious plant life. If I am looking to be inspired for a particular motif I really enjoy flipping through selections of patterns at paper stores. A camera is key for any of these locations!
What tool do you use in your business that you can't live without? My rolling pin and x-acto knife!
Is there anything you'd upgrade to? A larger studio! I've always dreamed of having a storefront one day.
Anything else we should know?  Coffee and a radio are critical for a successful day in the studio!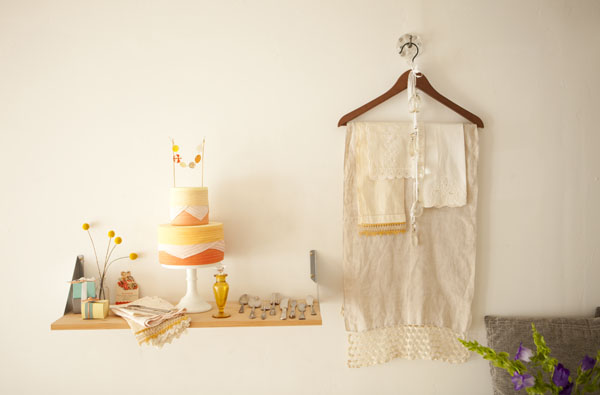 [images from Lael Cakes]