Name: Emily Clark
Location: Indianapolis IN
Company: Emilliner
What do you do?  I am a couture headpiece designer with classic millinery training.  My brand Emilliner offers unique bridal accessories — fascinators, hats, veils and garters.
What is your aesthetic?  Fresh, whimsical, elegant. I love texture, delicate details and fine materials. A lightness and ease are also important. I want my designs
to be accessible.
How does your studio style convey your professional aesthetic? Light and filled with lovely things, my studio has hints of vintage inspiration (check out my hat box collection) along with new creations.
Favorite part of your studio? My studio is part of my home. Its bright and cozy (yellow is my favorite color), sometimes messy and just the perfect environment to create. I have the shortest commute and my little dog Halle hangs with me all day. As a designer I love to remain intimately connected to my craft. My favorite part of the business is the creating. I hand make each Emilliner piece from my studio.
Where do you go for inspiration? I love vintage fashion photographs to put me in the creative mood. I really like going on Pinterest for some good visuals.  The materials that I use are also so inspiring, especially natural ones like feathers. Each one has its own texture, movement and shape.
What tool do you use in your business that you can't live without? My best tools are the simple ones — thimble, thread, needle and scissors. I have scores of them all over the studio. I am also partial to one of my vintage fedora hat blocks. Its well worn with cracks and tons of pin marks, clearly well loved by many generations of milliners.
Is there anything you'd upgrade to? I'm always dreaming of a better/sleeker organizational system, but I really do thrive on my chaotic mess. My room is often an explosion of color, bits and bobs, glitz and flowers.
Anything else we should know?  I just had a lovely fall photo shoot with my new bridal collection! Coming soon!  Also, my latest obsession is using Instagram (My husband Nathan helpedme take all these photos with my new iPhone- yay technology!)
Check out some sneak peeks from the new collection below!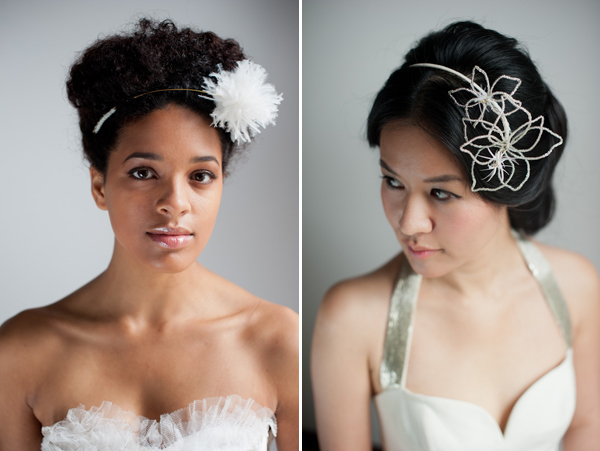 [images from Emilliner]