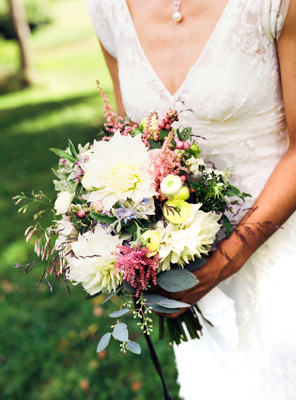 Photographer Robert Sukrachand sent me this wedding at the end of last year, but I wanted to make sure that I could get some of the details written out by Yuli because they were sooo good, so here you go!  Enjoy!
Photographer: Robert Sukrachand (http://sukrachand.com/wedding/index.html)
Venue: The Beaver Del Hotel & Campground (607-363-7443)
Bouquet's: Saipua (www.saipua.com)
Catering: Full Moon Resort (www.fullmoonresort.com)
Cupcakes: Baked (bakednyc.com)
Bride's Dress: Cymbeline (www.cymbelineusa.com) – bought at Wedding Atelier (www.weddingatelier.com)
Groom's Suit: Made to Measure by Paul Stuart (www.paulstuart.com)
Vests: Paul Fredrick (www.paulfredrick.com)
Wood vine crown: Which goose (www.whichgoose.etsy.com)
Mustaches!: Something's Hiding in Here (http://www.somethingshidinginhere.typepad.com)
Paper for invites, programs, movie tickets and jam labels: Paper Presentation (www.paperpresentation.com) & Print Icon (www.printicon.com)
Origami Paper: Paper Jade (www.paperjade.com) & Origami Corner (www.origamicorner.com)
Address file cards: Lovely Design (www.lovelydesign.com)
Hand dyed silk ribbon: JKM ribbon (www.JKMribbon.com)
Lace trims for centerpieces: M&J trimming (www.Mjtrim.com)
Vintage buttons: Tinsel Trading Company (www.tinseltrading.com)
Cookie Stamps: Rycraft (www.rycraft.com)
How we got into this predicament:
Keith is a history buff and he based the proposal off the old English love ballad Scarborough Fair. It is a ballad about two lovers who ask each other to complete impossible tasks to prove their love before they agree to meet at Scarborough Fair.
Our approach to our wedding:
We wanted our wedding to be fun, casual but elegant, and most of all we wanted it to be very personal with our family and friends celebrating the day with us. It was important to us that everyone be relaxed and have a good time – not be looking at their watches and wondering when it was time to go! We also wanted to design and do a lot of the details ourselves.
We took a lot of time to research and visit a lot of venues. Luckily our friends happened to buy the perfect piece of real estate.
The Venue:
Our friends Bill and Barry had recently bought a small 10 room hunting/fishing hotel on the Delaware River: Beaver-Del Hotel & Campground. We went up to visit their new purchase and fell in love – we found our location! It was built in the 1930s, it's on the river, and Bill and Barry spent every weekend leading up to the wedding renovating the place. They added a dance hall and a biegarten in the back, and figured out how to run the bar/hotel business. They opened to the public 2 weeks before our wedding – we had the honor of being the first wedding there. We love that the location was a personal one, and we also love that we get to say, "We got hitched at the Big Beaver!"
Décor:
Once we found the venue it was much easier to envision the day and start working on the decor. We didn't have a specific color scheme or graphic motif to start with, our aesthetic evolved organically. We wanted a general old timey feeling without getting too period or theatrical. We also wanted natural feeling details that complimented each other vs. 'these are the invites that match the plates that match the napkins that match the menus that match the centerpieces that echo the silhouette of the wedding dress …. The setting was also so naturally beautiful, we didn't try to compete!
Invites:
Our invites were modeled after an old Western Union telegram. We also designed a postcard RSVP so people could write us keepsake note in addition to letting us know if they were attending or not. The postcard saved on envelopes and postage as well. We bought the paper for both and had the telegrams and postcards printed and cut at Kinkos while we waited. We printed the window envelopes ourselves at home.
Centerpieces:
We opted for non-floral centerpieces – this helped us save the cost of flowers and gave us a fun project to do with friends and family. The materials were: a cross section slice of a tree trunk as the base, topped with candles in varied height glass vases, decorated with trimmings. Keith and I went to his parents' house one weekend and we cut down a tree from their backyard together. Keith's dad sliced the trunk for us and these became the homemade bases for our centerpieces. I picked some lace (M & J trimming), leather cord, a few colors of hand-dyed silk ribbon (JKM ribbon) and some cedar wood flowers to decorate the vases. With the help of Keith's family and friends we got them done in a couple of afternoons.
Wedding favors:
Keith's grandma's homemade jam is unforgettable, and we wanted our wedding favors to be memorable. So we asked if she would make little jars of strawberry jam for our favors, and Keith's mom if she would make the cookies to eat them with. Another weekend home, we all (us, Keith's parents, grandparents and one of his cousins) went strawberry picking. Keith's grandmother took the berries home to make the jam. Keith's mom bought cookie stamps from Rycraft to stamp the cookies with a pig or a rabbit (our lunar zodiac signs). We got the little baskets at a craft store, ordered the jars, the mini wooden paddles and the paper to wrap the baskets online. I designed the jam jar labels, bought the blank labels at Paper Presentation and printed them at home. Keith's parents cut the paper, and over the course of a couple afternoons Keith's mom and her friends finished the wedding favors.
Table Tickets:
We love movies, especially old ones. So we designed movie tickets for the guests to find their table – they go to the table with the movie poster that matches the movie ticket they were given. We designed the tickets based off images of old movie tickets we found online. We printed the tickets (paper from Paper Presentation) and the mini posters (all movies from the 1920s-30s) at home. While browsing Upper Rust Antiques in the Lower East Side I found an old Belgian creamery crate with sections just big enough to hold all the tickets and make a unique display. The little creamery bottles became vases to cut flowers, which we placed throughout the space.
Guest Book:
I wanted the guest book to be something that would be a fun way to remember the day. I saw these beautiful address file cards from Lovely Design and thought that an address file was the perfect solution. I ordered the cards and sent some to my dad so he could make the box that would hold them. Guests wrote their wedding wishes on one side and their info (address, phone, email) on the other. So now when we write a letter and look up the address, we can also remember our wedding day as told by our friends (and admire my dads handiwork!)
Honoring Ancestors:
I wanted a way to honor our ancestors at the wedding. I gathered wedding photos of all our married relatives, our great grandparents, grandparents, parents, aunts, uncles, cousins and siblings, and had them printed out at Kinkos. It was a great experience in itself to look through old photos and contact cousins who I hadn't seen since I was little (Keith's cousins are all fairly nearby but mine are spread across the globe.) Using decorative cardstock with circle and oval cutters and border punches I made Victorian looking picture frames. We hung these off of tree branches to be featured on the table behind our Mustachio Portrait Station.
Mustachio Portrait Station:
There is a crafting website that I love called Etsy. Browsing on this site one day I came across some fabulous wooden mustaches on a stick from Something's Hiding in Here. I commissioned 3 custom ones for the wedding, ended up buying 2 more regular ones, and the Mustachio Portrait Station was born. Wooden mustaches! Just saying it makes me smile, and so do the portraits of our mustachioed selves and guests.
The Band:
Our friends have a marvelous band: The Charismatic Megafauna. They are an old timey sort of acoustic roots band. It's a family (the parents and their 3 children) and our friend Michael. They learned and arranged a version of Scarborough Fair for our wedding march, and Buddy Holly's Words of Love for our first dance. They also played during the reception and were a big hit with everyone. We are so glad to know such wonderful and talented people!
Music & DJ:
In the months leading up to the wedding Keith and I started to create a playlist for the wedding, as well as kept our ears open for new songs to add. The technical set up was simple: a laptop and our friend Dave as the DJ (his DJ name is: Your Friend Dave)
The Kids:
We had about 175 guests total and 30 of them were children, most under the age of 6. Keith's mom put together a little gift bag with toys and treats for each kid to help their parents keep them occupied and interested. Nothing too fancy or expensive, just fun stuff – fake tattoos, Chinese yoyos, and other assorted toys. We also had games for them to play at the reception, a low badminton net, croquet (which no one knew how to play but the kids enjoyed hitting the balls around) and a game where they had to try and drop old wooden clothespins into old glass milk jugs. When it got dark we brought out these flashlighty light spinning toys Keith's parents found online. We also had a s'mores station by the bonfire for the evening, which was a big hit with kids and adults alike!
Cookie Table:
The cookie table is a Pittsburgh (Keith's family is from there) wedding tradition. Relatives and friends bake cookies and bring them to the wedding. All the cookies are displayed on a cookie table (or a few cookie tables) for guests to nibble on throughout the day. Keith's relatives are pros at this so they started baking months in advance and freezing cookies in order to be able to bring plates and plates of cookies. Our NYC friends also made a good showing of their baking skills!
Senzaburu:
There is a Japanese tradition of making 1000 origami cranes, called senzaburu. You make the cranes in order to have a wish granted, and for special occasions such as weddings. My mother and grandmother taught me origami when I was little, so this was a good way to put those skills to use! With the help of my mother, my aunts and cousins (they sent theirs from CA!), my sister and our friends here in NYC we made over 1600 origami cranes. It was a great way to bond with my friends (and teach them some origami) in the months before the wedding. My sister got everyone making cranes at my bridal shower, and after that anyone who came to visit or hang out was enlisted to make cranes. Sometimes friends would show up just to fold cranes on their way home from work.
Decorating:
Our families and some friends came a few days early to Beaver-Del to help out. It was 2 solid days of crafting and setting up. We painted signs, strung and hung origami cranes chandelier style in the tent, set up the tables, hung lanterns and decorations.
My dad got creative and strung a few strings of cranes differently than the rest (spaced out vs. stacked tight) and my mom got inspired to make a few larger cranes. These ended up being hung from the trees as the backdrop for the ceremony site.
We put cut flowers, bought at the local grocery store, in various milk bottles and creamery bottles to brighten up tables and bathrooms. We also bought mums in pots from the side of the road to decorate the aisle for the ceremony site.
Wedding Dress & Accessories:
My dress was hemmed but it wasn't done well (a seamstress in Pittsburgh, NOT Wedding Atelier). Thankfully it was still on the long side so I ended up hemming my dress again by myself. It turned out to be a blessing because I can tell my children and grandchildren that I hemmed my own dress. I also changed the bustle buttons to real shell buttons that I found at Tinsel Trading Company. I look forward to the day that I can pass my dress on to my children or grandchildren.
My wood vine crown was another Etsy find. I had Emily of Which Goose on Etsy make me a custom crown, a plain circle crown with just a few intertwined vines. Once I received it I customized it further by cutting the back open and attaching hand dyed silk ribbons from JKM ribbon to tie it together.
When Keith and I got engaged his mother gave me Keith's christening bonnet, which was a handkerchief turned into a bonnet by a few well placed ribbons. She told me to keep it and on our wedding day I should snip the ribbons and this would be the handkerchief that I would carry with me down the aisle. It is a lovely tradition that I was happy to be a part of.
Bouquets & Boutonnieres & Corsages:
Sarah Ryhanen of Saipua did the bouquets, boutonnieres and corsages for the bridal party, parents and grandparents. I met with her a couple of times and showed her images that had the soft faded vintage colors I wanted: antique ivory, blush rose, celadon, brown and lavender. We also talked about the mood and theme of the wedding. Sarah got it right away: loose, romantic, woodsy, wildflower style. She used majolica roses, dahlias, jasmine, eucalyptus, ranunculus, hydrangea, tweedia, and astilbe. As a special personal touch she tied the bouquet together with parsley, sage, rosemary and thyme to acknowledge the theme of our engagement.
Officiating:
We asked my brother Yuta if he would officiate our wedding. He gladly accepted and quickly got ordained online. It was great to be joined in marriage by someone so familiar with us, and whom we love so much. I was so proud and honored. His favorite joke the week before the wedding was "I'm going to marry my sister this weekend …"
Vows:
Since my brother was officiating the wedding, he and his wife helped us with the vows. They sent us suggestions, Keith and I took what we liked, cobbled other bits and pieces together from things we found online, and modified everything to reflect us. Taking the time to edit them together was fun and made the vows more meaningful to us.
Meaningful Details:
We started out DIY and enlisted a lot of our families and many of our friends along the way. It saved us some money, but the real bonus was all the time we got to spend bonding with friends and family while working on these projects together. It is an indescribable feeling to be at your own wedding and see so many details and remember the time spent with loved ones to make them happen. Standing at the ceremony site, hearing our friends' band, looking at my brother as he married us, seeing the cranes our friends and family folded, being at dinner and seeing the centerpieces and the wedding favors and remembering the day we cut down the tree, and the morning we picked strawberries for the jam. Doing it ourselves and with our loved ones really made the day meaningful to us and everyone there.
[images from
Robert Sukrachand Photography
]