Name:  Amanda, Carina, and Nadine
Location: Philadelphia, PA
Company: Love Me Do Photography

What do you do? We're wedding photographers! Our goal is to capture moments in a photojournalistic approach, but with a fine art sensibility.
What is your aesthetic? for the studio: vintage/handmade/eclectic for our photographs: light/natural/classic/fun
How does your studio style convey your professional aesthetic?  We've had a few different spaces over the years and I think this one best fits our personalities. It's bright, cheerful, and very unique.  We love to have clients in and make them feel at home, while they are surrounded by our images.  Right off you can see we work with a lot of crafty clients.  In fact a few of them have made us furniture items for the studio.  Our giant picnic table, concrete desk and bookshelf were all made by clients, as well as our paper mache buffalo head.  We also love vintage styled weddings, which match the other half of our studio.  Our pink couch, chairs, buffet table, and most of our frames were all thrift store and flea market finds.
Favorite part of your studio?  the giant windows! We get natural light through other studios and the hallway.  Since the building is an old school house from the 1800's, it was designed to let in the most light possible.  We don't turn lights at all in the summer.
Where do you go for inspiration? We're all obsessed with Pinterest, but we love other design blogs like Design Sponge or Apartment Therapy for studio ideas.  We all look at wedding blogs, but I think we get more photography inspiration from life, films, or just the way light is hitting someone at a certain moment
What tool do you use in your business that you can't live without? Our cameras! Until Canon comes out with a new one, it's the 5d mark II
Is there anything you'd upgrade to?  There's always more lenses to buy, we'd love to have all of the Canon L lenses, but then we'd need more camera bags, and then we'd need to hire more assistants to help carry all those bags.
Anything else we should know?Like I said before, the studio is in an old converted school house in Philadelphia.  The building is owned and operated by Crane Arts who has another studio/gallery building down the street.  There are all kinds of creative people in the building: a theatre company, textile designers, screen printers, and architects to name a few.  We have about 600 square feet of bright, cozy, space with very high vaulted ceilings.  We meet clients and do all of our editing work in the space.  We love to have other weddings vendors over to chat, drink tea, and order mexican food from the restaurant across the street.  Oh, and we get to occasionally bring our dogs by. Boris, Amanda's bulldog can be seen in a couple of these photos.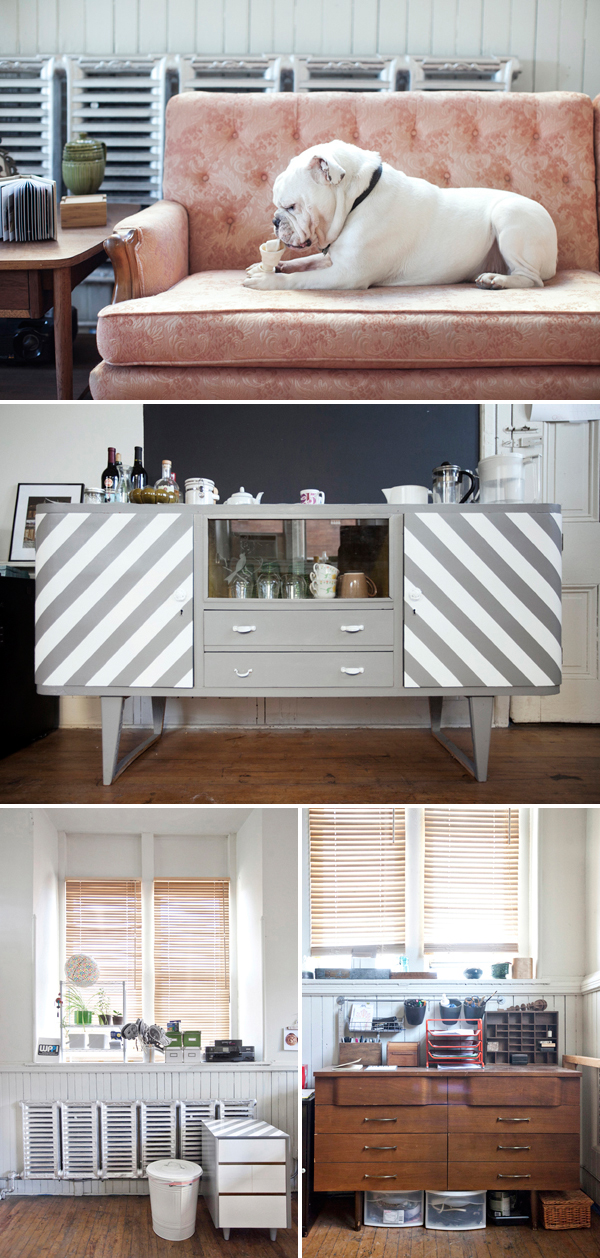 [images from Love Me Do Photography]