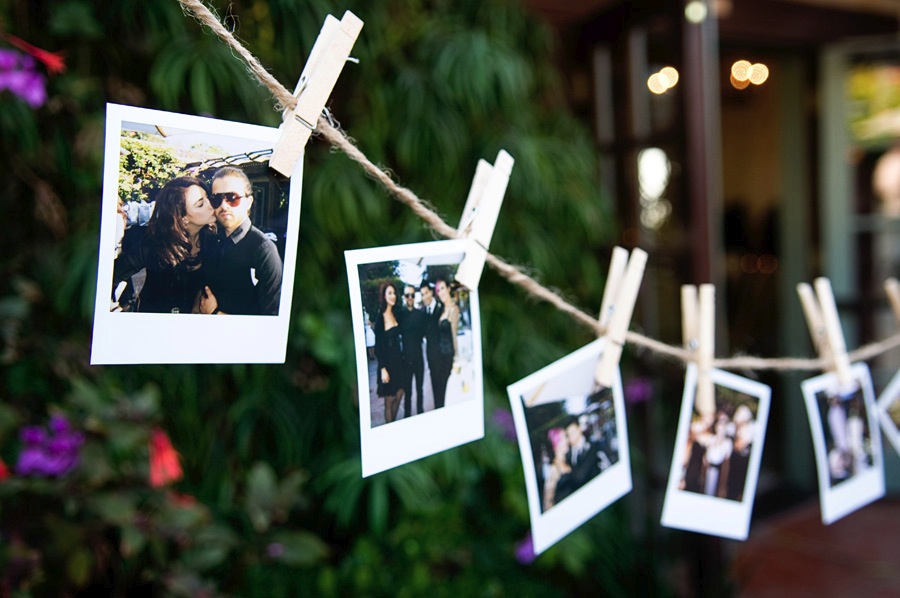 How gorgeous is Mandy and this wedding??  I love all the details and ESPECIALLY the photography!
Theme–  Black and ivory, vintage and lots of branches.  Branches were in all our centerpieces, flowers and on our invitations.  We kept all the decorations black and ivory as well as requested all our guests to
keep with the theme with their wardrobe.  The vintage feel of the wedding was seen a lot in my wedding dress and veil.  We wanted something simple yet unique so we used my wedding ring for inspirations since it held much of a vintage feel and included black onyx.
Invitations–  Since we could not find a lot of invitations that reflected our theme I had my brother Chad at beneaththesky.com design them.  We gave him some ideas and he really made them come to life.  I
had them printed, cut, and put them together on my own. Every part was ordered separately so everything went together.  We used cardsandpocketstore.com, paperandmore.com, and overnightprints.com to
make our own invitations in our own style.
Venue–  Right away when we got engaged we knew we wanted to get married in Santa Cruz where Brian is from.  It is so beautiful and holds great memories for us both.  Since is was more of a destination
wedding we took some time finding a venue.  When we first saw Kennolyn we knew it was where we wanted to be married.  It is an old hacienda building on a hill that over looks the city.  On a clear day you can
see the ocean and its set on 300 acres of forest.  Many of our guests loved our venue.  Also Carrie, the day wedding coordinator is amazing!
Decorations and Flowers–  The majority of all the flowers and decorations were done by myself and my family.  My mom and I spent a few trips to downtown L.A.'s flower mart coming up with ideas.  All of
our centerpieces and the flowers at the ceremony site were all done by us.  The branches were bought is downtown L.A. and brought up to Santa Cruz 2 days before the wedding so we could get them all put together. We glued little white flowers on a few of the branches to add a hint of color. Also we used artichokes in our centerpieces from nearby Monterey to give a feel from the area.  The bouquet and boutonnieres for our wedding were all done by Boulder Creek flowers in Santa Cruz. They did such a great job staying with our black and white theme, and having fun being creative!
Dress and Veil– I found my dress at Marry me bridal in Orange.  It definitely went with our vintage them.  To add the flair of the black we added a black sash to my dress.  The veil and flower were made by
Stephanie James couture in Huntington Beach.  She did a great job of adding a hint of black to the ivory flower.  All of her flowers, veils, and dresses she designs are inspired by the 40s and 50s.
Photography–  Not too long after we got engaged my brother let me know our friend Carson at James Carson photography had been shooting weddings.  We took a look at his website and instantly knew we wanted him to shoot our wedding.  He has a great eye for what looks good and we love the way our photos came out.  We also did a day after session on the beach to get some different photos.  We had such a great time with Carson!
Cake–  Our cake was made by Black China Bakery in Santa Cruz.  I've been vegan for nearly 12 years and we wanted to have cake everyone would enjoy.  All of our cakes were vegan but they also do regular cakes.  We had one small cake that was decorated with black and ivory.  We also had two other flavor of cupcakes.  We went with chocolate on one and carrot cake with cream cheese frosting on the other.  Everyone loved it!
Extras–  As our sign in book we had a few friends take Polaroid photos of our guests as they arrived.  We had them sign a guest book with their photos right above.  It turned out great!
[images by James Carson Photography]