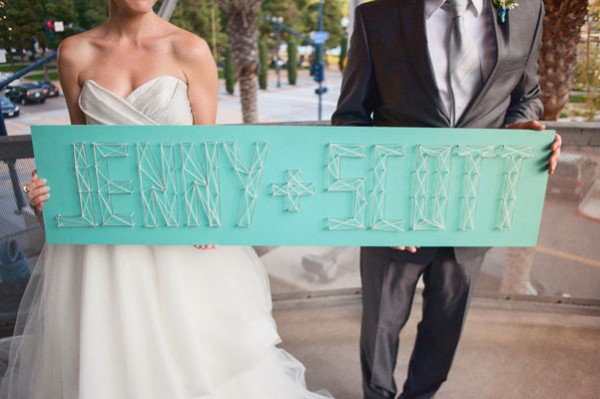 Museum weddings are some of my favorites because you've got a big white box to work with and lot of cool art so you can keep decorations to a minimum.   For this particular shoot, a very talented group of vendors came together to show how great it can all look!
How amazing would it be to get married in front of this sculpture?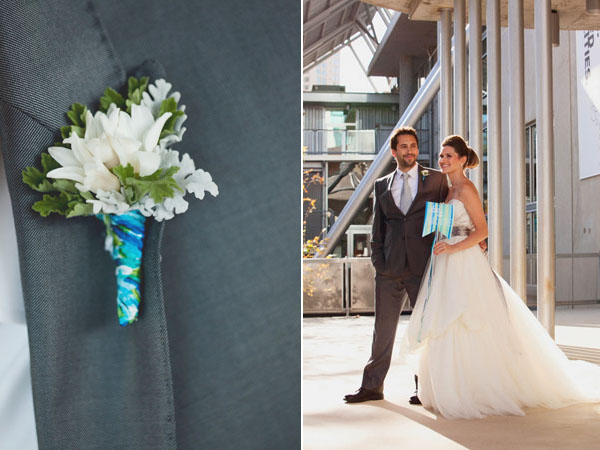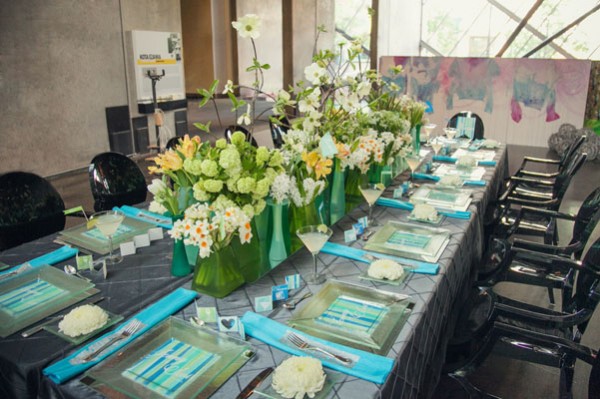 THE OUTFITS⇛
Our real bride & groom models Jenny & Scott (recently married out of state) got to try their hand again at looking like the perfect couple. It was not hard for Jenny glowing in an Alvina Valenta dress fondly called "Glitter Tulle" provided by The White Flower with a beautiful hair piece by Rachel Larraine and Scott looking dapper in his own snappy Grey suit. Our "bridesmaids" also wore fun and flirty knee length gowns in different shades of grey provided by (the White Flower adjacent) The Bridemaids Boutique with handmade accessories by me! They each had the most adorable structured bow headband by Rachel Larraine and a sweet bunch of daffodils that Annette Gomez wrapped with colorful silk wraps. Our adorable Flower girl had her own little silk wrapped basket of daffodils to compliment her beautiful layered flower dress. Lovestruck Make-up Artistry did their magic to make the pretty girls even more beautiful!

THE CEREMONY⇛
The ceremony was held around the sculpture called "The Beast" a purple, blue and turquoise twisted metal piece reaching through the lower level like metal fire tongues ….Red Metal folding chairs lined up in rows waiting for guests. Annette Gomez then created as if by magic two eight foot myrtle hedges set in big sleek black wooden planters. Trios of huge glass cylinders full of water floated aluminum balls and Boxes of wheat grass lined the walkway. The existing stairway provided a dramatic entrance for the bride.
THE TABLE⇛
On the main floor we created a "feast table" with a strong base of pewter pin-tucked linens from A Perfect Table and Shiny Black Phantom Chairs from Lounge Appeal, They created a nice contrast to the whimsy and fun of the floral.  Annette sat over 60 vases of frosted glass in fun shapes on our mirrored runner.  The palette of greens, turquoise, chartreuse and aqua were the perfect vessels for the fun flowers she carefully hand picked. There were fat China Mums, fragrant Hyacinth, Spindly Dogwood, Swamp Lilies, and Daffodils standing at different levels and stuck with wire hanging paper signs of different geometric shapes from Brightly Designed…who also created  a custom signature pattern paper insert with the "bride and groom's " name which sat between a square mirror charger and a heavy square plate.   A Martini Glass from Raphael's held a sugar lime concoction with a little flag ready for each guest and an accordion folded place card above each place setting.The paper products which tied in the perfect
randomness of the colorful vases with the turquoise shantung napkin.

THE LOUNGES⇛
The space upstairs is so cool you could do anything with it, but for us it made the most sense to lounge it out ….Lounge Appeal brought in plush charcoal grey couches set with their amazing glow vintage glow cubes and shiny jewel cube seats… We set them up as separate vignettes so people could cozy up and chat We finished the look with custom pillows bringing in all our colors.

The PATIO⇛
The outdoor patio is fabulous and overlooks the gaslamp area…Fresh breeze flows in from the Bay as we set "belly bar" tables. A Perfect Table brought in pop royal blue shantung linens tied with a peacock colored sash. The existing chartreuse green Adirondack furniture from the Museum is so cool and made from recycled milk cartons we worked it into the design.

THE SMILE BOOTH⇛
The New Children's Museum has a permanent piece called "The Rain House" that provided the perfect spot for our "Smile Booth" check out the bridal party ….It was so fun and colorful they were literally  ..all smiles….

"The Art of Love" was a combination of modern and gorgeous. The layered look was perfect for the bride who is not afraid of color but still wants all the bells and whistles of a traditional wedding…with a modern twist.
THE TEAM⇛
Venue: The New Children's Musem
Photography:  Suzanne Hansen
Design and Coordination: Jennifer Nesovic Jen Likes Weddings
Floral and Decor: Annette Gomez
Invitations and Paper Amazingness:  Courtney Bright
Furnishings: Lounge Appeal
Rentals: Raphaels
Linens: A Perfect Table
Chalk Art: Big Picture Solutions
Hair and Make-up: Lovestruck
Gown: The White Flower
Dresses: The Bridesmaid Boutique
Hair Accessories: Rachel Larraine
Music: Elite British DJ
Catering: Continetal Catering
Cake: CAKE
Bar: Best Beverage  Catering