So excited to kick off this week with a fabulous Brooklyn wedding!  It starts off at the new Wythe Hotel in Williamsburg, with a ceremony at a local garden design shop, then ends up with a parade over to the reception at My Moon.  Its fun with lots of fab details, so be sure to click thru for all the wedding-y goodness!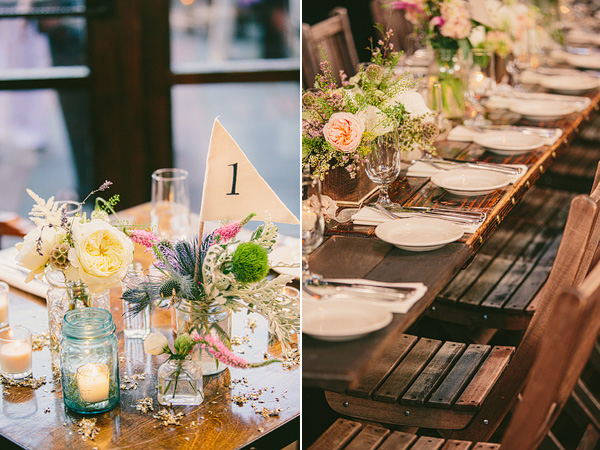 From the bride:
Wedding smorgasbord…meets super fun party…meets the marriage of the two most unfortunate German last names ever (Shartle and Binsack?)…meets I like pretty things. That is what we were angling for when we started planning our wedding last spring (2011).
We had a lot of big life "stuff" colliding during this time. Brian, a music composer, decided to embark on opening a new music studio in Brooklyn (talk about blood, sweat and tears) while still working full time (yup). I was in the beginning of my Master's degree while also working and interning. Needless to say, we were both out of our minds.
With so much of our time consumed by our other obligations, it was really important and necessary for us to go with our gut and to not over think our choices.  We tackled the "big things" first: securing Matt and Meghan from Our Labor of Love, our Brooklyn venue, My Moon, and the Marching Brass Band, the fabulous Sugartone Brass Band.  We didn't know where we were going to march yet, but darn it, we were gonna march somewhere!
That's when we found the close by garden center, Jungle, who let us arrange and use the space however we saw fit.  Every step of the way was an opportunity for us to improvise together and really CREATE something unique, special and reflective of our own piece of art that we wanted this day to be. The remaining elements fell into place through our teamwork, the help of our extremely talented friends who we bribed with lots of wine and the support of our beautiful families, without whom Team Shartsack would be just another funny, made up word.

As uber imperfect perfectionists, Brian and I wanted to have our hands in everything. But, as we learned through the process, getting married is so emotional.  It's a huge life change (even though it may not always seem that way). Ride the emotional wave and let someone else worry about the weather, a groomsman showing up without socks, construction on the BQE (when isn't there?), or those darn wedding crashers (this did actually happen).  So readers, brides and grooms especially, don't be too hard on yourself! Embrace imperfections.  Life wouldn't be life without them!
And finally, but importantly, use vendors whom you trust and who get your vibe. And, be OKAY with editing things a bit (it's actually really going to be fine if that cardboard cut out of your cats doesn't get made).
Oh, and on that day don't forget to steal a moment together to take it all in… because it's pretty freaking awesome.
Con:  Doing everything yourself can make things very stressful
Pro:  having all of the most important people to your life in one room. at one time. best. thing. ever.
*******
VENDORS
Photographer: Matt and Meghan from Our Labor of Love ( uh-mazzzzzzzzzzzzz-ing times a billion, and also super cool people)
Photobooth: Magnolia Photobooth
Ceremony:  Jungle Design
Reception: My Moon (Kenan is super easy to work with and the food/drinks/space are really phenomenal!)
Band:  Sugartones Brass band! (check them out!)
DJ: the fantastic Mikey Palms
Cakes and other dessert wonderfulness: Vegan Treats! (you haven't really lived until you've tasted their sugary goodness)
Hair: High Horse Salon (Allie killed it!) (718) 388-7703
Make-Up and Lashes: Kerrin Griffin (she made me un-scared of make up.)
Bridal Dress: Jenny Packham purchased at Vassa Bridal Couture
Bridal Shoes: Jeffrey Cambell, Remix Vintage Shoes
Fleurs:  Bridal Bouquet and brides/groomsmaid bouquets:  Maria Favara 
Reception flowers (tables, centerpieces, and boutonnieres) Missi Bullock
Groom Suit: Brooklyn Tailors
Other groom outfit elements: JCrew, Zappos
Bridesmaid Dresses:  from ASOS, Net A Porter, Nicole Miller, BCBG, Marshalls, Modcloth
Jewelry: Catbird, grandmothers
Handbags: Vintage
Wedding invitations: Maria Favara in collaboration with the groom.
Wedding video: Lucky Narain
Signage and table flags:  Maria Favara
Other crafty things created by Friends, family and ourselves:  arrows, streamers, etc.
[images from Matt Miller for
Our Labor of Love
]