Its hard to not love this wedding, with its ultra bright colors and rainbow bridesmaids…every bit is perfection!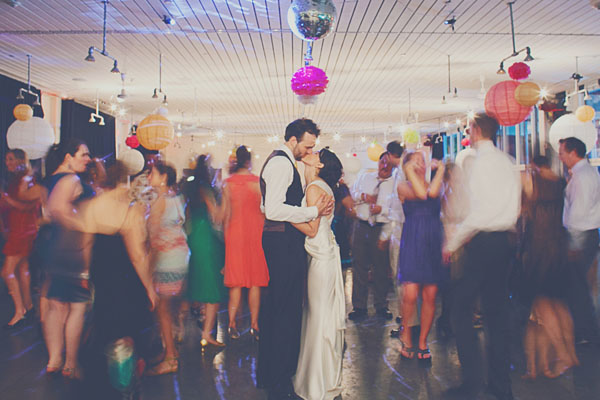 From the bride:
It's safe to say I am not the kind of girl who has been dreaming about her wedding since she was six.  So when we started planning, we didn't really come into it with a vision, except that we wanted our wedding to be a great party.  I wanted it to be bright, beautiful, and full of color, music, love, and joy.  And we wanted to get to enjoy our friends and family for longer than just the 8 hours of the wedding.  We were so fortunate to come across the Ace Hotel in Palm Springs, which made all of that possible, and also just happens to be the coolest hotel on the planet.  And every single one of our vendors was unbelievable.  "Vendor" doesn't seem like the right word at all; Wonderful-People-Who-Made-Our-Wedding-Amazing is probably better.
I like to think of myself as non-traditional, but I came to see that the process of planning a wedding shows you which traditions do matter to you, and which don't.  We didn't do a cake or a bouquet toss, but the ceremony was really important to us.  We asked a dear friend to marry us, which was the best idea ever, and the three of us basically wrote the ceremony together, which made it feel completely ours.  By far the most important and memorable moment of the wedding was when we read the vows that we had written for each other.  In the end I felt like we had taken this ritual and made it a very personal expression of who we are as individuals and as a couple, and it could not have been more perfect.

My number one piece of advice is to get a coordinator.  We hired Courtney as a month-of coordinator, but she was available to answer our questions via email from the moment we hired her and there is NO question that we could not have done it without her.  She was 100% on top of everything, and it just gave me complete peace of mind and let me actually enjoy the day.  Although there were definitely moments of stress throughout the planning process, I ended up being completely relaxed once it all began.  I really had no idea how incredibly joyful an experience it would be, and having someone there to handle all of the logistics left us free to enjoy the moment.  My other advice is not to scrimp on your photographers.  As you can see from these pictures, ours were INCREDIBLE, and looking at their pictures is like reliving the whole experience all over again.  You honestly can't put a price on that, so whatever you pay for a great photographer will be a bargain in the long run.  And finally (and everyone will tell you this but it's worth repeating), just enjoy!  Focus on what matters, which is the two of you.  Stick together, enjoy every second, and it will be perfect in all the ways that matter.
VENDORS
Photographer: Jesse, Whitney, & Jenn from Our Labor of Love
DJ: Smiles Davis via The Flashdance
Planner: Courtney Tibbets, After the Engagement
Ceremony & Reception Venue: Ace Hotel & Swim Club, Palm Springs, CA
Florist: Primary Petals
Wedding Cake or Dessert Baker: Desserts by Ace Hotel (King's Highway
Restaurant)
Caterer: Ace Hotel (King's Highway Restaurant)
Linens: Provided by the Ace Hotel
Lighting: Classic Party Rentals
Paper Products:
• Invitations & menus: Wedding Paper Divas
• Place cards & table numbers: e.m. papers
• Programs: Wide Eyes Design
Bride's Gown: Garbo by Elizabeth Fillmore (via Kleinfeld Bridal)
Bride's Hair Accessories/Veil/Jewelry:
• Hair accessory: LoBoheme
• Earrings: BHLDN
Hair Stylist: Christine Choi
Makeup Artist: Flor Hunt (bridesmaid J)
Bride's Shoes: Miss Albright (from Anthropologie)
Bridesmaids' Dresses: ModCloth and BHLDN
Groom's Attire: Suit: Jones New York; Tie: Nordstrom; Custom cufflinks
(his wedding gift – they were both maps, one of the spot where we met, and
one of the spot where we were getting married): Uncommon Goods
Groomsmen Attire: Suits: their own; Ties: Nordstrom
[images from
Our Labor of Love
]