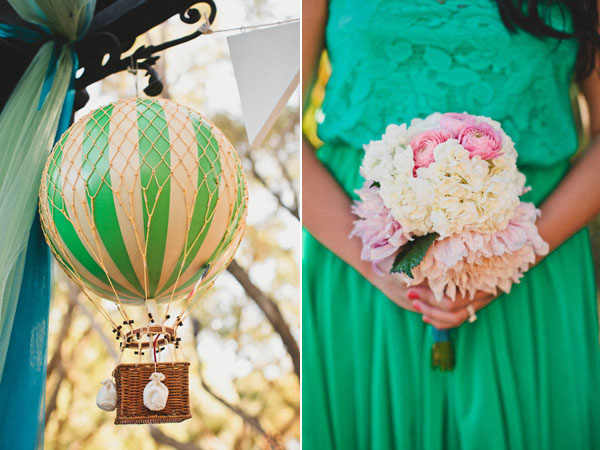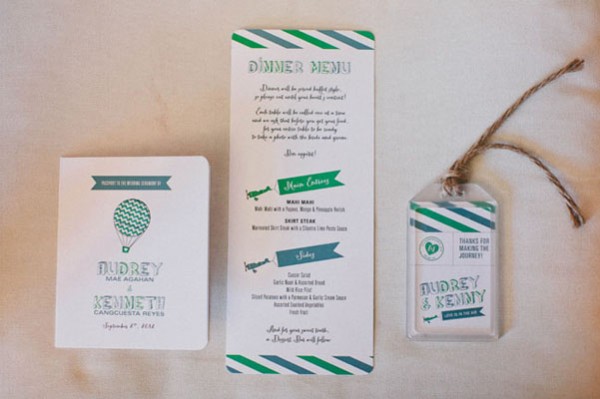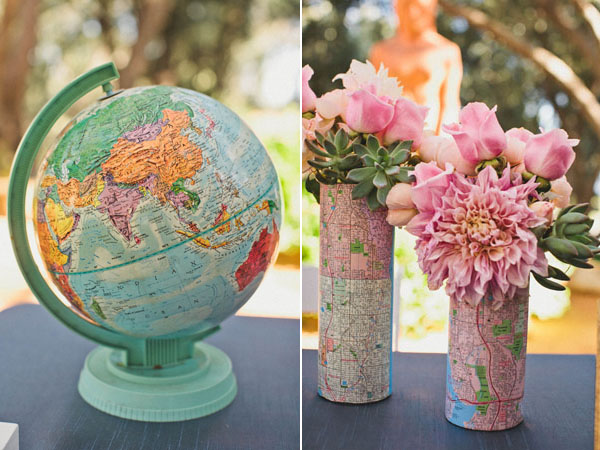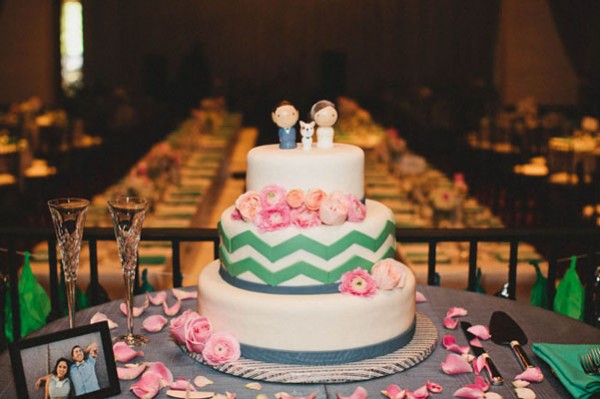 kenny//audrey – padua hills theatre from 618 Studios on Vimeo.
WEDDING INSPIRATION
Kenny and I love to travel so we definitely wanted to have a travel theme. We also both love oldies music and vintage, antique and mid-century architecture and décor, so wanted to infuse that style with our travel theme. That's how we came up with a "Vintage Travel Theme." Instead of table numbers, we had table destinations and named each table after a city we've been to. On each of the table destinations, we shared a short story of our trip at that destination. Many of our friends and family had also been present at some of the trips, so we also tried to make it personal by including them in the stories if they were at the particular trip. You will also see vintage maps, suitcases, and hot air balloons throughout the décor to tie in our style.

WEDDING STORY

In 2003, I met Kenny at Cal Poly Pomona. He was a little too much of a party animal back then and although he asked me out on several dates I always denied him. Finally, in 2007, we re-connected and we both grew up a low. He was a Respiratory Therapist and I was a Marketing Director and this time I actually asked him out. The rest is history! On July 29, 2011 (4 years later) he proposed at the Diamond Center in Claremont. It was a 4 year anniversary and I thought we were just going to be "looking" at engagement rings, but turns out he had the ring months ago and proposed to me in the store and all our friends were hiding in the back and showed up as he got down on one knee.

On September 2, 2012, a little over a year after we got engaged, I married my best friend, Kenny. The day started with me and my bridesmaids getting beautified by my wonderful make-up artist and hairdresser friends. I was nervous all morning because Kenny and I decided to write our own vows, and I knew I was going to blubber like a baby. I calmed down with the help of my MOH's and bridesmaids who loosened me up with champagne and as soon as they helped me slip into my beautiful wedding dress, the nerves started to go away. My whole life I dreamed of the perfect wedding dress, and my wish came true. The dress fit my personality perfectly. It was fun, unique and whimsical with the textured rosettes, a little glam with the beading on top, and chic with the sweetheart neck and A-Line/Trumpet Shape (originally an A-line but the seamstress took it in a bit to make it more of a trumpet shape). My birdcage veil and vintage brooch helped to tie my style in with my wedding décor, which was a vintage travel theme.

Kenny and I decided to do a first look at the hotel we were getting ready at. Tears welled in our eyes when we first saw each other. As corny as it sounds, it felt like a magical moment, like we were going on our first date again. We had never seen each other this way. By this way I mean not only our fabulous wedding outfits, but in a way that felt so sure, because we knew we were now soul mates and starting on a journey headed to forever. I knew he was the one when he proposed, but I guess I never felt how real it was until that moment.

After our first look, we took portrait pictures and pictures with our wedding party around Downtown Claremont, then with family at our wedding venue, Padua Hills Theater in Claremont. We got to take a peek at all the décor. Throughout our engagement, Kenny and I did a lot of DIY projects, creating most of our own wedding décor and paper goods and it was amazing seeing our vision come to life. The ceremony was short and sweet, but the best part was reading our own vows to each other. We both blubbered like a baby, although my husband tries to say he had "allergies." Cocktail hour and the reception were held in the same venue and followed immediately.

When we were introduced we walked to the dance floor for our first dance, and I think everybody expected a romantic slow dance, but instead we did a fun dance to "The Way You Make me Feel" by Michael Jackson which mixed into "Dance Again" by Jennifer Lopez. The first part of our dance was like the famous MJ music video, where Kenny chased after me and I pretended to not be interested. We even had a fake slap as a joke. This was to mirror our relationship because Kenny had chased me for a long time before I decided to go on a date with him. The second part of the dance was "Dance Again" where we did a modern salsa so we could do a little ballroom too. Both Kenny and I joke around a lot and are very sarcastic, so it wouldn't have been us to do a slow dance. This was a fun way to start the reception. We had a live band that played funk, soul, 70s, 80s, and today's hits so all of our guests can enjoy the music and it looks like they did because so many people were on the dance floor all night.

It was an amazing night, and I'm so lucky nothing major went wrong. Wish we could do it all over again, because like most people say, the day goes by way too fast.
VENDORS
• Photographer: Mark Brooke Photography
• Videographer: 618 Studios
• Hair: Oanh Truong
• Make-Up: Rachelle Llanes & J.R. Tuason
• Paper Goods: Tessa Tina
• Venue & Catering: Chantrelle's Find Catering at Padua Hills Theater in Claremont, CA
• Ceremony & Cocktail Hour Performer: Denny White
• Reception Band: Upstart
• DJ, Lighting & MC: Entertainment Express
• Flowers: RG Creations by Gina Lopez
• Wedding Cake: Goldilocks
• Photo Booth: Edzel Fuertez Photography
[images from
Mark Brooke Photography
, video by
618 Studios
]