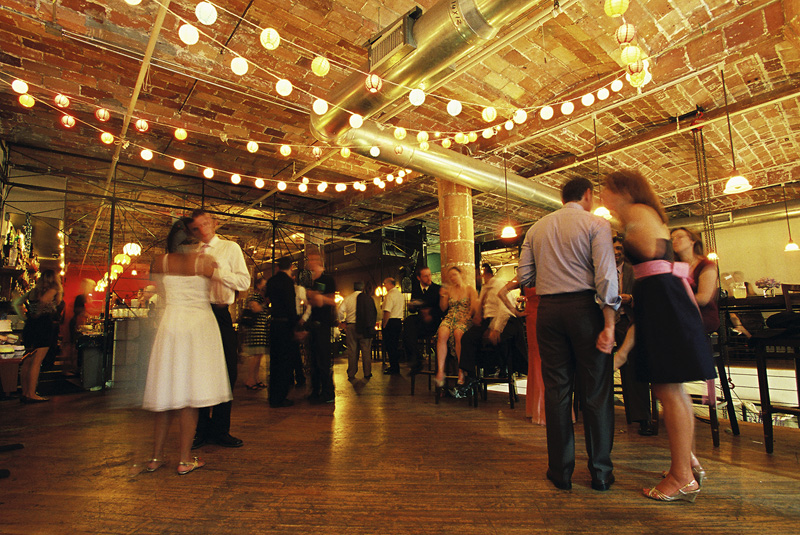 Yay for Brooklyn weddings!
CEREMONY
We chose the Brooklyn Bridge Park for our ceremony. We set up our chuppah and our wedding party on the pebble beach and our guests were seated on the steps leading down to the beach (complete with bottles of water – lovingly labeled by our friends – and mats to sit on). Ari's best friend officiated; he and Ari wrote the ceremony together.
CEREMONY MUSICIANS
Brooklyn-Queens Conservatory of Music musicians, led by guitarist Ron Jackson, played at the ceremony – "Your Hand in Mine," by Explosions in the Sky while everyone in the wedding, including Ari and his parents, walked down the aisle, and The Beatles' "Here, There and Everywhere," when I walked down the aisle.
RECEPTION
Our dear friend and wedding planner, Viva Max Kaley (who was full of great ideas and immensely helpful to us and without whom our wedding wouldn't have been the same) recommended reBar in Dumbo, just a short walk from the park, and we were thrilled with it. It's a great space with a lot of character, which is great because you don't have to go crazy designing a look. We had an afternoon cocktail party reception as opposed to a formal sit-down dinner; the atmosphere was fun and relaxed and exactly what we were looking for. As people walked in we served lemonade in mason jars with flags stirrers in each one that said A <3 C, each flag handmade by one of my best friends.
RECEPTION MUSIC
Jonathan Sklute was our DJ and he was fabulous. We gave him a list of songs that we liked and he was super easy to work with. We were happy to see everyone on the dance floor.
CAKE/DESSERT
We decided on cupcakes and a mini cake for us to cut – one of my friends made the cupcakes (frosted in rainbow colors) and her mom made the cake, both of which were amazing. We got our adorable owl topper from the talented and super nice Lauren Bradshaw. We also served ice cream sandwiches at the end of the party – we got them from One Girl Cookie in Brooklyn and they were a big hit.
FAVORS
We used local vendors wherever possible and were thrilled to discover Brooklyn Cookie on this very blog. Their Brooklyn Bridge Cookie was perfect and delicious.
PHOTOGRAPHY/VIDEOGRAPHY
Charlotte Jenks Lewis was our photographer and she and her videographer did an amazing job. They were so nice to work with and captured everything beautifully. We've gotten great feedback from everyone who has seen our photos and video and we love looking at them ourselves.
FLOWERS
Viva Max Kaley recommended Hatch Creative Studio and they were amazing. They were so much fun to work with and came up with the most beautiful and unique designs. I wasn't sure what I wanted but they listened to my thoughts and took it from there and their flowers were gorgeous. The groom and groomsmen wore buttons on their lapels as boutonnieres instead of flowers. Barb at Hatch came up with this idea and we loved it. The groomsmen wore buttons that said Carly <3 Ari Brooklyn, NY and the date, and Ari's button said I Love Carly. They were perfect.
INVITATIONS
Our invitations were Kate Spade, ordered through Kate's Paperie. They were kelly green on white and felt fresh and summery, which was exactly what we were looking for.
DRESS
My dress (and veil) came from The White Gown in Brooklyn and my bridesmaids wore navy dresses with pink sashes from Coren Moore.
SHOES
I wore the Kate Spade 'Gilee' slingback heel – they were a sort of metallic gold fabric. I decided to go with these instead of white because I know I'll wear them again.
HAIR/MAKEUP
Dora Peterson of Roy Teeluck Salon did my hair and Keri Berman did my makeup – they are both a pleasure to work with and amazing at what they do.
[images by Charlotte Jenks Lewis]