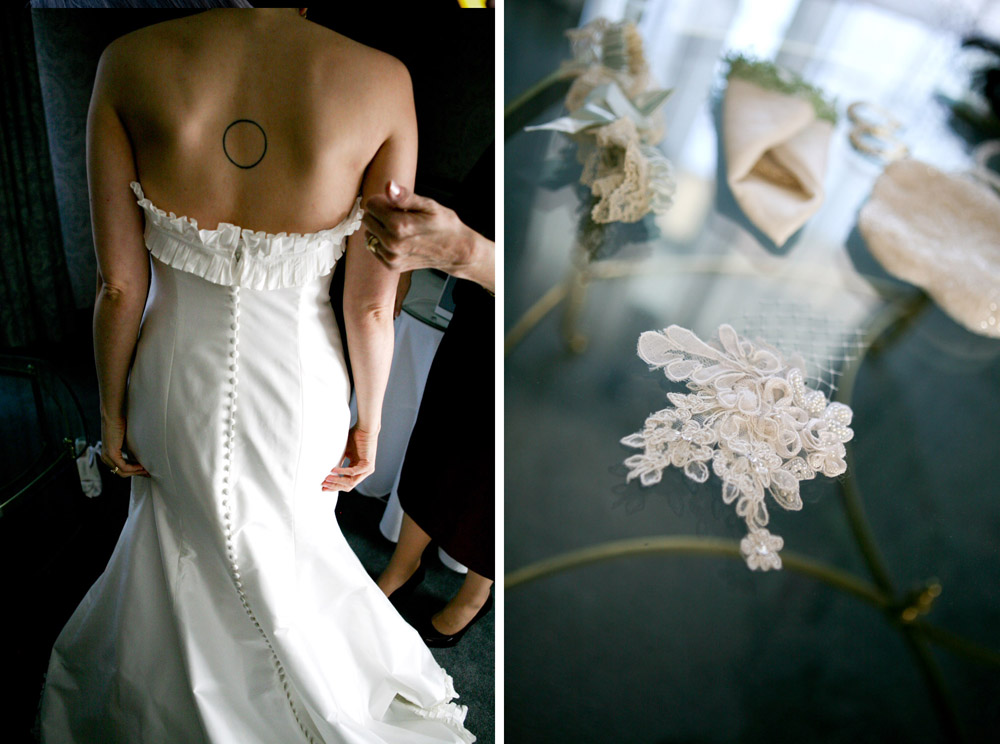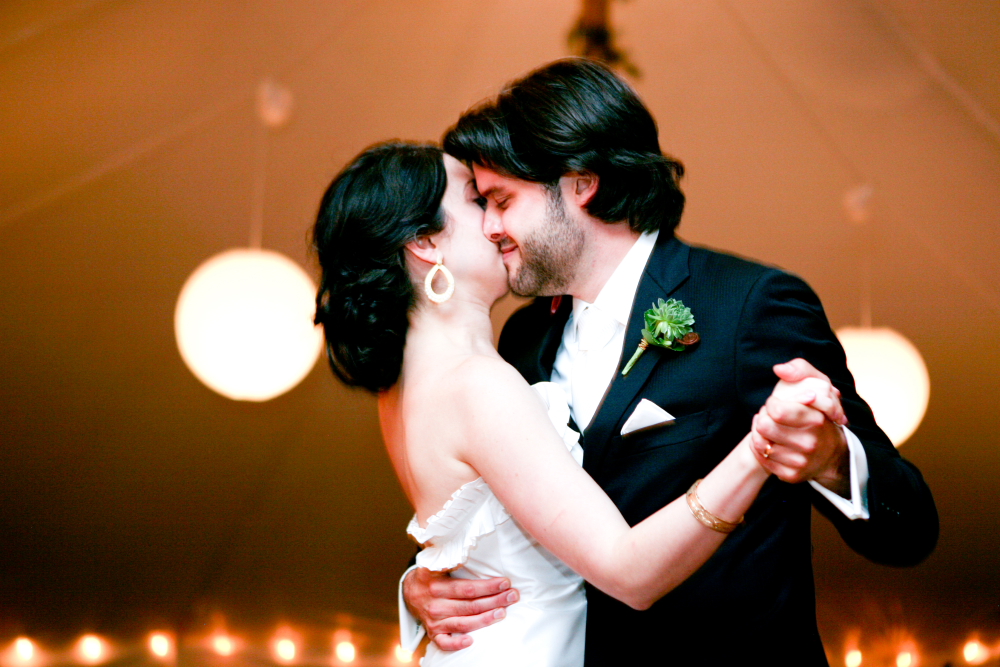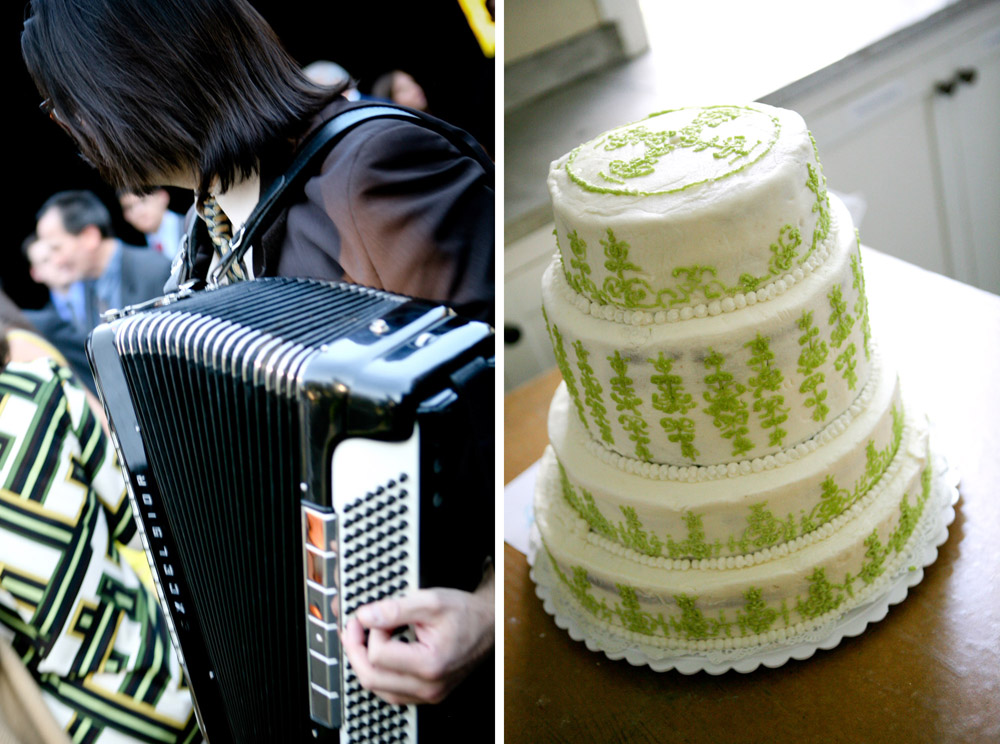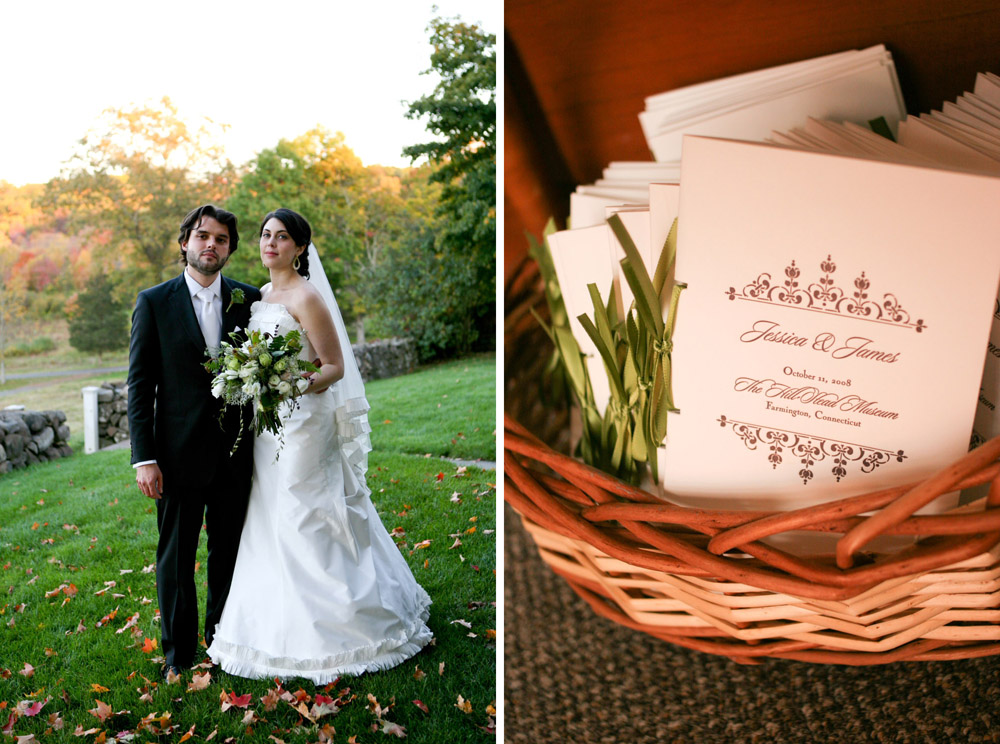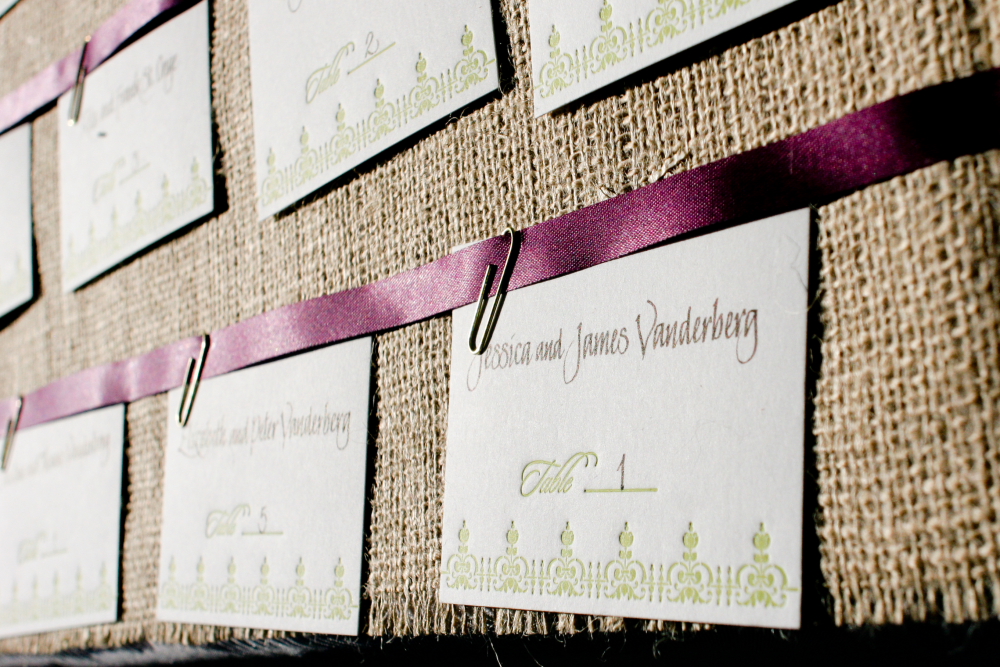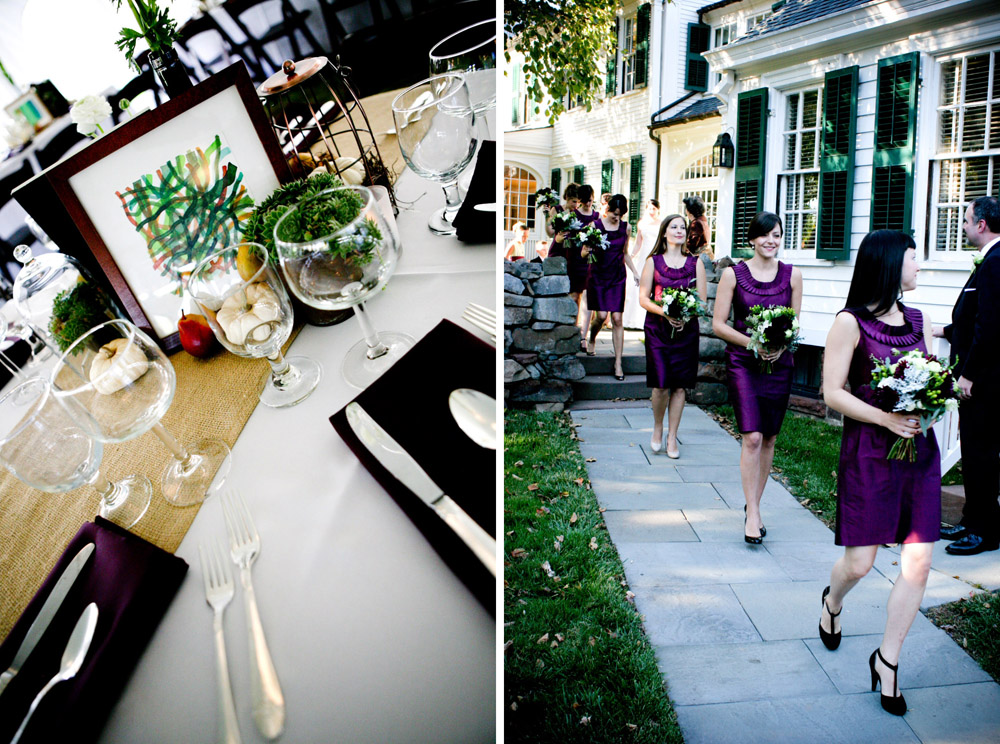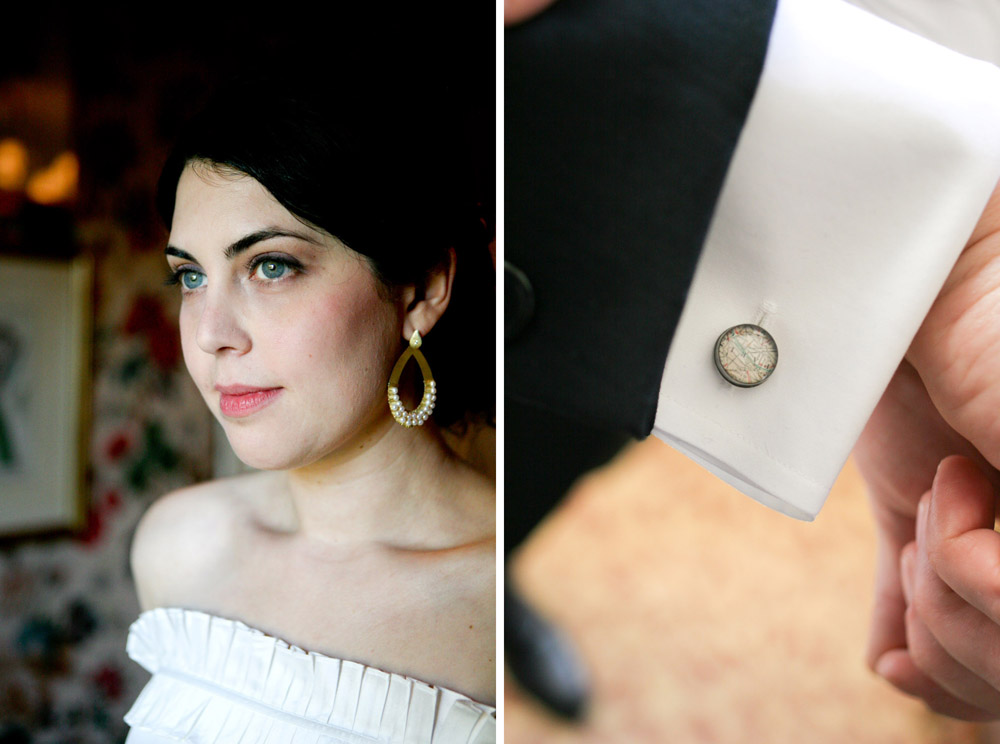 Jessica Guerrette and James Vanderberg
October 11, 2008
The Hill-Stead Museum
Farmington, CT
Jane Shauck of Iris Photography
Theme: We wanted to use the natural landscape and the time of year as a backdrop and highlight that with organic and natural touches and a nod to good old-fashioned Victorian weddings. Most importantly we wanted the day to be intimate and cozy and about our community coming together. Even with 150 guests we wanted each person to feel cared for and honored because they were there supporting us. We chose chartreuse and aubergine as our color scheme. James proposed to me with a redesigned ring from the turn of the twentieth century that was worn by my great-grandmother, grandmother (a wedding cake maker), and mother so we wanted the day to connect to parts of our past. We also wanted to make sure we used the creative resources (friends and family) we had at hand. Also, James and I spent a lot of time apart traveling and living in other places and we wanted our guests to know we were starting an adventure together…finally.
Setting: We chose The Hill-Stead in Farmington, Connecticut because of the surroundings, the history and because my family lives close by. The house was built at the turn of the twentieth century (a little before time my ring was first worn!) and contains a pretty extensive collection of art from the era (Monet, Manet, Degas, Cassatt, Whistler, etc.). It's very rustic with gardens and gorgeous views of the Litchfield Hills and was a perfect setting for our October wedding. We had our ceremony in an Arts and Crafts style makeshift theater within the house, the cocktail hour in the sunken garden, and the reception in a tent on the front lawn.
Decor: Flowers were very important to my mom. Since the reception was in a tent we knew we'd need someone with vision who could turn a blank canvas into some place worth hanging out for a few hours and we found Dragonfly Events (www.dragonflyevent.com). They read my mind and created the most intimate, warm tent I could imagine. I gave her a list of things that I loved and she made it come to life. Each tablescape was different but coordinated with bell jars, bird cages, wooden boxes, succulents, white pumpkins, hanging moss, old picture frames, ranunculus, buttons, recycled glass, old stones, burlap and wine bottles. My Mom and Aunt Rosanne made all the burlap runners for the tables. We drank enough wine over the course of 10 months to be sure every table had at least 3 wine bottles filled with flowers. My father made the picture frames that acted as table numbers. James, a painter (www.jamesvanderberg.com), made a watercolor for each table and one guest sitting at that table took it home as a favor.
Invitations: Since I work at Lion in the Sun (www.lioninthesunps.com) in Park Slope, paper is very important to me. Through the shop I was introduced to local New York designer Kimberly Driessen of Blue Ribbon Letterpress Designs (www.blueribbondesign.com). She custom made a whole suite for me from invitations to informals to programs and placecards. One of my favorite things was how she letterpressed a portion of Walt Whitman's (a fellow Brooklynite!) Song of the Open Road on the back of the programs:
Camarado, I give you my hand!
I give you my love more precious than money
I give you myself above preaching or law
Will you give me yourself? Will you come travel with me?
Shall we stick by each other as long as we live?
Food: The cake was made by my Aunt Rosanne and was inspired by the custom designed invitations. Vanilla cake with vanilla frosting, our favorite. Food was important to us too. Lisa Cole at Inspired Catering (www.inspiredcatering.com) was very helpful. We had just spent the last 8 months living in Paris and wanted the food to reflect our love of French cuisine. She created a meal using seasonal harvest ingredients that included a beautiful croquembouche to go along side the traditional wedding cake.
Dresses: The bridesmaid's dresses and groomsmen's ties were all from Simple Silhouettes in NY. My dress was Romona Keveza and reminded me of a John Singer Sargent painting. I bought it at Kleinfelds after trying on loads of dresses at 5 other boutiques. I didn't think I was going to be one of those girls who "knew" what dress was for me, especially after trying on so many dresses. When I walked out of the dressing room the look on my family's face confirmed that this was, in fact, the dress. The designer was there that day and helped me augment the dress by adding buttons down the whole back and customizing the veil. James wore a custom made suit from Brooks Brothers.
Photography: I chose Iris Photography because of her process. She has a journalistic eye and develops her pictures so the colors are super-saturated. She also had a really unique eye and shared a vision of my day, which was helpful. (www.photoiris.com). She and her husband work together and they even stayed later than expected to hang out and listen to our band…they were a lot of fun to work with and she took some really breathtaking pictures of the day. The best thing she did was set up a portrait station after the receiving line and took a portrait of each of our guests next to a stone wall or barn door.
Ceremony: Our ceremony was written by us. We took elements of a Quaker service without self-marrying. Our parents stood behind us as we said our vows to each other. We had friends read passages from Hafiz and Socrates. James's brother Peter, a poet, read a piece he'd written for us and our families titled "Prothalamian". During a long moment of silent reflection we passed our rings around the room so that every person could be part of something we would carry with us every day. Kir Royal's were served as our guests left the theater to let them know that it was time to party.
Music: James and I are in a band together and music is very important to us. Our friend Emily, an opera singer, and Jamie, a classical guitar player played me down the aisle to their own version of Stereolab's "Peng!" and our groomsman and bandmate Matt (www.myspace.com/mattsucichwiththevanderettes) lead our recessional with Van Morrison's "Starting a New Life". Art Bailey, a Brooklyn accordion player, escorted our guests to the sunken garden for the cocktail hour. James's granddad sang along with Art during that time. The Blue Vipers of Brooklyn (www.thebluevipersofbrooklyn.com) played music from the 1920's and 30's during the reception…they are the best! Find them in the city if you can. After the ultimate dance party mix made by James and Matt, played through an iPod, we finished the night with a set from our own band (Matt Sucich with The Vanderettes) which included guest appearances by my dad and members of the bridal party.
L'il Things: I love Etsy.com and found so many amazing pieces on there for our wedding day. My hairpiece was made by Myra at Twigs and Honey (www.twigsandhoney.com). I had James' cufflinks custom made with vintage maps of Brooklyn and Paris from Anne Holman Designs (www.etsy.com/shop.php?user_id=5053816). I even had custom fragrances made for each of my bridesmaids by Loreto Aromatica (www.etsy.com/shop.php?user_id=4563). James gave his groomsmen Laguiole knives, traditional French cutlery. I also had a lot of pieces from my family on me that day including a bracelet from my Great-Grandmother and a hand-crocheted hankie from my Grandmother.
[images by Iris Photography]