Now this is my kinda wedding!  A modern take on the vineyard wedding that was relaxed and full of color…not a pastel in sight!  It doesn't hurt when your sister-in-law is the fabulous Denise Fasanello and you're super crafty…lots of inspiration in this one so scroll down for more.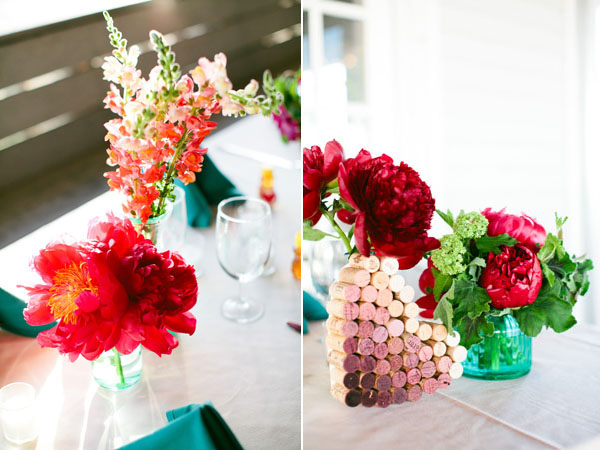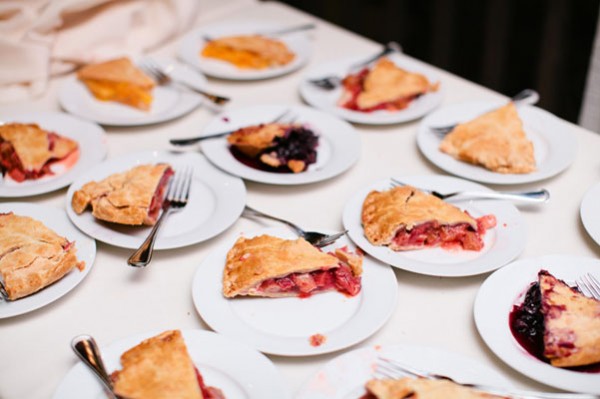 From the bride:
We wanted a fun, relaxed wedding where everyone could enjoy themselves, especially us. For decor, we wanted tons and tons of color, as we aren't really pastel people. Luckily my sister-in-law just happens to be a flower designer. Her name is Denise Fasanello, and she is a flower genius. She knew exactly what I was talking about when I said lush and colorful, and was able to take my vague ideas and make them into gorgeous table arrangements and a bouquet to die for. We also had an incredible photographer, Sasithon Pooviriyakul, who was able to capture so many beautiful moments, and kept us relaxed and having fun the whole day.

I did a lot of crafts — it was a great way to relax and put my energy into something creative, fun and personal. I made large paper flowers, composition book name cards, a cork heart, map table numbers, and even learned how to emboss to make tags for the honey bear favors we gave everyone. My sister-in-law and my mom help me gather and/or paint all different kinds of turquoise vases for the tables.

We also decided not to hire a DJ and instead planned all the music ourselves (Paul is a musician so he was excited at the excuse to purchase the speakers and subwoofer!) It was a wonderful way to bond during the wedding planning process and it felt like we were creating a special mix tape for our guests. Also, that way we didn't run the risk of hearing any songs we didn't love.

It's funny how things we didn't plan for made the day so much better. For example, we were going to have a freestanding chuppah but it was so windy we had to have four of our friends hold it for us. It made our ceremony that much more personal and celebratory.
VENDORS