This wedding was a great combination of Hindu & Western ceremonies, with a perfectly poppy palette that's modern and warm at the same time.  Some great details from the bride below…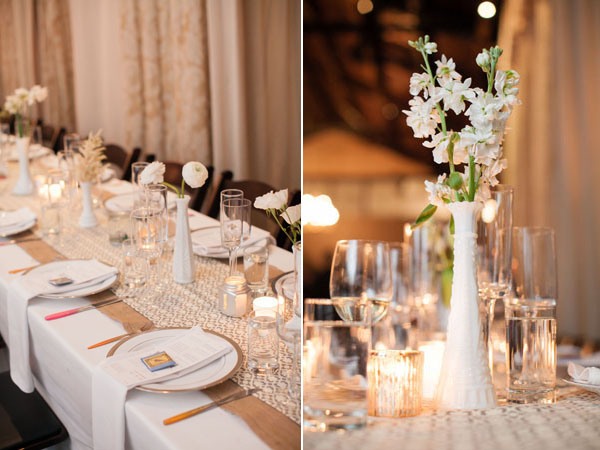 There were so many things that we were happy with including the look and feel. But ultimately, it was the ceremony that we loved the most. We combined a Hindu ceremony and a western ceremony and personalized both parts. The Hindu ceremony is such a beautiful one. We modernized the script a little to make it our own but the essence is about friendship and involves all these wonderful traditions that incorporate our families. We wrote our own vows and had a good friend marry us and all of those personal touches helped to make that moment — that I think initially we didn't think much about — so warm and memorable.

We knew we wanted our wedding in Brooklyn, NY, because thats where we fell in love with each other and the city. We looked at only a few other places beyond the Green Building, but once we saw it, tucked into our old neighborhood, it was a no-brainer.

Once we found the Green Building, the rest of the design fell into place because the space is so spectacular. It's like urban rustic, so you don't need much more. But we knew we wanted to incorporate some Indian touches, including some bright colors and imagery, which we managed to do in the decoration. Other than that, I wanted the space to feel warm and inviting like you never wanted to leave. That was done with candles littered on every surface and the big sheet of hanging lights, which was delightful. I went a little wild with the DIY stuff, but in the end I wouldn't have done it any other way. I absolutely loved the way the space and the decorations looked. Especially the spray-painted silverware (really, a ridiculous project that thankfully turned out just awesome), the table seating chart, and the little snow globes filled with elephant figurines that Ronnie's mom got in India. Oh and we did a surprise Bollywood dance, which was so much fun! Ronnie might not agree, I think he blacked out, but it was a blast, a fun touch for Ronnie's family, and such a riot for our friends.

The photography was perfect because it captured the warm, happy, vibrant mood of the evening. Leigh Anna just blended right in with our guests and got these great intimate shots. Looking through them, it's like we're reliving it all over again.

Planning a wedding really is so much more work than you think, especially if you go the route where you do a lot of it yourself. (I don't even mean decoration projects. if you aren't doing an all-in venue that takes care of catering, there's a lot of logistics to work out.)  The thing is, it's not bad work, it can be really fun, but everything will take a million more decisions and a lot more time than you think. So in regards to that, try to start early as much as you can. If you are making some of your own decorations, start early and ask for help. My mother-in-law came through in such a huge way, sewing these beautiful table runners that were above and beyond what I could have imagined. I would also recommend chatting with friends who have recently gotten married in your city. I got great vendor recommendations (ah hem: my photographer!) from recently married buddies. And it's worth doing some research, checking out wedding and design blogs to see what people are doing to borrow some ideas, because otherwise it's a great big wedding world out there. And have fun!!
Photographer:  Moss + Isaac//Caterer: Crave//Event Venue: The Green Building//Bakery: Baked NYC LLC//Transportation: NY Trolley Co//Dress Designer: Selia Yang//
[images from
Moss + Isaac
]