Wedding party photos tend to make me cringe. The poses are awkward and the faces are cheesy. How do you make your photos appear fun and relaxed? Here are some of my favorite examples and why they work.
1. (photo up top) Clump together. It's natural for people to talk in clumps, so why not take pictures that way? Plus, the little guy on the hay barrel acts like a little boy–no pretenses. Image from here.
2. (below) If you want to do a pose, a line is a more artsy approach. Then again, the faces and postures are more relaxed making it seem like they are happy to be there. Image from here.
3. Elevations. I think we all can agree that Kate Moss' wedding is beyond words. This memorable photo is straight out of a Pre-Raphaelite painting. The kids sit in various positions–some high and some low–to break up the monotony of a simple line. Image from here.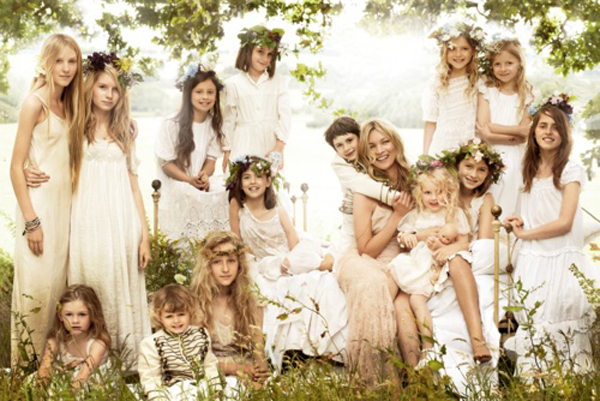 4. Vanity Fair approach. The famed celebrity issue always features a dozen or so celebrities in a beautiful horizontal layout sitting on stools and chaise lounges. It's artfully styled. Make sure you have someone at the wedding who can direct everyone.

5. Small clusters. Opt for small clusters. It's easier to see everyone when you're in smaller groups. Image from here and here.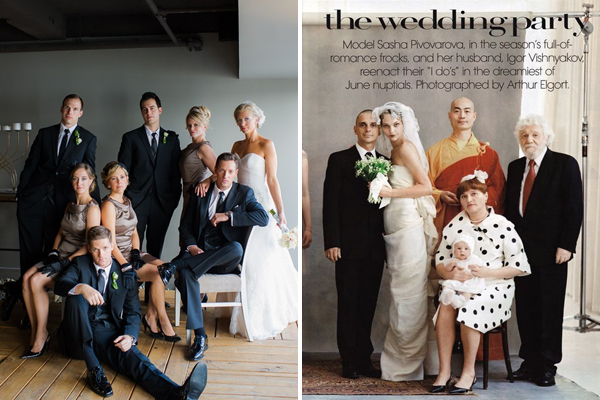 by Brittany Jepsen of The House That Lars Built