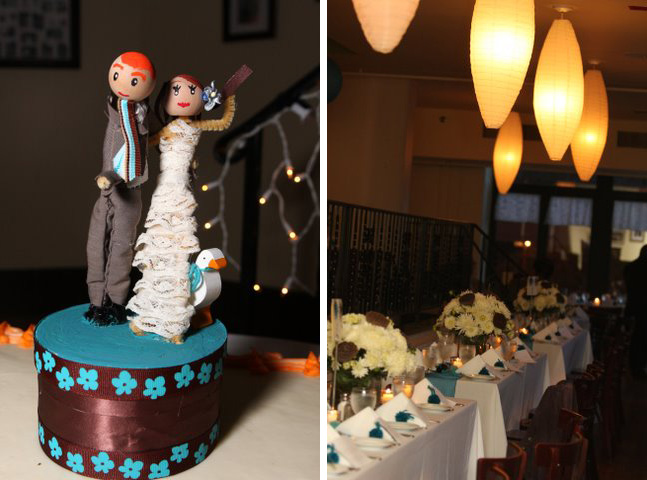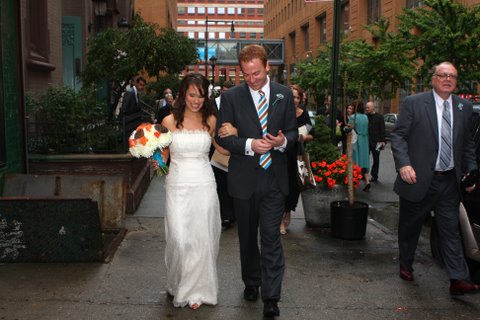 September 27, 2008
Oratory Church of St. Boniface in Brooklyn
Bubby's in DUMBO
Theme: Jon and I are both journalists and truly love the city, particularly Brooklyn, where we make our home. So we thought our wedding would be the perfect opportunity to showcase the borough for our friends and loved ones. Crafts — particularly needlework — are also a huge part of my life, so I wanted to imbue our wedding with lots of personal, handmade touches. Most of all, we really wanted to the day to be a celebration and feel like us — down-to-earth, even silly, but full of heart.
Setting: For our ceremony, we feel really lucky to have discovered the Oratory, which is tucked into a block in downtown Brooklyn. It's a small, cozy Catholic church that strives to make everyone feel welcome. It was the perfect place to exchange our vows. For our reception, we very quickly settled on Bubby's in DUMBO. The views are simply unbeatable, particularly during the cocktail hour. (Plus, we really wanted a fun, accessible menu — and you don't get much more fun than fried chicken, pecan-crusted salmon and macaroni and cheese.)
Decor: We chose the color combination of chocolate and aqua — or "chocqua," as we affectionately call it — early in the process, and I let it guide the rest of our design decisions. I had been toying with the idea of having our guests throw pompoms at us since I saw the idea in Martha Stewart Weddings, so when I saw these invitations by the White Aisle, everything came together. I got the invites, table numbers and escort cards in this motif, which reminded me of pompoms. My mom, mother-in-law and I made hundreds of "chocqua" pompoms (my made 400 herself!), which were thrown at us and also used to decorate the table. I also tied pompoms to a little card at each place setting, explaining that we would make a donation in lieu of favors. A lot of guests took the pompoms home with them, and we have a vase displaying the leftovers.
I didn't want any artificial aqua flowers, so Carmine at Flowers by Emil used off-white spider mums — which reminded me of pompoms — and brown lotus pods for my bouquet and the centerpieces. (My bouquet also
had orange unique roses, just to add a little more color). Aqua table runners and "chocqua" lanterns bought on ebay brought everything together.
Dresses: My dress was by Mikaella and made of Chantilly lace, the same fabric that my beloved grandmother wore when she was married. While the lace is old-fashioned, the neckline is frayed and ragged, giving
it a more modern look. I wanted to be kind to my wedding party since traveling to New York is pricey enough, so they chose any J. Crew dress in espresso. Jon bought his suit at Brooks Brothers. I struggled to find ties for the men that brought all the colors together and finally found them — in Australia. But they were so inexpensive that we basically just paid shipping.
Photography: Jennifer Shea was our main photographer, with Stephen Strutt as the second shooter. They were so understanding and flexible and fun — it was misting all day, nearly ruining our chances of
taking pictures under the bridges. Anyone who says rain is good luck on your wedding day is lying. But it cleared just long enough for us to race over to the park after the ceremony, and they were such
professionals about it. Even though my hair fell because of the humidity, I'm glad we took the risk. (And luckily, I found four aqua umbrellas two days before the wedding at a hardware store on Court St.
— the employee gave me a discount because we were getting married!) The dance floor pictures are totally priceless! I also really have to credit Christine Viola of Exquisite Affairs Productions, who basically saved me from a hundred panic attacks.
Ceremony: We really cared about creating a ceremony that represented us. We spent a lot of time finding Bible readings that would speak to all of our guests, including one that mentions crafts (Proverbs 31 —
"She obtains wool and flax And makes cloth with skillful hands") and chose the Gospel reading about Zaccheus, a childhood favorite of mine because I'm short. We also wrote our own vows, which is unusual for
Catholic weddings, as well as several smaller parts of the ceremony.
Music: For our ceremony, we really loved the idea of strings for most of the Mass, but this required a lot of extra work. Hire Conservatory Alumni worked with us to personalize the service and transcribe music
traditionally played on other instruments. I walked down to the aisle to "Anne's Theme" from "Anne of Green Gables," which sounded so beautiful in strings. And for our processional, they played an
instrumental version of U2's "Beautiful Day." It was just perfect. For our reception, we used the Downtown Band from Hank Lane, who were a total blast.
Personal touches:
I knew immediately that I would knit and crochet shawls for my bridesmaids, which was a wonderful way to really relax and focus on our friendships before the wedding. I picked a different pattern for each of my girls, crocheting two and knitting two. For the groomsmen and our dads, I sewed boutonnières out of different "chocqua" fabrics, so each one was unique. People told us not to bother with programs,
but I always love reading about different traditions and following along with the service when I'm at weddings. I designed them myself, had them printed locally and included personal stories about us and our wedding party, as well as this poem by ee cummings. I also made a cake topper that looks alarmingly like us.
What I couldn't make myself, I bought on Etsy.com because I really wanted to support independent artists. Myra at Twigs and Honey made my hairpiece, but I ended up swapping the center flower out and adding
one that matched our colors more. I bought cute flower earrings from Luxe Deluxe, and our ring holder, which was engraved with the same ee cummings poem, was from Palomas Nest. (Sadly, this got lost at the
reception!) I wore my mother's pearl bracelet and carried my grandmother's vintage handkerchief; Jon wore his grandfather's cufflinks. And we bought our rings at Clay Pot in Park Slope.
[images by
Jennifer Shea
]