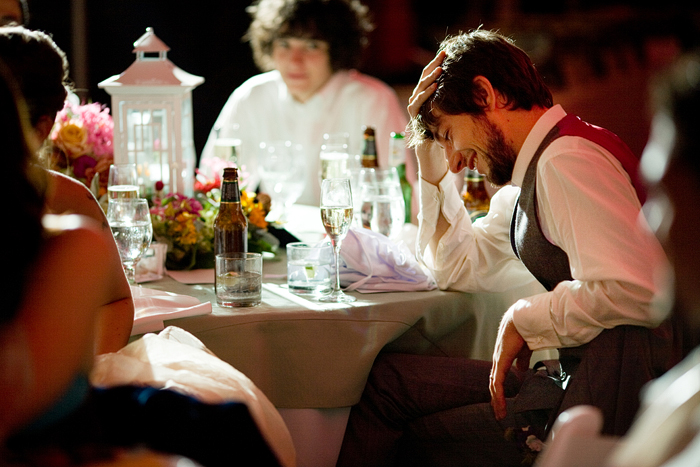 This wedding sent from Jenny Jimenez is not only fabulously stylish, but hilarious as well!  I wish I had a smoking lobster at my wedding!
Sara & Matt were married on Naragansett Bay in Rhode Island during Hurricane Hanna. The day started out innocently, with the eye of the storm keeping us half dry for the ceremony, cocktail hour and through the start of their lobster bake dinner (lobster!!) from McGrath Clambakes in Newport.  By the time the wind and rain resumed we were dancing too hard to care.  If you weren't soaked by the rain, you were soaked with sweat. These are my kind of people!

Both Sara & Matt had their wedding attire custom made for them, with Sara in a tea stained Mary Adams creation and Matt in a gray Addison & Steele suit with purple lining.  The guys wore white Nikes with purple swooshes.  They donated to Save the Bay in lieu of favors.

Yes, that is one of their guests trying to eat the bridal bouquet.