What a great Brooklyn affair this was, from the marquee signs to ribbon altar & decor…just wait til you scroll down to the reception!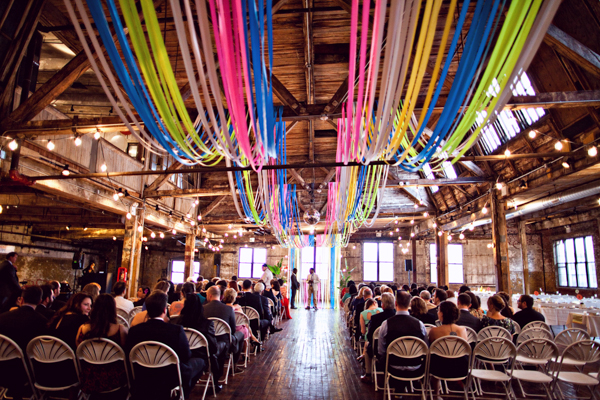 From the bride:
Adrian and I met in graduate school. He found my email from a classmate and sent me a message to compliment my home-made cassette tape necklace and big eye frames. I liked his glasses too. From the get-go, we've been tied together by our love for music, design, culture and eyewear. And so our wedding theme, That Perfect Pair was born.

For starters, we're just not barn people. We wanted the wedding to be very "us", which meant holding it in Brooklyn; the quirky, creative, and industrial borough that we're proud to call home. The Greenpoint Loft was perfect: big windows, old wooden beams, and totally raw. Our goals for this space were to incorporate the extraordinary talents of our amazing friends and family, to be budget-conscious in one of the most expensive cities in the world to have a wedding, AND — to make it one hell of a party.

We really wanted to include our friends without making them buy expensive bridal party attire. We called upon their artistic skills and expertise to do everything from installing our colorful decor and lights, to making our signature cocktail, photographing the wedding, and performing the ceremony. We even had a group of friends set up an animation station for those who needed a little break from the dance floor.

Since we live in the old Italian neighborhood of Carroll Gardens, we were able to ask one of our neighbors to let us borrow his yellow Cadillac for pictures. We were so honored to incorporate elements of our neighborhood and community.

I run my own small branding agency and decided to make all of the invitations and programs. Adrian and I 'paired up' on each of the other tasks; from purchasing the tableware, to folding every napkin, to painting each of our centerpieces. We created a lounge using our own furniture (with the exception of a beautiful Patina Rentals loveseat) and even drove the U-Haul with our tables and chairs. It was a lot of work, but ultimately such a personal experience that we wouldn't have had it any other way.

The best moment for us was when Uncle Stanley and friends performed a Stevie Wonder medley. Adrian and I couldn't decide on which song we wanted, and thankfully, these pros were able to work with our DJ to bust out one of the best performances I've seen in a long time. Music is such an integral part of our lives, and to have our friends and family put together such a moment was something we'll never forget.
VENDORS
Hair: Persons of Interest
Shoes: Top Man
Tie: The Tie Bar
Suit: ASOS
Hair & Makeup: Hello, Beautiful Salon
Blusher Veil: Kerin Rose
Wing Shoes: Melissa Shoes
Dress: Aidan Mattox
Big Balloons: Vintage Party Store
Invitations & Print: Mighty Oak
Chairs & Tables: A & S
Lighting: Colin Colfer
Ribbon Installation: Michelle Bablo
Vintage Couch: Patina Rentals
Centerpieces: Jamali Gardens
Silverware: Smarty Had a Party
Bouquet & Boutonnierre: Brooklyn Plant Studio
Plants: The Sill
DJ & Sound: Natasha Diggs
Animation Station: The Good School
Day Of Coordinator: Kara Durret, The Green Building
Food Truck Catering & Bar: Tacombi
Photography: We Are For Each Other
Hotel Stay: The Box House
Warehouse Space: Greenpoint Loft
[images from
We Are For Each Other
]