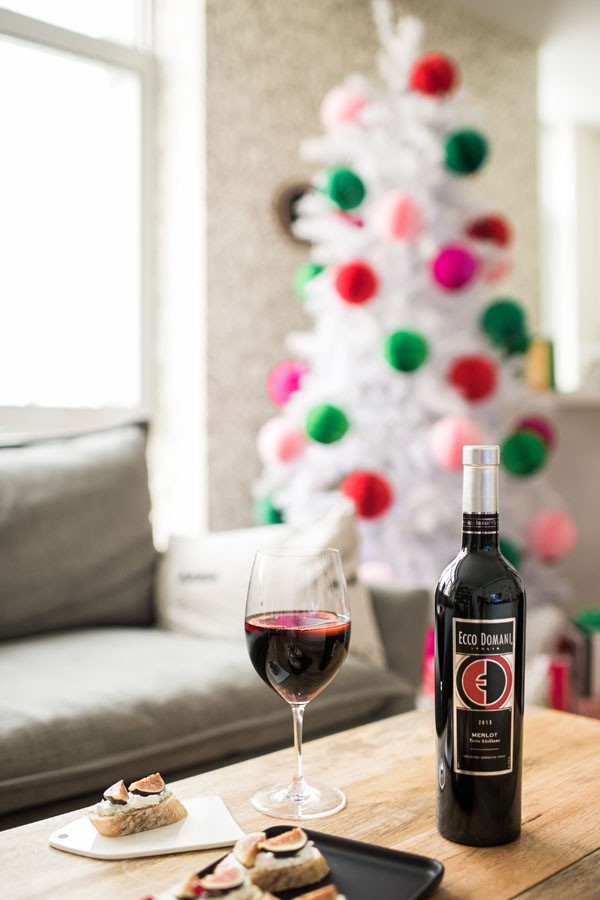 Can you believe the holidays are almost around the corner?  I definitely can't, but it reminds me that it's a great time to start thinking about getting some girlfriends together to celebrate! I worked with Ecco Domani wines to come up with some entertaining ideas to share with you guys for the holidays, and immediately thought of a girlfriend gift exchange chock full of bright colors, yummy bites, and some delicious wines.  The ideas here would also would work exceptionally well if you've got your wedding towards the end of the year and want to celebrate with your bridesmaids.  The more the merrier right?
A great place to start is with your menu.  Depending on how many people you're planning on having over, you'll want to keep it easy so you can enjoy yourself as well, so meats and cheeses are a perfect way to go.  Have a variety of different kinds (if you're blanking on specific kinds to go with, your cheese monger can help with recommendations) and even it out with some meats like salamis and prosciutto's, fruits, olives and some breads and crackers.  A variety of color will help keep it looking festive!  I also love making little crostini's since they're super easy to make, and are always a crowd pleaser.  The one here is simply some goat cheese, fresh figs and a drizzle of honey on sliced baguette.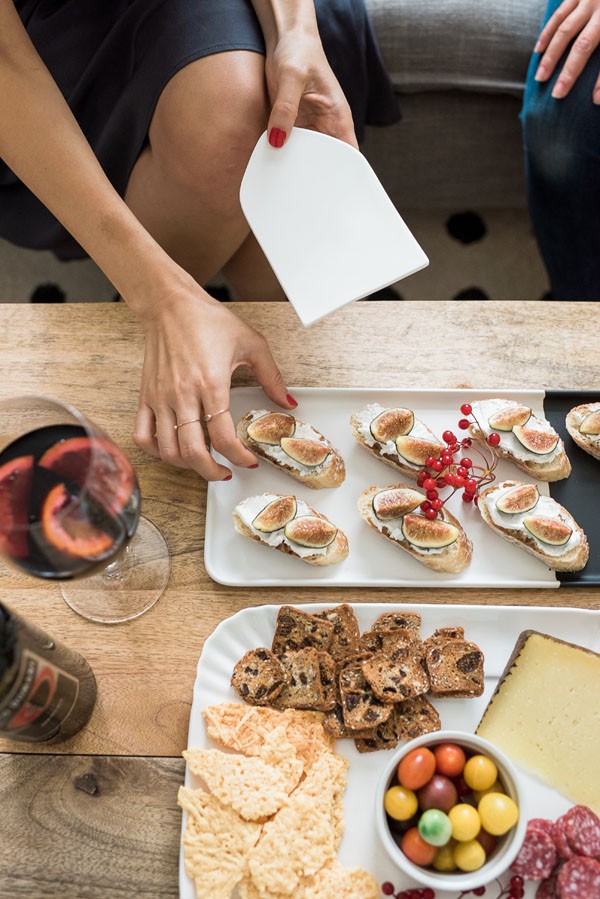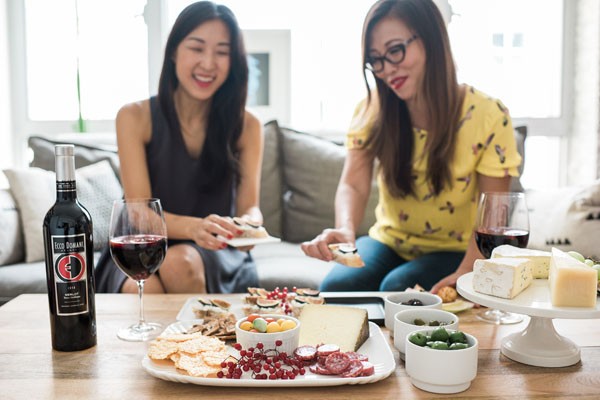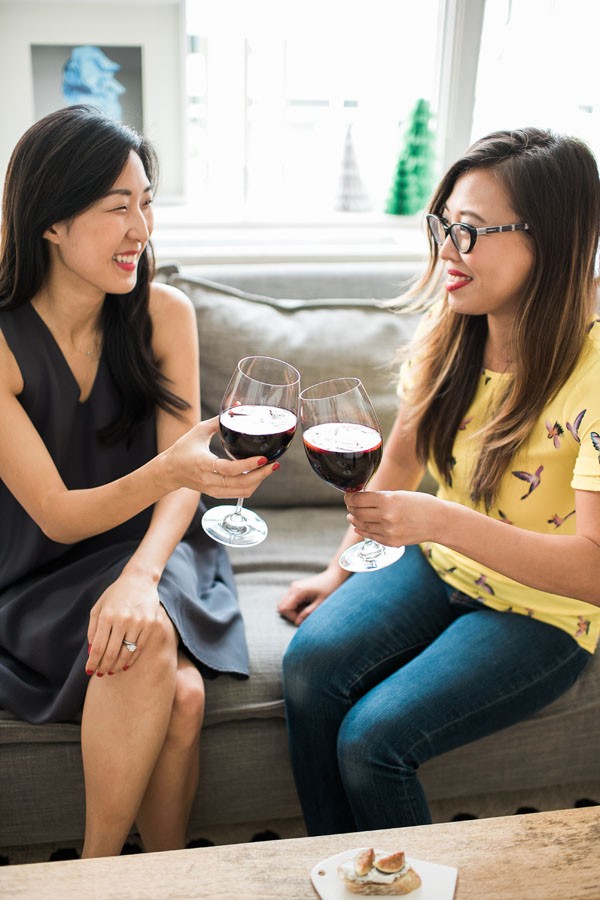 Once you've got your menu set, you'll want to think about drinks.  Ecco Domani has a great collection consisting of a Pinot Grigio, Merlot and Prosecco…something for everyone!  At a price point that won't blow your budget, their wines pair with practically anything you could serve, and their website is great source of ideas for creating wine cocktails if you want to dress them up, like the sangria we created with their Merlot.  I also love the simplicity of adding pomegranate seeds to their Prosecco to add a festive pop.
For decor, I'm a big fan of bright,  bold color, so the all– white tree we used really helped the ornaments pop.  You could honestly do any color, but we stuck with a palette of greens, reds and pinks to stay consistent, and then worked that into the present wrapping as well.  It's modern and fresh, and definitely not boring!  Makes a great backdrop for photos as well!  As an added bonus, I asked my friend Minhee from Paper+Cup Design to design some downloadable gift tags for your own present wrapping, so feel free to download and use at will!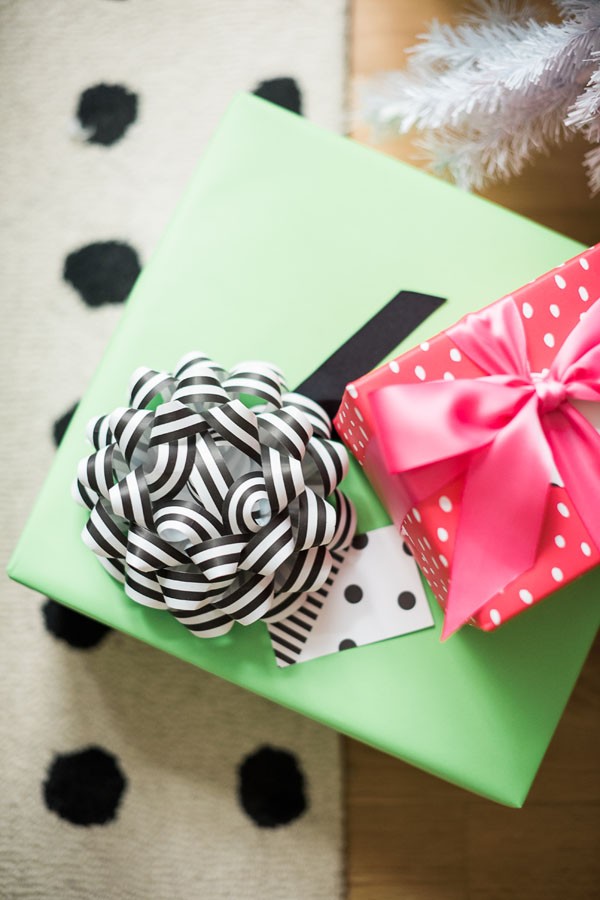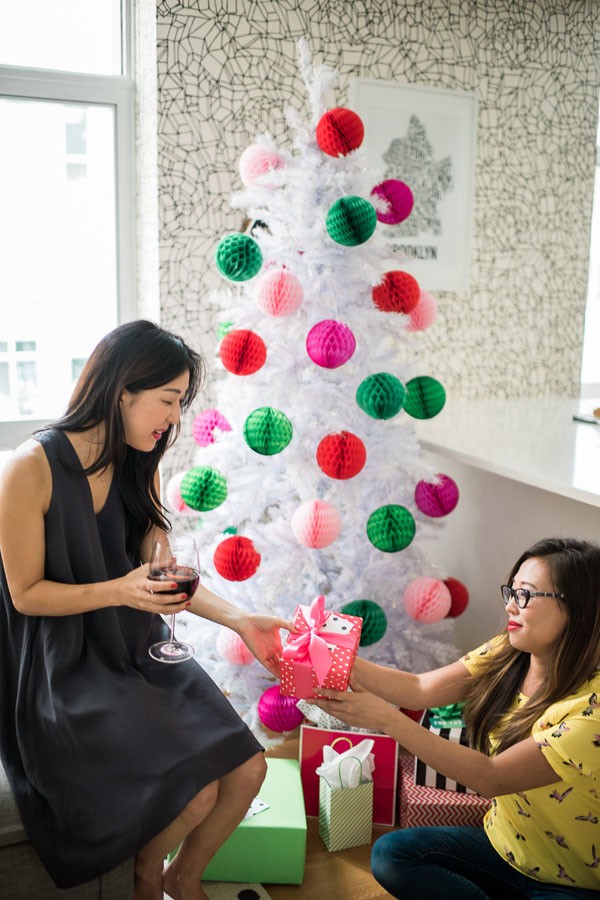 So there you have it!  An easy, modern, and DEFINITELY doable day with the girls celebrating the holidays and friendship over some yummy wine and nibbles.  Check out our Pinterest board throughout the month for even more entertaining ideas, and be sure to enjoy responsibly!
[images by
Brklyn View Photography
] [Content for 21+. This post was sponsored by
Ecco Domani
. Thanks for supporting our advertisers!]