You guys remember the disaster that was the whole reBar debacle a while back? Well Monica & David were set to marry there and managed to turn a crappy situation into a gorgeous wedding outdoors at Jane's Carousel!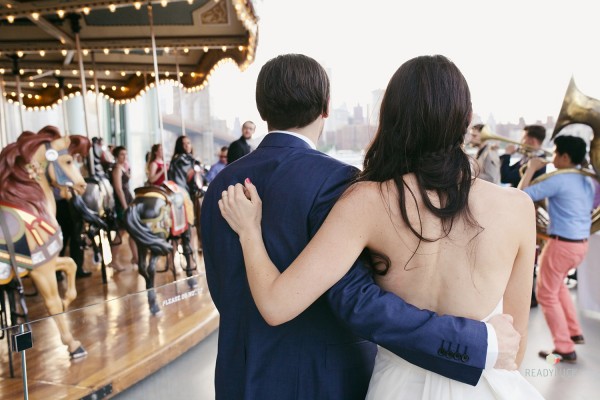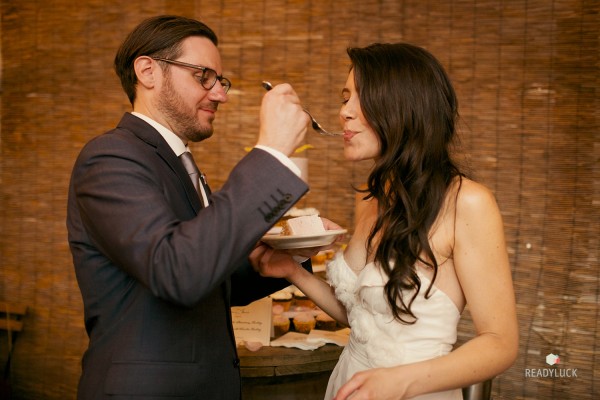 The vision had been clear. We would wed at Jane's Carousel and then march parade-style with a brass band across the cobblestone streets of DUMBO. The destination: reBar, an understatedly hip gastropub in DUMBO. Our guests would delight in the exposed brick, wrought-iron gated, graffiti-splashed space and experience a most elegant yet unstructured of parties.

But that wedding vision never materialized. Six weeks before the wedding, I was catching the train when I heard the crushing news from a friend. reBar had abruptly closed for good, leaving several employees and betrothed couples in limbo. Our reBar wedding package included floral, DJ, catering and wedding cake among other essentials. All gone in a heartbeat. Suddenly our wedding vision because a mere figment of our once-happy nuptial dreams. (note to editor: we later found out that the owner was a complete fraud who stole 100+ couples' wedding deposits and eventually went to jail…this is a longer story that I'm sure doesn't need rehashing in any BK-based publications!)

What happened next was truly astonishing. The other couples affected by reBar's vacancy banded together, helping each other find venues and even creating a process to share wedding decorations. Several Brooklyn-based businesses stepped forward to offer steep discounts, and we quickly replaced our reception venue with ease. Most touching, many dear friends jumped right in to replace the remaining gaps with their own talents, collaboration and creativity.

Amidst the setbacks, I remained grateful that the truly essential things were never threatened. A giddy bride and groom and our 75+ guests came together that perfect June day and relished in the confetti of personal touches that made our celebration so unique. As I made my way to Brooklyn Bridge Park, a friend handed me a beautiful bouquet that he made at the flower market that morning with zero instruction. Lavender calla lilies, pink hydrangeas, lavender roses and pink tulips wrapped in ivory silk ribbon. It was perfect.
Moments later, I arrived at Jane's Carousel to find a gorgeous spread of champagne and snacks, all prepared by my friends. There were cocktail napkins with our initials spelled in gold and many more unexpected details that surprised and delighted us to no end. In addition to our guests, one hundred or so park visitors and tourists spontaneously settled into the outer perimeter of Jane's Carousel. Lucky Chops, our bangin' brass band blew the roof off with their rendition of Dr. Dre's Next Episode as David made his entrance down the aisle. The extended crowd erupted in cheers and literal high fives(!). The sun shined bright over the lower Manhattan skyline backdrop. A light breeze circulated the magic in the air for the rest of the day. It was a "New York moment" I will never forget.
Vendors/Designers:
Groom's photo lapel carrying a photo of David's mother who passed away just months before the wedding: Etsy
Monica's Dress: Claire LaFaye from Lovely Bride in Tribeca
David's Suit: John Varvatos
Earrings: J.Crew Vintage
Matron of Honor and Best Woman gowns: BHLDN
Brass band at ceremony: Lucky Chops
Bossa Nova Trio at cocktail hour: Carlota & Jose Gurascier
Ceremony venue: Jane's Carousel at Brooklyn Bridge Park (Rachel Alluli, manager)
Reception venue: Bacchus Brooklyn (Meryl Reyal)
Coordinator: Tyler Lindsay, former reBar coordinator who stuck with us til the end
Hair: Patrice Levine, Stylist extraordinaire at SOON Beauty Lab
Makeup: Brittany Malenczuk
Guest Accommodations: NU Hotel
Photographer: Jacqueline at Readyluck Photography
Our generous friends and acquaintances provided the following:
Florist: Will Nguyen, Monica's college friend and SoCal bestie
Officiant: Jessica Mishra, Monica's childhood friend and NorCal bestie
DJ at reception: Bobby Vasquez, coworker, friend and fellow Brooklynite
Reception decorations: Will Nguyen
Cake & cupcake tower: Ana Sarmiento, friend and neighbor
Cocktail reception at carousel: Rachel and Chris Chism, friends and neighbors
[images from Jacqueline Schlossman of
Readyluck
]