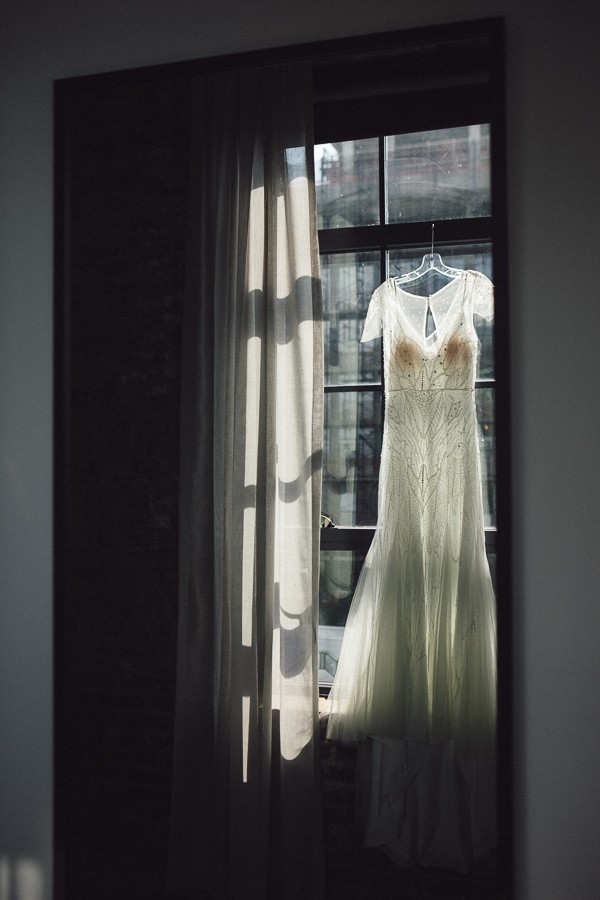 Getting married at Juliette in Brooklyn is like getting married on a little rooftop in Paris…such a lovely spot and a great venue for smaller, intimate weddings.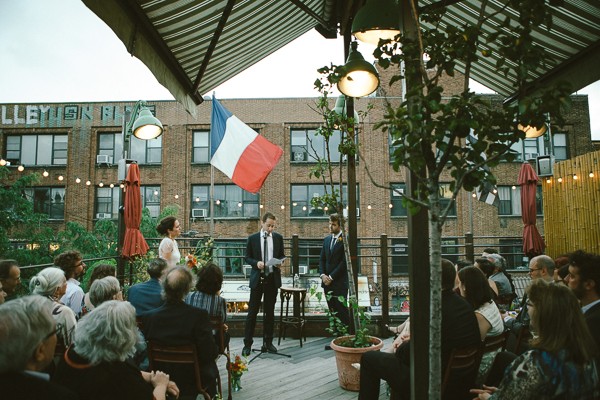 From the bride:
We had a warm, intimate 80-person wedding in a cute little French restaurant in Brooklyn called Juliette. We wanted a place that felt special but also felt like us, and that we could return to in the future. Juliette has such an inviting, whimsical atmosphere that felt festive and elegant, but also relaxed and unpretentious, and it really set the tone for our wedding–more of a dressed-up dinner party with dancing than a very formal occasion. Merriment was the order of the day. Because Juliette has so much decor already (thankfully, because we're not very DIY-savvy) we added very little of our own beyond our colorful flowers and a few personal touches–framed photos of our parents and grandparents taken when they were young couples; old postcards from around the world that served as a guest book; table numbers hand-painted by a friend; and Brooklyn soaps and candles as souvenirs. We tried to be unfussy in our planning of the day, and to focus on the things that would be most enjoyable and memorable for us and for our guests: fun music, good food (and pie and ice cream!), and a joyful atmosphere. We also were lucky to have a wise, funny officiant as a friend, and to have some lovely, sweet speeches from our friends and family. I think these are the sorts of things that people remember the most. We also made a point of choosing vendors that we felt were doing great work in our local area; after all, this was an excuse to introduce our friends and family to some of the wonders of NYC! Despite the cost of weddings in the city, we were really glad that New York was a place many of our guests wanted to visit and that has public transportation everywhere–no concerns about how people would get home after drinking and dancing well into the night. And we were also really happy that we organized a drinks event the night before the wedding and a picnic in Washington Square Park the day after since it gave us the opportunity to show our guests a few more of! our favorite neighborhood spots and we had more of a chance to talk with everyone who came.

My biggest advice for brides and grooms planning their wedding is to let go of the idea that your wedding has to be an encapsulation of everything about who you are as a couple, flawlessly executed in every way. It can just be an exciting, fun day to celebrate the two of you and the community of people you've built around you who love and support you. There is so much information about weddings out there these days, especially for brides, that it's easy to feel overwhelmed by every choice you have to make, and each one feels weighed down with so much significance. My advice is, when you've looked into something and you're happy with it (a florist, a dress, a husband!), just go with it. You don't need to explore every option, which can sap the fun out of everything. Keep things light and focus on how the occasion will feel and on really being present, grateful, and at ease on the day itself. Think about it with the distance of years ahead–what will matter to you to remember?! Spend your energy–and money–there. Looking back, my favorite memories from the day are everyone laughing and having fun, and these funny, unexpected pairings of people who met and became friends at our wedding.

Also! Give yourself enough time to plan. We had more than a year, and we were so happy to be able to occasionally say, "we're not going to think about the wedding this week." It's also really useful to have a confidante (my mother, in my case) who doesn't have an agenda and is just there to be helpful and supportive, and to look after things on the day itself. A few stable people in the mix can make a huge difference since weddings bring out a lot of craziness!
Hotel: Wythe Hotel
Venue: Juliette Restaurant
Makeup/hair: New York Bridal Hair
Florist: Molly Oliver Flowers
Dress: Lovely Bride (designer:Rosa Clara)
Invitations: Minted
DJ: Joel Davis/All City Sound
Pies: Four and Twenty Blackbirds
Second Photographer: Karli Cadel
[images from
Miho Aikawa
]