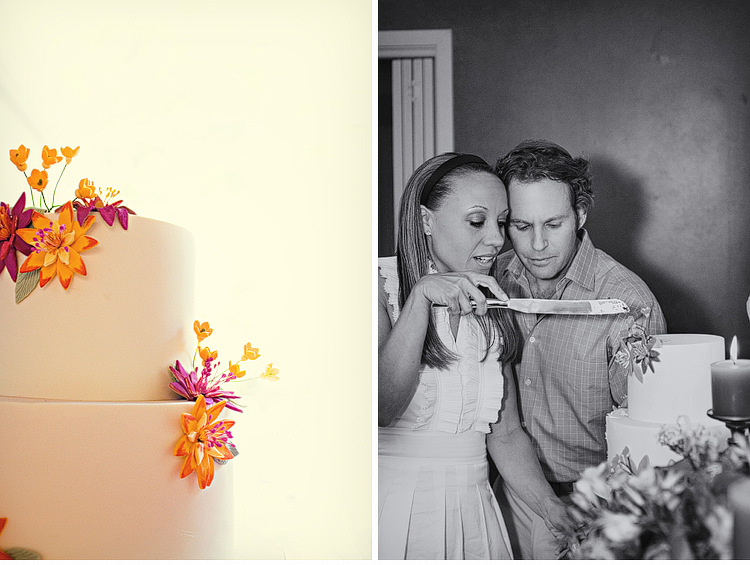 David and I planned to have our wedding ceremony and reception in Costa Rica, for our love of the sun and surf, and invite our close friends and family to witness our union under the chuppah and celebrate with us. But as it turned out, our family had some exciting events that would prevent a few close family members from joining us. So, in an effort to include everyone closest to us in our celebration, we decided to have 2 wedding celebrations: a religious ceremony and reception in Costa Rica on May 12, 2009, and a legal ceremony and dinner on April 5, 2009, which would be a small gathering of just the immediate family, and my best childhood girlfriend, to be held in the garden of the private residence of David's father and step-mother in Marin, CA. We were fortunate to have David's 96 year-old grandfather, who is an internationally-known Rabbi, officiate our legal ceremony for us, and have our closest family members in attendance, totaling 16 people.
We couldn't have asked for a more perfect day. The weather was warm, the sun was shining, and love and joy were all around us. I wore a spring-time white, halter dress from BCBG and fuscia colored, satin heels from Stuart Weitzman. David wore a custom button-down shirt by Ascot Chang, pants from Banana Republic, a belt from The Hound, and shoes by Auri Footwear.
The florals were arranged and presented by Main Street Florist, San Anselmo, CA, the Costa Rican inspired menu was prepared and served by Stacy Scott Fine Catering, San Rafael, CA, the wedding cake was designed and created by Shin Min Li of I Dream of Cake, San Francisco, CA, and our photography was shot by Janet and Lisa of JL Photografia, Monterey, CA.
Main Street Flora Gardens – (415) 485-2996 
Stacey Scott Fine Catering – 415-455-8181
I Dream of Cake – 415-989-2253
JL Photografia – 760-494-5894 serving northern ca + available for travel
[images from JL Photografia]