Winter weddings call for cozy and romantic celebrations, and that's exactly what Molly and Jared had in mind when they chose Brooklyn Winery as the venue for their leap day nuptials. They told Molly Oliver Flowers that they weren't afraid of color so they went with a bold red and pink jewel-toned palette for their florals, also incorporating some seasonal blooms and branches for a touch of a wintry feel. Brindamour Photography helped this already easy-going couple feel even more comfortable on their big day and captured some amazing moments that we're excited to share with you! Read more in Molly's own words below.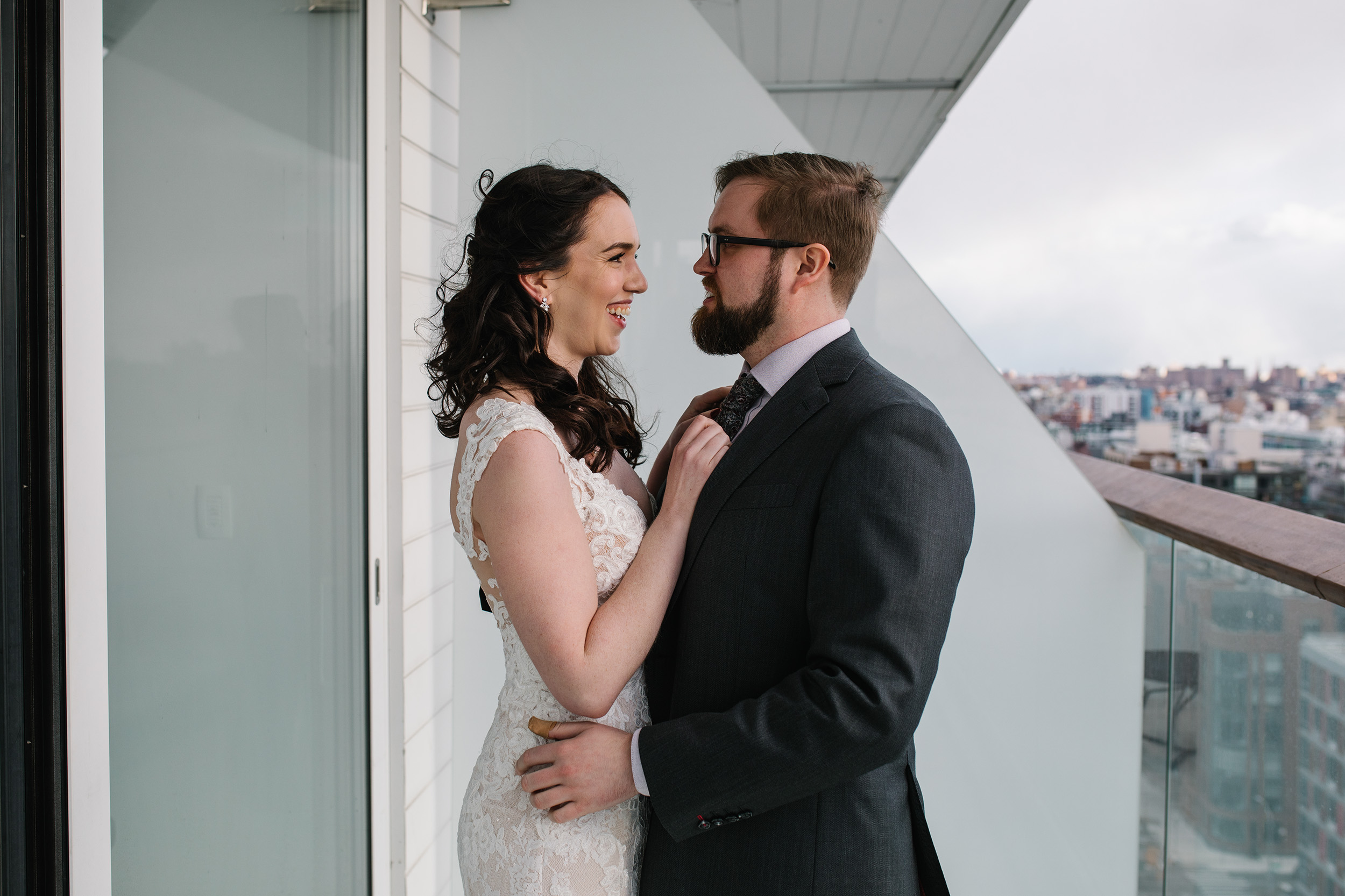 How did you meet?
We met at a birthday party at Barcade in Brooklyn. Neither of us knew the birthday girl but were dragged there by friends. We hit it off and ended the night talking just the two of us at a favorite bar nearby, Noorman's Kil. We've been together ever since and have spent the last five years enjoying each other's company.
What is your proposal story?
I (Molly) was on the couch taking funny pictures of our cat to share with my sister when Jared got down on one knee behind me. He started talking about how much he loved me and wanted to spend the rest of our lives together when I turned around and noticed his stance and the ring. I was so excited and surprised, I initially forgot to say yes, but quickly said, "of course!" It was quiet and intimate, which is just what I wanted. I later learned he'd had the ring for five months and was just trying to find the right moment, which ultimately ended up being a quiet night together.
What was most important to the two of you while planning? Was there anything that you chose to splurge on or skip?
We wanted to make sure that we had good food, great music (thanks to our fantastic DJ Vida Ventura), and an awesome party environment. We just wanted our guests to have a fun night and celebrate with us!
What were your favorite parts of the day?
During our ceremony, we had three of the closest people in our lives stand with us and share their memories of us both separately, and as a couple. Their mixture of sentiment and levity helped with our nerves and made our day that much more special. We also ended the night stuffing our faces with hot dogs and french fries at Crif Dogs. The staff was so friendly and gave us food on the house and had us pick a song to dance to (we chose Modern Love by David Bowie).
What did you do for favors?
Jared drew and designed a wine label to go on bottles of wine provided by Brooklyn Winery based on a picture of the two of us from when we first started dating.
Credits
Event made possible by these fab wedding vendors: