Jesse and Abe are the perfect example to show that weddings don't need to be over-the-top to be absolutely stunning. Their vision included great food, great music, an intimate urban space where they could spend quality time with all their guests, and a ton of candles and twinkling lights overhead, so Brooklyn Winery was the perfect place to celebrate! G! Floral Design placed elegant arrangements of greenery with just a touch of white and deep purple blooms throughout the space, complementing but not overwhelming the amazing architectural details of the winery. It was classic, romantic, (and did we mention incredibly stylish?), and we are thrilled to share these photos from Clean Plate Photography with you today!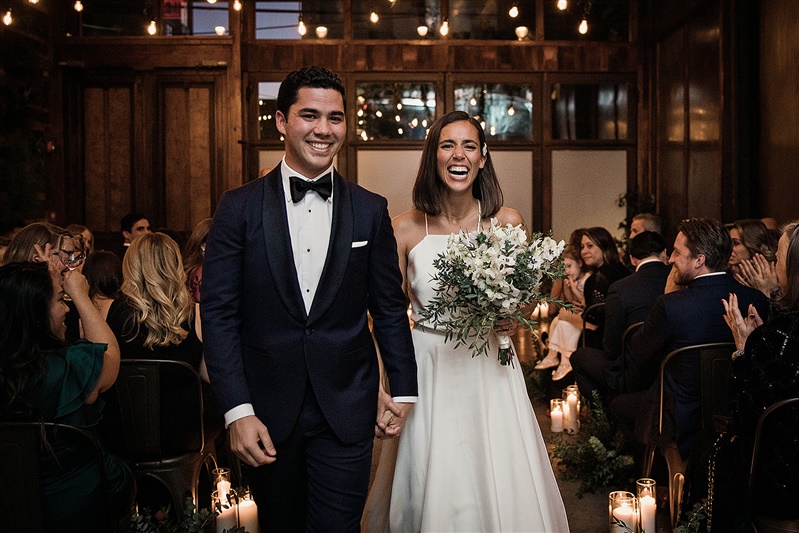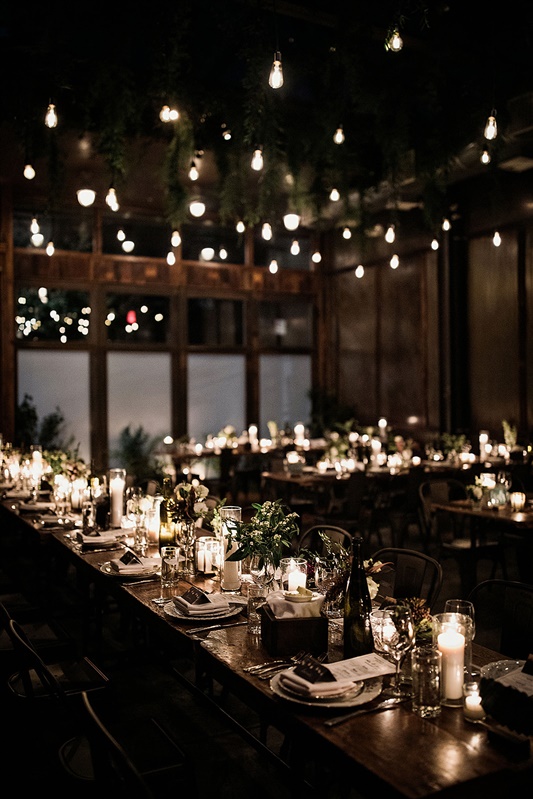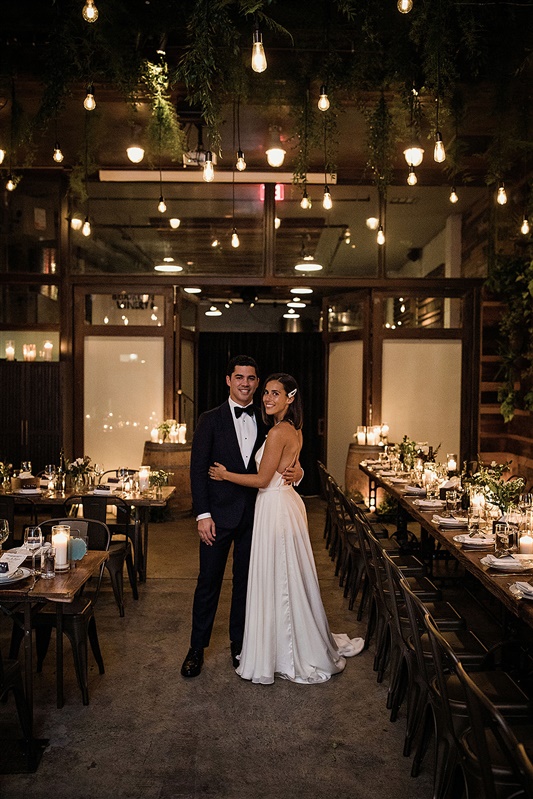 How did you meet?
We met in college at a Halloween party. He was a junior, and I was a freshman, only two months into school!
What is your proposal story?
My husband, Abe, surprised me with a trip to NYC after having recently moved out of the city. He took me to sushi Nakazawa, a restaurant on our bucket-list for the most extravagant dinner experience of our lives. Following dinner, we walked to Washington Square Park, and in front of the lit-up Christmas tree, while snowing, he got down on one knee.
What was most important to the two of you while planning? Was there anything that you chose to splurge on or skip?
The most important aspect of our wedding was to ensure it felt like "us". Wedding planning can be challenging, and we wanted the focus of the whole process to be about our love. We chose to skip and/or alter a number of traditional wedding elements to best suit us. We were very particular about our wedding guest list and invited only the closest of family and friends to join us to celebrate such a meaningful and deep milestone in our relationship. Our favorite hobby is going out to dinner and sharing a fantastic meal over good conversation. So, Brooklyn Winery helped us to plan for a magnificent dinner (with some light hip-hop music in the background) during our reception. They figured out the timing to allow us to really savor the dinner part. I find most weddings rush through dinner too quickly or have too loud of music to talk. We splurged on what we felt mattered most (aka our favorite elements of a party) and to us, that's food and music! We cannot even begin to emphasize how fantastic the food and the music were!
What were your favorite parts of the day?
As the bride, my favorite moment was taking my father's arm in the backroom before walking down the aisle. It's a moment I'll never forget. Before the wedding, I went for a run that morning in the sunshine, and I remember feeling so clear-headed and present. It was an amazing feeling (and amazing way to get mentally prepped for the day!) For Abe, his favorite moment was watching our guests take their seats, each coming up to him to shake his hand. And then the moment the curtains parted and I walked down the aisle.
What did you do for dessert?
We did not have a wedding cake. Instead, we had a lavish dessert bar, as we both have a sweet tooth. We ordered a variety of Magnolia Bakery cupcakes and their famous Banana Bread Pudding. We also had my FAVORITE candy from Sockerbit (Scandinavian gummies). We had large jars and bowls filled to the brim with various licorice and gummies. I couldn't have asked for a better dessert table.
Do you have any advice for couples planning their weddings now?
Don't be afraid to do it your way! We did it our way and nothing felt out of place. When you begin planning, a lot of people will give you advice. Don't listen to them! Do what feels right for you. (Except take our advice! Haha)
Credits
Event made possible by these fab wedding vendors: