Grace and Christopher have always loved living in Brooklyn and after searching for the perfect intimate venue, it was Maison May that gave them the homey feel that they were looking for. The venue provided a neutral background for the bright pops of pink and coral in the florals by Wild Floral Designs and an awesome neon sign that the bride and groom had custom made with their initials. Grace comes from a family of musicians, so as a surprise for their guests she and some of her family members performed together during the reception! The photography of Lauren Fair never disappoints, and this wedding absolutely is no exception. So many beautiful, modern, and fun details in this Fort Greene wedding!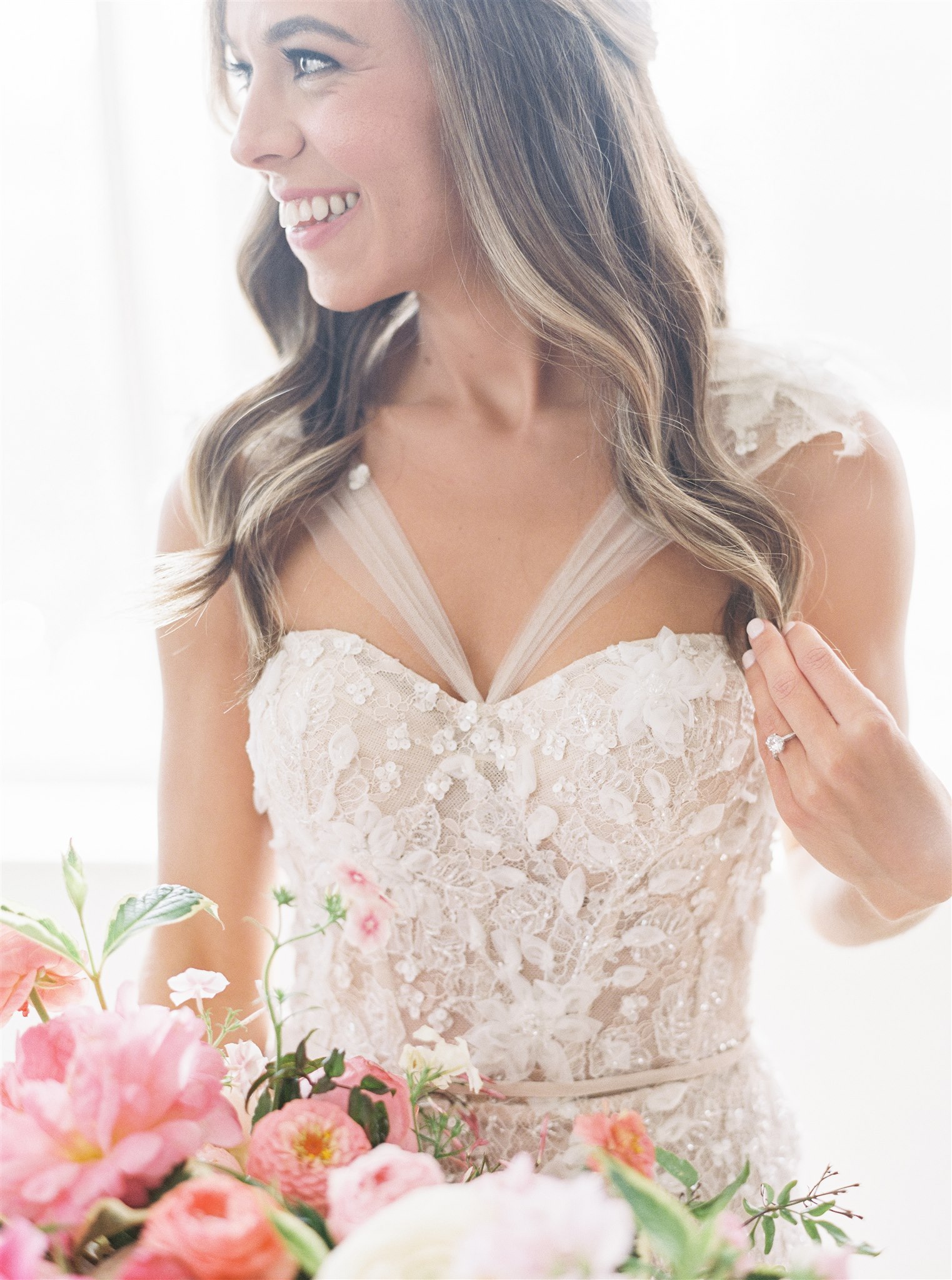 How did you meet?
We met in High School through mutual friends. We've been together for the past 13 years – I was 16 and he was 17 when we started dating.
What is your proposal story?
We were engaged on a small island off the coast of Panama City, named Bocas del Toro. Our engagement was private, just us two, on a walk along the beach. It was so special and intimate. Even though the engagement was beautiful the trip was anything but perfect! We were caught in a storm while out on the water and our boat almost filled up with water, I was stung by a jellyfish and then my husband got dengue fever ending up in him being hospitalized for a week. Now, we laugh at it but what a way to start our engagement!
What was the most important to the two of you while planning? Was there anything that you chose to splurge on or skip?
The most important thing to us was the wedding venue. We looked at *many* venues, even flew to Nashville to scope out a place. We wanted something unique and special and loved the home-y feel of Maison May. When we were going back on what we really, truly wanted in a venue — we looked at each other and both said, "we want to get married in a restaurant in Brooklyn." And that's exactly what we did! Photography was also very very important to us. Lauren & Tim are some of the best photographers in the world, and the photos they delivered still amaze us to this day. We splurged on our attire, but saved money on printed goods by ordering templates on Etsy and getting them printed ourselves.
What were your favorite parts of the day?
Our favorite part of the day was the ceremony (even though it was 110 degrees outside)! It was so intimate, and Franny created such a lovely ceremony. We said our own vows and it felt like it was just us two standing there, it felt like the world stopped. Dinner was very fun and lively. We created the entire dinner playlist (Chris is a DJ so he made a mix)! We had so many guests ask us for the playlist weeks after. Some of the songs we added: Pink + White, Frank Ocean; Ordinary Pleasure, Toro y Moi; Trip, Ella Mai; People Everywhere (Still Alive), Khruangbin; Yes, No Maybe feat. Tom Misch, Detroit Swindle; Memphis Jam, Purple Disco Machine; Feel Like I Do, Disclosure.
What did you do for favors?
We both love Milk Bar, so we decided to have Milk Bar cookies as favors!
Do you have any advice for couples planning their weddings now?
I had so much anxiety and stress the week before because I knew it was going to be a heat wave. I wish I could go back and tell myself to let it go, and that the day will be perfect no matter what.
Credits
Event made possible by these fab wedding vendors: