With engaged couples increasingly taking their weddings online, many are faced with the novel challenge of creating an engaging atmosphere for guests who are tuning in from home. While it might be simplest to send a mass email with a livestream link, going above expectations and showing some extra care for your virtual guests will go a long way.
Owner of Magnolia Celebrates, Laura Maddox, reminds: "These guests are not choosing not to come on a whim. They have legitimate hurdles they cannot jump in order to come to your wedding. I've heard everything from compromised immune systems to fear of losing their job. We want to honor that and know that they are just as heartbroken to not be there as you are for them to miss your special day."
COVID-19 hasn't been easy for anyone, but your wedding day may serve as a bright spot for all of your guests — whether they're with you in person or streaming from their living room. Here's how you can get them involved and make them feel like a true part of your big day.
Celebrate the build-up
"Partner with your live-streaming company to make the time leading up to the wedding more fun and interactive," suggests Shannon Tarrant, founder of WeddingVenueMap.com. "Couple trivia is a great way to see who at home watching virtually might know the couple best and maybe even learn something new!"
Go the extra mile
"I like to present a small bottle of personalized champagne to each guest to enjoy while you all offer virtual toasts," shares JoAnn Gregoli, event planner and producer with Elegant Occasions by JoAnn Gregoli. "Also, you can send pre-packaged boxes of food items, such as pâté and fresh fruit and bread for a virtual picnic. Make your event more interactive than just a virtual Zoom meeting."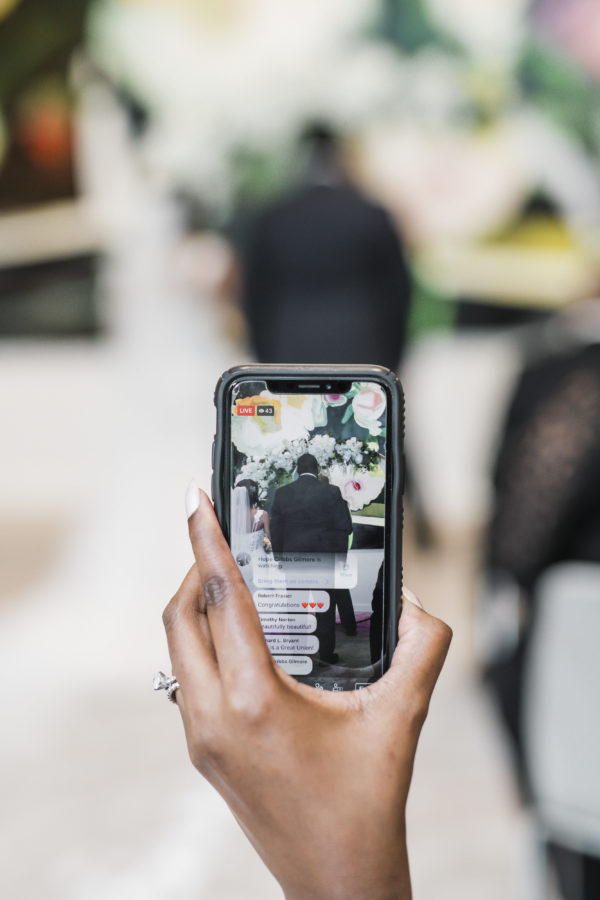 Create a custom experience
"Think about designing your own filters or Zoom backgrounds for each of your guests to use so that you can create memories from afar," says Kylie Carlson, owner of The Wedding Academy. "Utilizing hashtags are more important than ever, that way your loved ones can share their photos and video from the party since there will no longer be a photographer to capture their presence in-person."
Nora Sheils, founder of Bridal Bliss, adds: "Make it fun for guests! Plan different 'tables' for guests via Zoom where they can interact with others in attendance and plan a timeline so there are no awkward lulls."
Keep the décor
"Don't skip on the ceremony or reception décor," encourages Eddie Zaratsian, owner of Eddie Zaratsian Lifestyle & Design. "Even if you're livestreaming in one room of your home, bring your dreams to life with an 'aisle' to walk down and recite your vows at a uniquely crafted altar. For your sweetheart table, go all out with ornate floral installations or arrangements and don't be afraid to move forward with your original centerpieces for an elegant touch."
Prioritize remote entertainment
"While being surrounded by so many family members and friends is a wonderful experience, consider going all out in the realm of unique entertainment," urges Kevin Dennis, owner of Fantasy Sound Event Services. "Create a wedding playlist to share with attendees or book a virtual Airbnb experience for cocktail hour to get guests in the mood to celebrate! There are endless options — from virtual tours, wine tasting, interactive cocktail crafting, and more."
Get guests involved
"With regards to direct involvement of your guests, there are a number of things you can do here," says Janice Carnevale, owner of Bellwether Events. "You can ask some to speak during the ceremony. You can ask others to give toasts. Even others, you can ask to give or loan you something for the wedding day — be it a set of toasting glasses, a cake cutting set, or a part of your attire for the wedding. Be sure to thank them for any such contribution during the wedding stream."
Keep it professional
"The easier you can make the experience to attend and the quality of the audio and visual aspects will all make the virtual wedding experience that much more enjoyably for your guests," assures Jamie Chang, founder and wedding planner with Let's I Do This! Intimate and Virtual Weddings. "This requires having the right equipment, good Wi-Fi, good instructions, and a host to manage and help your virtual guests. While you can DIY it, having a professional team to help you manage all the pieces really makes it much smoother and more enjoyable for the couple and the guests."
If you're planning a hybrid wedding, it's easy to focus on the in-person experience and expect at-home guests to do their own thing. However, a bit of thoughtfulness goes a long way in making your nuptials a memorable experience for everyone in attendance, no matter how near or far they may be.
Meghan Ely is the owner of wedding PR and wedding marketing firm OFD Consulting. Ely is a sought-after speaker, adjunct professor in the field of public relations, and a self-professed royal wedding enthusiast.
We've partnered with OFD Consulting to bring you this great advice from their collective of wedding professionals.