When the thought of having a huge Indian wedding began to overwhelm Kavisha and Hamish, especially since their families are spread out across the globe, they decided to just do what felt most right for them—elope! Kavisha is from Sydney and Hamish is from London, so choosing NYC as their halfway point seemed not only logical but provided them with an amazing setting in which to exchange their vows. With no bridal party or formal reception, they skipped florals and decor altogether and focused on a killer wardrobe (seriously, how amazing is Kavisha's Berta gown?) and the beautiful, natural backdrop of Cop Cot in Central Park. After the couple said I do, they toured some of the city's iconic landmarks, crossing over the bridge into Brooklyn with Everly Studios for truly epic wedding photos!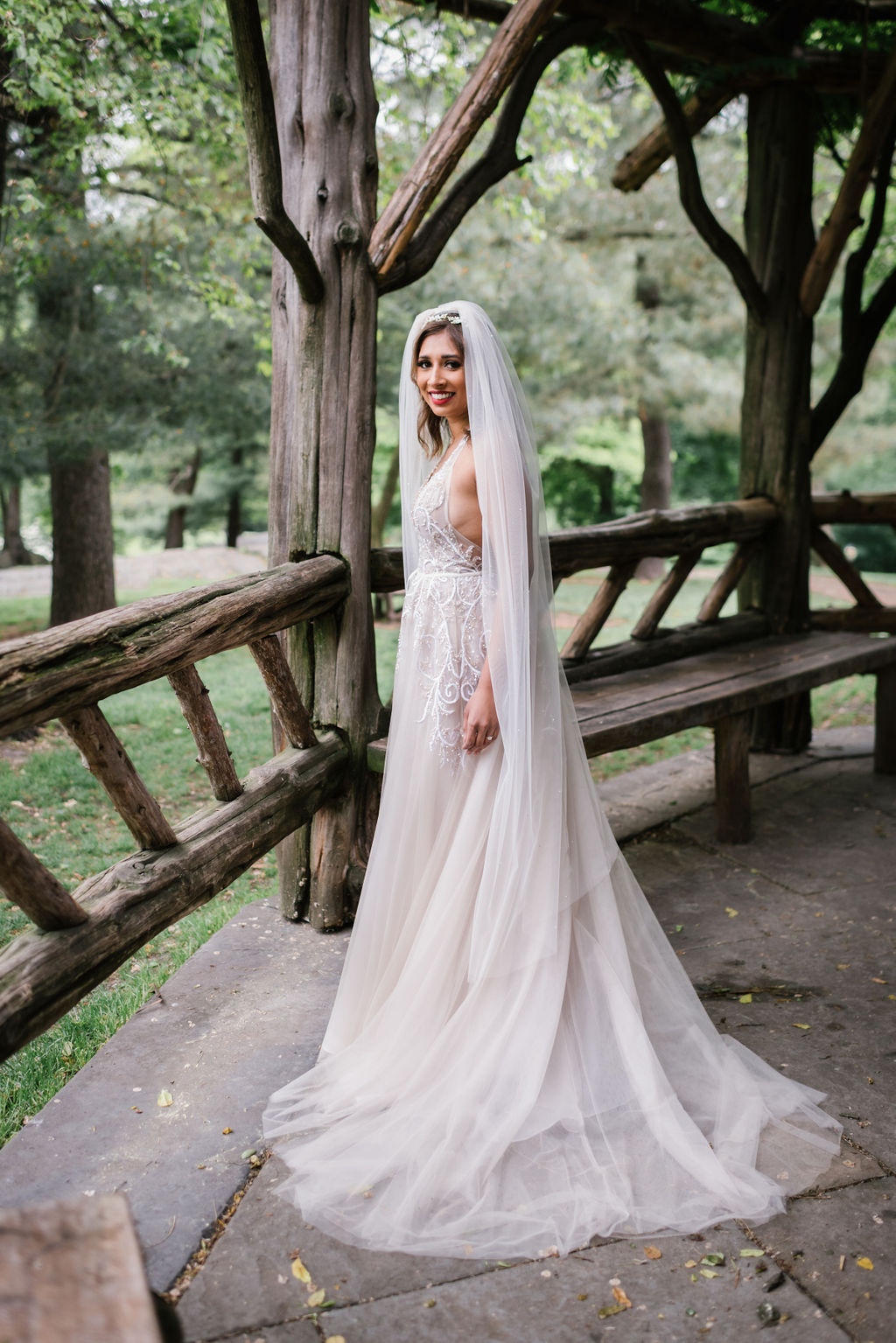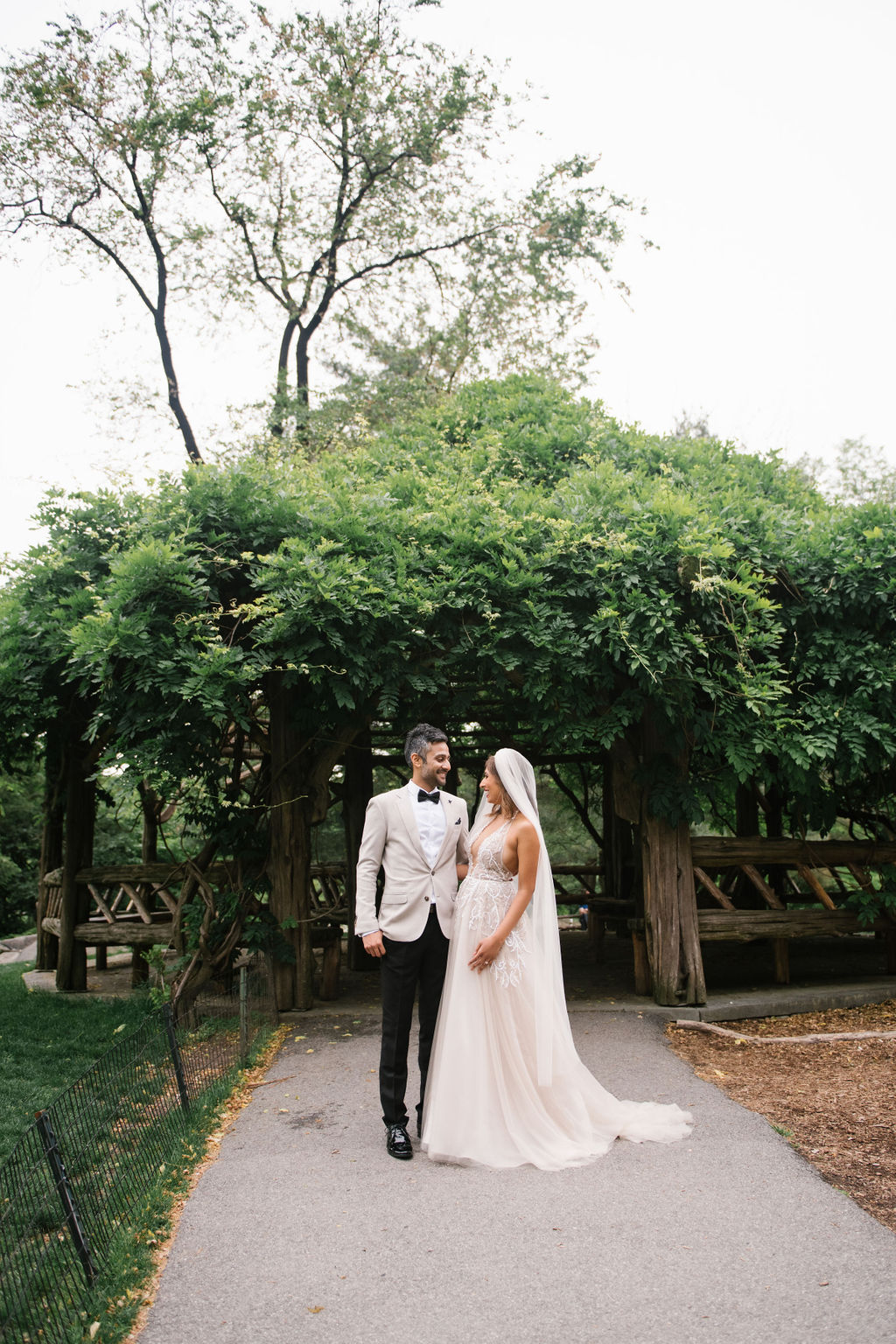 How did you meet?
We first met only a few weeks after I moved to London from Sydney. I was catching up with a Sydney friend who had moved to London a few years prior. She said I needed to get out and date, so scrolled through her Facebook friendship list for potential dates. One of those potential dates was Hamish. They met on Tinder when she first moved over to London a couple of years prior and went on a couple of dates, but decided to part ways. They remained Facebook friends, so she messaged him to see if he was interested, which he was, only after requesting photos and confirming there was "nothing wrong" with me. I reluctantly agreed and we exchanged numbers. After texting for a few weeks we finally met up for a drink at Mint Gun Club in London and hit it off instantly. I left the date several hours later thinking I had met the man I wanted to marry. This was a shock because neither a relationship nor marriage was on my radar at the time, as the reason for moving to London was to progress my career and travel.
What is your proposal story?
The proposal could have been the least romantic proposal on the planet! We were in Paris to see a childhood friend of my dance at Le Moulin Rouge. We had lunch at Le Jules Verne in the Eiffel Tower and after a few too many wines, I must have hinted that it would have been a perfect proposal venue after which he flung the pouch containing an engagement ring across the table to me, before quickly snatching it back. I clearly ruined any plans he had of proposing! Ooops! When we went back to the hotel room, I kept on asking to see the ring, to which he said, "go find it". It was on the bedside table (worst hiding spot). I put it on myself and he didn't ask if I wanted to marry him, it was just assumed. At least it was in Paris!
What were your favorite parts of the day?
The most special part of the day was seeing his face for the first time at Cop Cot and saying our vows. One of my best friends Adriane was at the wedding day and provided more than enough tears and emotion to make the day even more special than it was.
Do you have any advice for couples planning their weddings now?
I think there's a lot of pressure from friends, family and societal expectations to have a big fairy-tale wedding with all the bells and whistles. It's okay to have that if that's what you want. It's also okay to say no and do something small and intimate instead. The initial stages of organizing our big fat Indian wedding caused me so much anxiety because there were so many decisions (countries, locations, guest numbers, style/theme and costs) all while I was dealing with a busy work schedule and buying our first home. In the end, the moment I made a decision to elope, I felt so much happier, as did Hamish. It was the right decision for us and I am still so happy with the way it turned out.
Credits
Event made possible by these fab wedding vendors: