The weddings of 2020 looked remarkably different from years past. Guest lists were cut, masks were everywhere, and floorplans were mindfully designed to factor in social distancing — and that's just the weddings that actually took place.
Many couples instead made the difficult decision to postpone their wedding until the pandemic was sorted out and they could celebrate with friends and family like they always imagined. If you're in the stages of planning your rescheduled wedding, you're not alone.
Still, some of the trends we saw arise in 2020 will (and should) stick around in 2021 to limit risk while still providing a top-notch guest experience for all in attendance. Consider these trends as you look ahead to your own celebration this year.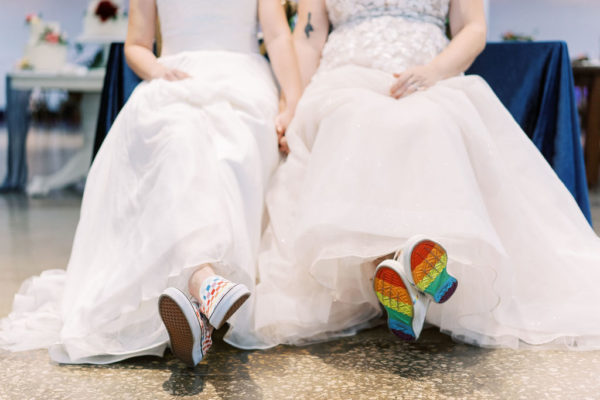 COVID-related Safety Measures
With the vaccine rollout expected to take months, the pandemic is not over yet. As a result, 2021 weddings will still have to be considerate of COVID guidelines to ensure the health and safety of their guests. Juls Sharpley, founder of Bubbles & Bowties, states: "I think we aren't going to be fully out of the COVID tunnel by 2021 wedding season (especially in markets that are predominantly summer/fall) and, because of that, keeping trends like livestreaming the ceremony, planning a more intimate wedding, adhering to social distancing guidelines, and eliminating the wedding party are smart things to do until we are fully in the clear to return to normal."
Jamie Chang, destination wedding planner and owner of Mango Muse Events, agrees: "While I'm all for couples doing their wedding their way, this does not fall under that. We need more consideration for people, not less. This is not a time to be selfish, you have to think about not just your loved ones, but the community at large. Because a wedding regardless of COVID, isn't just about you. If you're inviting guests, it's about them too and you have to plan with that in mind."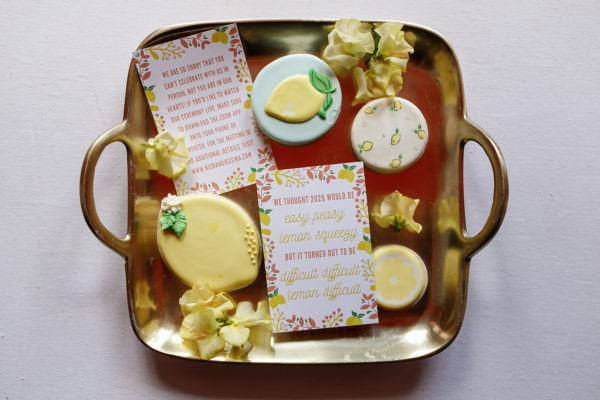 Intimate Ceremonies
In line with COVID regulations, many couples celebrated their 2020 weddings with far fewer guests than expected. "We are seeing the continuing trend from 2020 to concentrate on the small details and make the event memorable for all those in attendance," says JoAnn Gregoli, owner of Elegant Occasions by JoAnn Gregoli. "We are also seeing the continuation of smaller ceremonies for close family and friends, followed by a safe, larger event."
Nora Sheils, founder of Bridal Bliss and co-founder of Rock Paper Coin, elaborates: "Intimate weddings have been a trend and I believe will continue to be one, as COVID has truly reminded the world what is most important, and that is our dear friends and family. In addition, money is tight for many so spending the big dollars on a lavish wedding may no longer be possible. An intimate wedding allows for a wow factor, on a smaller scale."
In addition to micro-weddings, some couples are opting to ditch their original wedding plans in favor of eloping in a romantic setting. Loren Petrowski, owner of Marry You in Hawaii, expands, adding that elopements offer a pressure-free celebration: "Although many couples were planning the picture-perfect wedding, 2020 secretly gave them a chance to elope, scale-back or possibly have the wedding they truly wanted to have that because of family or pressure in their social circles that they may not have been able to do originally. The elopements and micro weddings will be here for a while and will run the gamut of DIY everything from hair and makeup to flowers at home to a super posh affair with no expense spared for a handful of guests if any."
Hybrid Events
In 2020, we saw weddings go virtual with couples adding online components to their wedding so guests could attend regardless of where they were. This trend will continue on in 2021 as travel restrictions remain uncertain.
"Giving your guests a rich experience for both in person as well as virtually has been a fun way to keep your guests feeling included," says Jordan Kentris, founder and creative director of A Good Day, Inc. "Building a custom wedding website that matches the look of the event while also giving your virtual guests a unique experience has been such a great way for couples to include some surprises for their guests."
Kelley Nudo, client manager for Momental Designs, elaborates: "Offering guests, who are not able to attend, the opportunity to live stream the wedding is a lovely gesture to provide as an option. Live streaming is such a useful tool that couples can continue to utilize into the future as a way to include loved ones who are not able to physically be present, no matter the reason."
Creative Spaces
With social distancing guidelines to follow, couples and their event teams had to get creative in 2020 to ensure their guests were as safe as possible. As a result, unique spaces and floorplans became a risk-free way to add a dynamic touch to a wedding venue.
Shannon Tarrant, founder of WeddingVenueMap.com, explains: "Choosing unique and different locations for the wedding ceremony and reception has been a big change in 2020. Searching for venues outside of the traditional ballroom that provides unique character can help define the vision. Anywhere with space large enough for your guest count can be turned into a wedding venue."
In particular, outdoor venues became the safest option for many weddings held in warmer months. "All outdoor weddings became a bigger trend than ever in 2020 and is something to consider when couples are planning their 2021 postponed wedding," explains Bri Marbais, bridal stylist at The Bridal Finery. "Venues have used 2020 to perfect their outdoor wedding process from the design to the layout to the execution on wedding day. Outdoor weddings allow for the most flexibility with social distancing practices and comfort of guests."
Every venue, though, can make use of innovative floorplans that allow for responsible social distancing while still maximizing the fun of the celebration. "More spacing, or pod seating at weddings was a great design," shares Jaclyn Watson, owner of Jaclyn Watson Events. "Allowing more spacing between tables made a more comfortably maneuverable venue space. This was great for guests and staff to get around the venue without needing to brush too closely to seated guests or worry about trip hazards while carrying platters of dishes. Pod seating was wonderful because it eliminated the often uncomfortable scenario where guests who do not know each other are put into forced socialization."
Having postponed your 2020 wedding might not have been the most ideal situation, but that doesn't mean that your rescheduled wedding can't be everything you dreamed up! A bit of forethought goes a long way, so be mindful of health and safety as you plan and consider implementing these trends to go the distance for your guests.
Meghan Ely is the owner of wedding PR and wedding marketing firm OFD Consulting. Ely is a sought-after speaker, adjunct professor in the field of public relations, and a self-professed royal wedding enthusiast.
We've partnered with OFD Consulting to bring you this great advice from their collective of wedding professionals.