When COVID postponed their original wedding, Chelsea and Adam opted to travel to Montauk to elope on the beach. After saying 'I do' with their officiant over Zoom, they celebrated the day with champagne and a swim in the ocean! Captured by Marilyn Lamanna Photography, it was a beautiful reminder that life is too short not to jump in the ocean and celebrate when you can!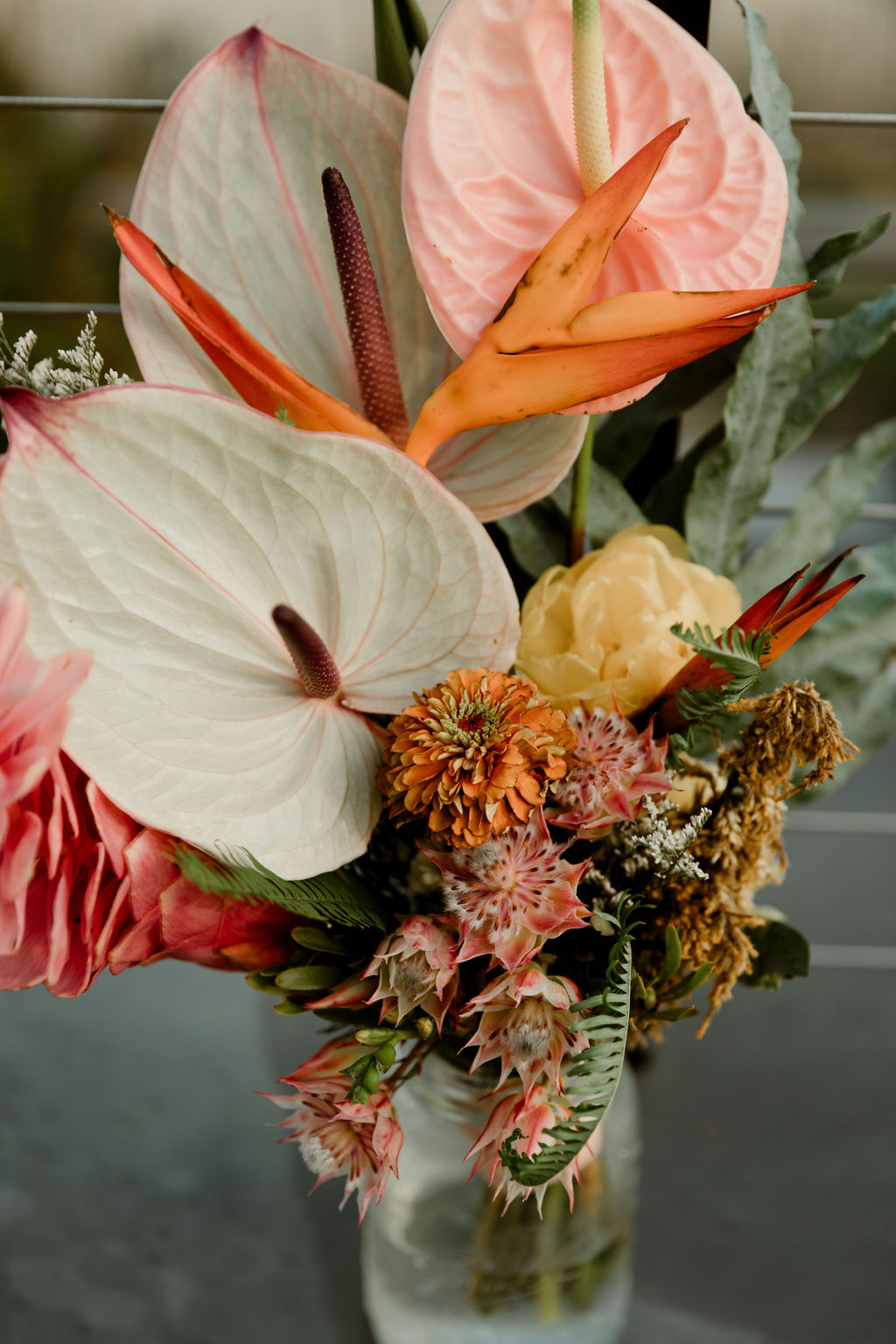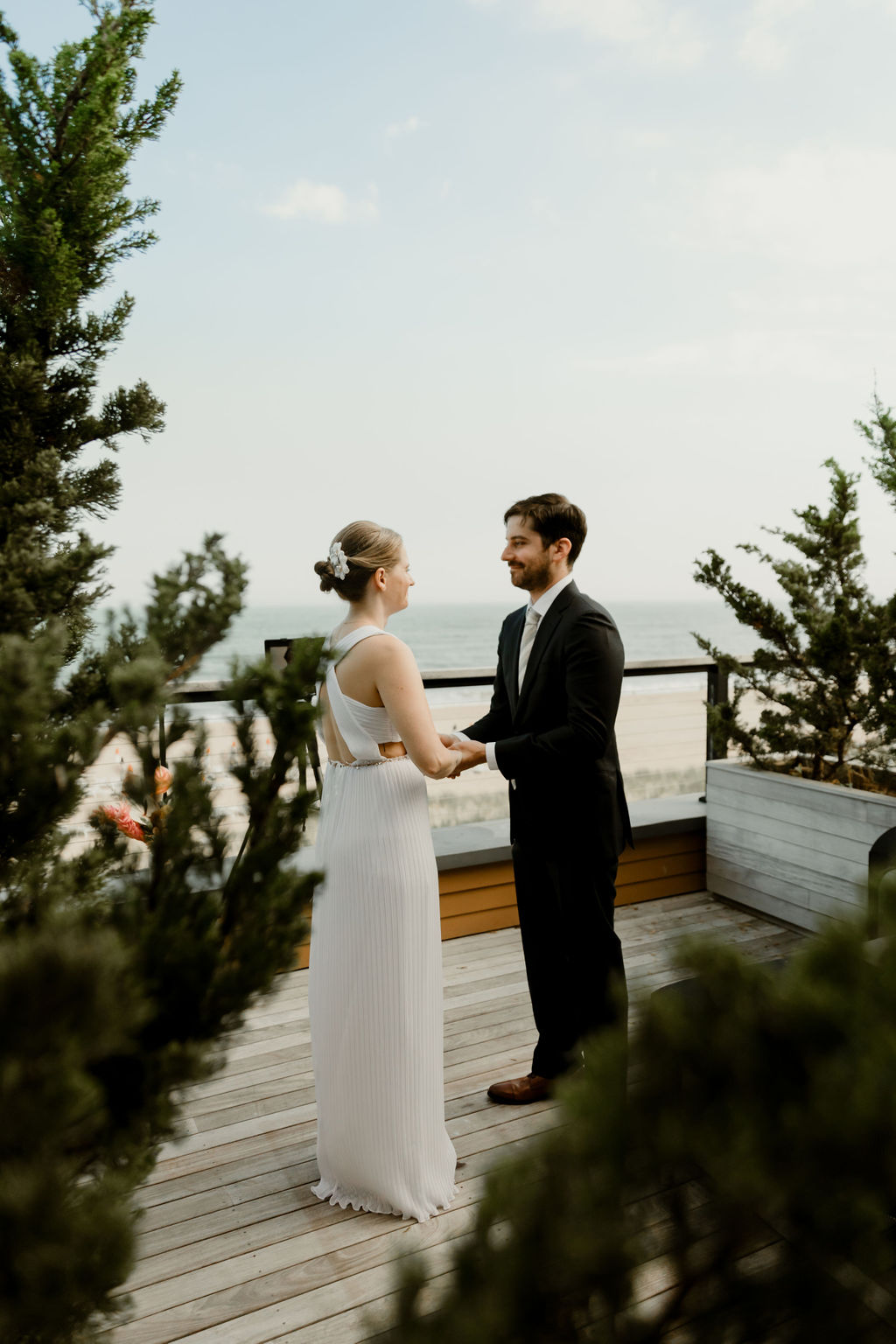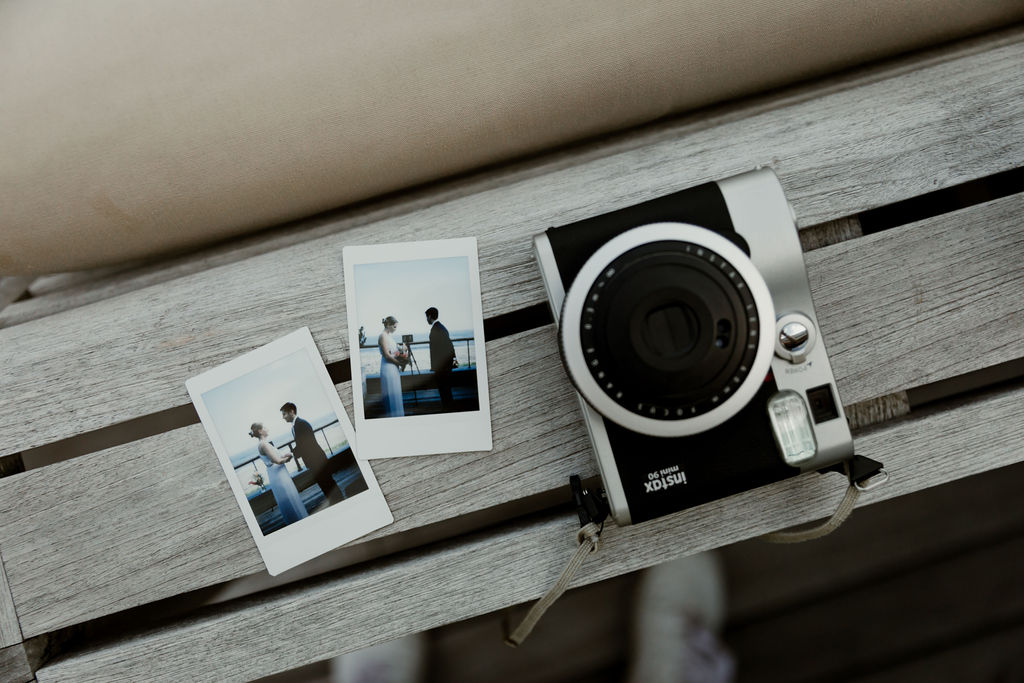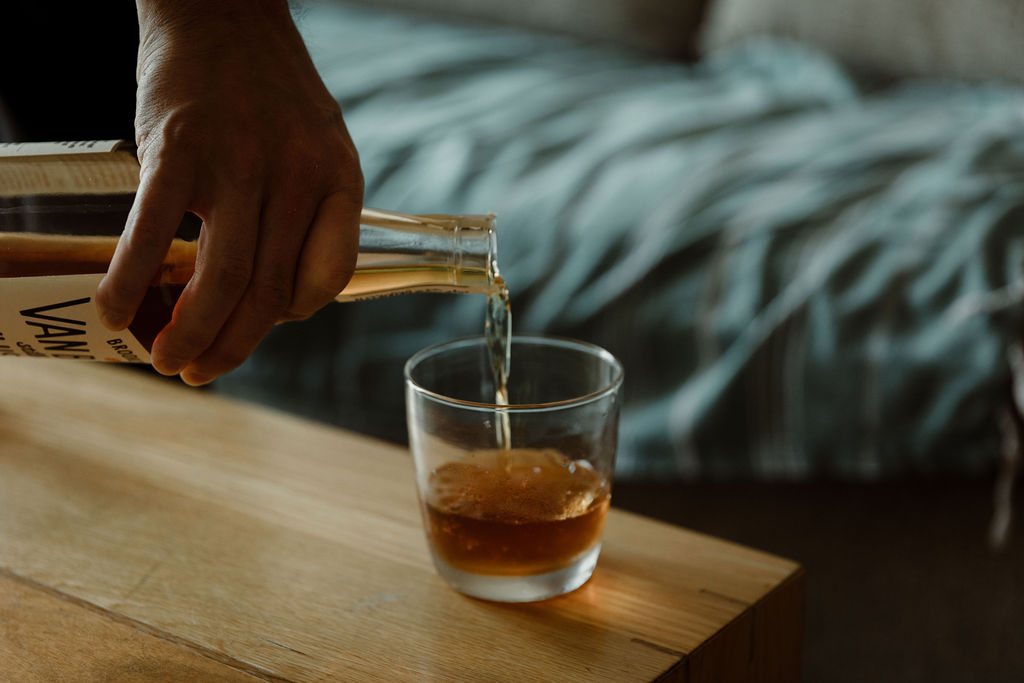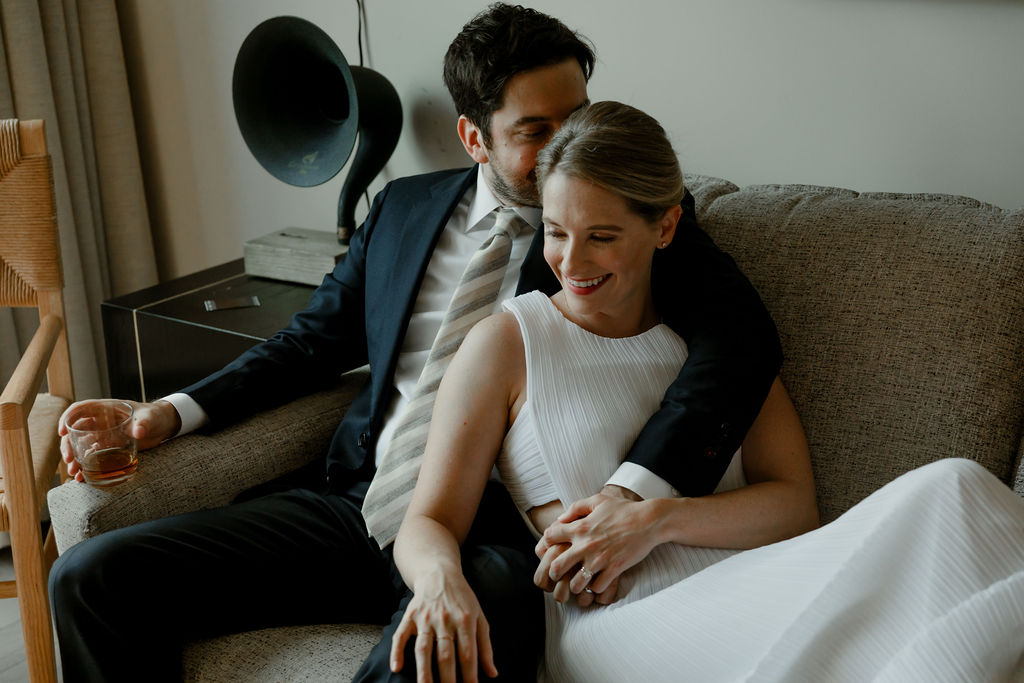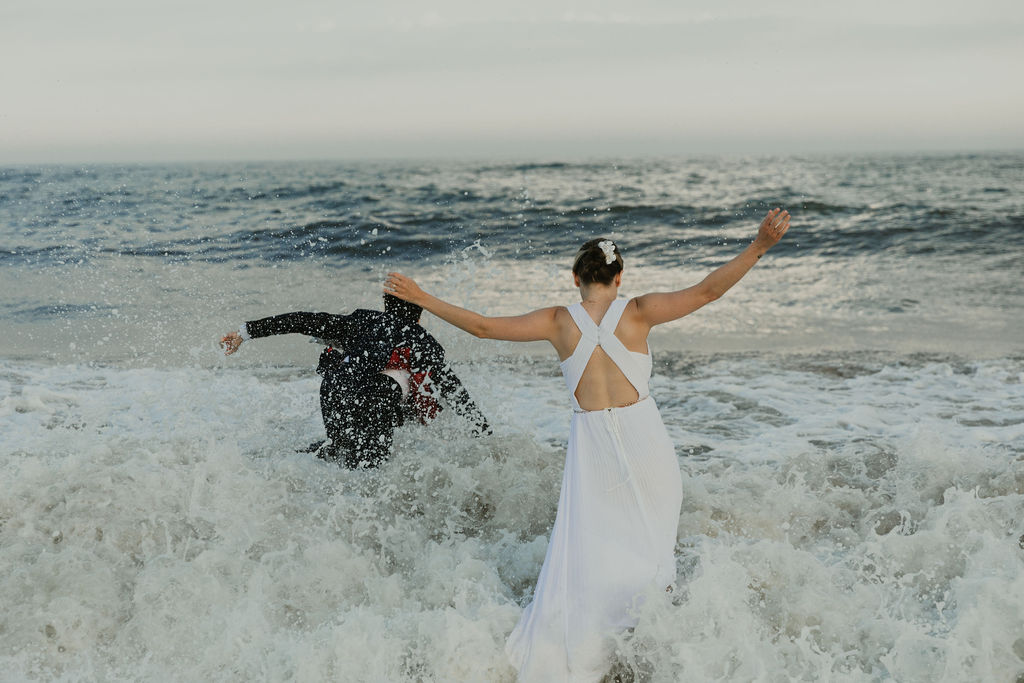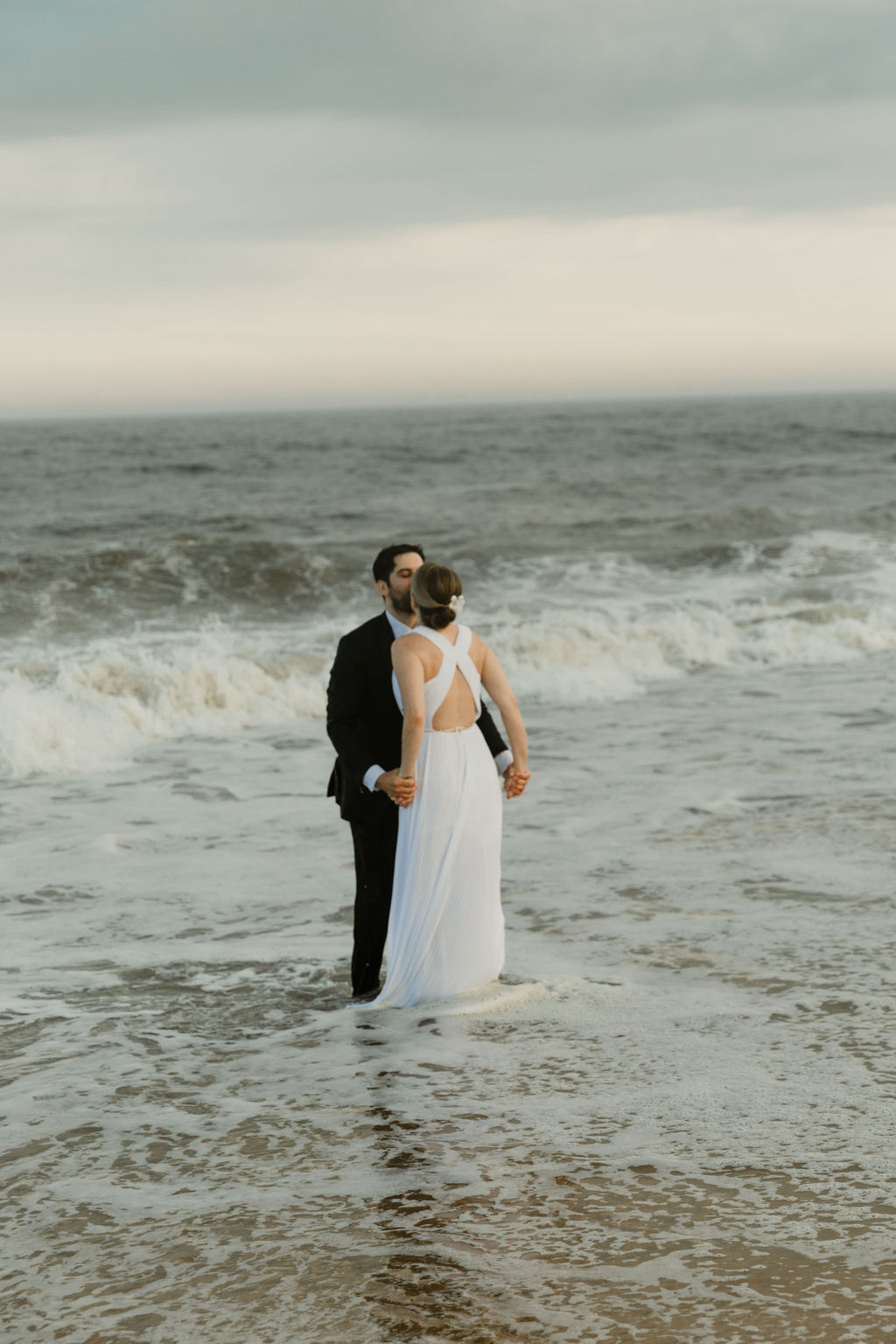 How did you meet?
We met when we were briefly working together at a creative agency in Manhattan, New York. Realizing that we had a shared love of animals, we would send one another cute animal pictures over instant messenger during the work day, say polite hi's to one another, but generally didn't know much about one another. One day, Adam brought the puppy he was fostering to the office and that caught Chelsea's attention. After the puppy visit, a friend asked Chelsea what she thought of Adam and she said "I dont know much about him except that he likes puppies…but he seems nice," and that set three of our mutual friends on course to start playing matchmaker. Our friends planned some group trivia nights after work. One trivia night, our friends made sure to leave two empty seats next to one another so that we would have to sit side by side during the game. Finally clued in by a friend earlier that night that our friends were trying to match us up, Chelsea was hoping that Adam would ask for her number at the end of the night. After a little flirting, a few rounds of drinks, and our group losing at trivia (we were not very good), everyone was leaving the bar and going their separate ways. When Adam didn't ask for Chelsea's number, she was bummed but not deterred. Chelsea took it upon herself to make the first move by giving her number to him herself and told him to text or call if he wanted to get a drink sometime. A couple weeks later on January 3, 2014, we went on our first date and we have been together ever since.
What is your proposal story?
From Adam: On the morning of June 29th, one of the hottest days of the summer, I asked Chelsea if she wanted to go to Brooklyn Botanical Gardens to see the roses in bloom. Little did she know what was really on the agenda… When we arrived, we made our way to the rose garden. As we walked around, I was struggling to get the engagement ring box out of my backpack without Chelsea noticing. "Do you need some help there?" Chelsea asked, my attempt at being discreet had failed. "I'm alright, just trying to find my water," I responded, as I continued to try to get the box out. We walked around the garden for a little while, wandering down the different paths until I finally was able to get the box out and placed it in the back pocket of my jeans. The only roses that where in full bloom and didn't look dead because of the heat were called Nancy Gay roses. I suggested that we take a photo together in front of the Nancy Gays. Chelsea put one arm around me and extended her other arm out to snap a selfie of us. At the same time, and without her noticing, I was trying to get the ring box out of my back pocket. After she snapped the first photo, I asked her to take another one because I wasn't smiling and still hadn't got the box out. She took another photo, and I purposely didn't smile for a second time, still trying to get the ring out as the box was deep in my pocket. "One more time, I promise I'll smile correctly," I said. Once I finally got the ring box out, I felt for the bottom where I had placed a piece of tape underneath near the front so I could tell the correct position and opened it so the ring was facing front and slowly raised it up behind her right shoulder. She snapped a photo before realizing that the ring was visible on the screen. "What's that?" she said, speaking through her teeth nervously as she kept smiling. I was about to drop to one knee but out of the corner of my eye, I see a group of tourists walking towards us. They stopped a couple feet away from us and started taking photos in front of the Nancy Gay roses – as we just were. We stood there, holding each other for 2 minutes and awkwardly waited for the tourists to finish taking their pictures and leave us to have our moment. Earlier in the day I had rehearsed in my head several times what I was going to say, but in that moment, I completely forgot everything. All I knew was that I was standing in front of the woman I love, and I wanted her to know how much she meant to me. I got down on one knee and I don't think either of us remember exactly what words came out of my mouth but the most important ones of which I uttered "will you marry me" got the response I was waiting for, an emphatic "Yes."
Tell us about your attire choices.
We wanted to be comfortable but still feel special for our elopement, so I found a dress online that was casual enough for the event but still spoke to me. Adam already had it in mind that he was going to jump into the ocean after our ceremony, so he wore a suit that he already had on hand so that he would be ok with it getting salty and sandy.
What were your favorite parts of the day? (memories and stories)
Our ceremony was via Zoom, with our officiant and my sister as our witness, via an iPad on a tripod, on the balcony of our room at Gurney's… all of which is to say, it was a very "2020" set up and not without it's technical issues. There were a couple of times that we couldn't hear our officiant correctly and had to ask her to repeat herself, or we repeated vows back incorrectly, which lightened the mood and just made us laugh at the ridiculousness of the whole set up. After our ceremony, we went down to the beach to take pictures with Marilyn and toward the end of our session, Adam wanted to run in to the ocean and I said I would too. The moment my bare feet touched the water and felt how cold it was, I chickened out, but Adam went full force right in to the crashing waves, jumping and falling in to the water like a happy little kid. I was so nervous that he was going to get pulled underwater by the waves and strong tide, so in between laughing at how happy he looked, I was also yelling at him to be careful, which is a pretty good summary of our relationship as a whole.
Do you have any advice for couples planning their weddings now?
Like most couples who planned to have a wedding in 2020, we had to cancel ours too. It's an emotional decision to have to make, and I really struggled with it for quite awhile. We knew that we still wanted to get married while our bigger plans were on hold, and that we wanted to do something special for just the two of us. Once we made that decision, there was a huge sense of relief in the simplicity of focusing purely on ourselves, getting married, and enjoying that day alone together. So often planning a wedding devolves in to making decisions and plans to make so many other people happy, so deciding to elope and to not involve anyone else, helped refocus the importance back on us, our love, and taking that big life step together.
Credits
Event made possible by these fab wedding vendors: